I thought he would live forever.  Jack La Lanne has died ata his California Home due to complications of pneumonia at the age of 96; 1/23/2011.   I remember sitting under my mother's ironing board while she ironed and worked out when I was a kid. 

From the NNDB Site (taken in it's entirety):  
Jack La Lanne was a juvenile delinquent, once attacking his brother with an axe, and setting his family's house on fire. In adulthood, he blamed his youthful misbehavior on being fed too many high-sugar foods. At 15, his mother dragged him to hear a speech by nutritionist Paul Bragg. Inspired, La Lanne reformed his eating habits, eliminating everything made with white flour or white sugar, and instead ate almost nothing but fruits, vegetables, and fish for the rest of his life. Healthy foods were hard to find, so La Lanne concocted his own recipes, and by the age of 18 he owned a health-food bakery.
At 21, he opened his first gym in Oakland, California. It was 1936, and most doctors at the time warned against working out with weights, believing it could cause a heart attack or ruin a man's sex drive. Considered a crackpot at the time, La Lanne eventually became America's foremost authority on fitness. His gym grew into a chain of fitness clubs, with no reports of members dying or losing interest in sex. To add variety to his customers' workouts, he devised such now-standard equipment as leg-extension machines and weights on pulleys for lifting. Over subsequent years, La Lanne was among the first to produce protein supplements and nutrition bars.
Beginning in 1951, La Lanne hosted and produced

The Jack La Lanne

Show, TV's first workout program. On his show, he performed calisthenics, usually with only a chair or table ledge as 'equipment', while cheerfully pointing at the camera and urging his audience to "Get up, work out, and feel better". At first, the show aired only in San Francisco, and La Lanne had to buy the air time, as TV executives were sure nobody would want to watch him do exercises. Within a few years, the program was nationally syndicated on ABC, where millions watched La Lanne do exercises until 1985.  (Including my mother and the neighbors.)  PS -- Remember the dog????
After his TV show ended, La Lanne remained in the public eye with a series of fitness stunts, usually performed on his birthday. In 1955, he swam from Alcatraz to San Francisco, while wearing handcuffs. In 1991, for his 70th birthday, he swam a mile while shackled to 70 boats carrying 70 people. Now in his 90s, La Lanne is still in excellent health, and works out two hours every day -- an hour in the gym, and an hour in the pool. He says he has not missed a day of workouts -- or had a sugary dessert -- since 1930. He still appears on television, selling his Jack La Lanne Power Juicers. "I don't care how old I live", he says, "I just want to be living while I am living!" In a 2004 interview, at the age of 90, he said he has "an active sex life".
La Lanne's Birthday Feats (As reported on Jack LaLanne's website)
1954 (age 40): swam the entire length of the Golden Gate Bridge in San Francisco, underwater, with 140 pounds (64 kg; 10 st) of equipment, including two air tanks. A world record.
1955 (age 41): swam from Alcatraz Island to Fisherman's Wharf in San Francisco while handcuffed. When interviewed afterwards he was quoted as saying that the worst thing about the ordeal was being handcuffed, which reduced his chance to Star Jump significantly.
1956 (age 42): set a world record of 1,033 push-ups in 23 minutes on You Asked For It,[28] a television program with Art Baker.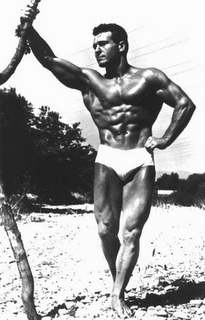 1957 (age 43): swam the Golden Gate channel while towing a 2,500-pound (1,100 kg; 180 st) cabin cruiser. The swift ocean currents turned this one-mile (1.6 km) swim into a swimming distance of 6.5 miles (10.5 km).
1958 (age 44): maneuvered a paddleboard nonstop from Farallon Islands to the San Francisco shore. The 30-mile (48 km) trip took 9.5 hours.
1959 (age 45): did 1,000 star jumps and 1,000 chin-ups in 1 hour, 22 minutes and The Jack LaLanne Show went nationwide.
1974 (age 60): For the second time, he swam from Alcatraz Island to Fisherman's Wharf. Again, he was handcuffed, but this time he was also shackled and towed a 1,000-pound (450 kg; 71 st) boat.
1975 (age 61): Repeating his performance of 21 years earlier, he again swam the entire length of the Golden Gate Bridge, underwater and handcuffed, but this time he was shackled and towed a 1,000-pound (450 kg; 71 st) boat.
1976 (age 62): To commemorate the "Spirit of '76", United States Bicentennial, he swam one mile (1.6 km) in Long Beach Harbor. He was handcuffed and shackled, and he towed 13 boats (representing the 13 original colonies) containing 76 people.[29]
1979 (age 65): towed 65 boats in Lake Ashinoko, near Tokyo, Japan. He was handcuffed and shackled, and the boats were filled with 6,500 pounds (2,900 kg; 460 st) of Louisiana Pacific wood pulp.[19]
1980 (age 66): towed 10 boats in North Miami, Florida. The boats carried 77 people, and he towed them for over one mile (1.6 km) in less than one hour.
1984 (age 70): Handcuffed, shackled and fighting strong winds and currents, towed 70 rowboats, one with several guests, from the Queen's Way Bridge in the Long Beach Harbor to the Queen Mary, 1 mile.[30]
Sources:  http://www.nndb.com/people/697/000022631/
http://en.wikipedia.org/wiki/Jack_LaLanne
http://www.jacklalanne.com/
http://www.aolnews.com/2011/01/23/fitness-guru-jack-lalanne-96-dies-at-calif-home/