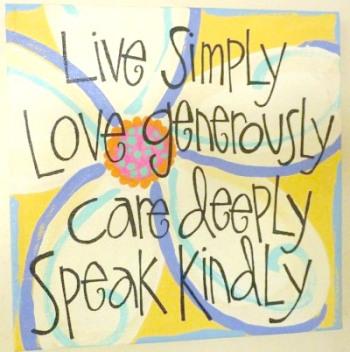 Simple living gets a bad rap.  It can bring up images of living in a cabin in the woods with one plate, one fork, and having to raise your own food.  Or, a house that is cold, colorless, empty, and devoid of personality.  And, what about those old, worn, and frumpy thrift store clothes you will have to wear?
The truth is living a simple life does not have to be like that at all.  
It is more about choosing to surround yourself with people and things that are meaningful and let go of what no longer works for you.  There is no need for scarcity or denial.  Simplicity allows you to create time and space for what you love.
You get to keep what you cherish and release what drains you.  Surround yourself with people who uplift you and activities that bring meaning and joy into your life.  Spend your time on what inspires you and let go of what pulls you down.
When you clear space in your life and live simply, there is an energy that comes forward.  It feels like a deep breath of relaxation.  Living in that energy opens you to connecting deeply with yourself, God, and people you care about.  It also allows your purpose and passion to come forward and guides you toward your highest self.
Our world is very busy and complex these days and we are losing our connection with the gifts that simplicity brings.  I invite you to look at your daily life and simplify at least one thing this week. Who knows, you might like how it feels and want to do more.