The Garden Museum has just held its third annual Literary Festival, 'A Friend a book and a garden'.  I enjoyed it so much the first year I visited I have made sure that I have not missed going.  Each year I value the time I spend there.  I get to listen to interesting speakers and find out about books and writers I might not have otherwise stumbled across.  I learned early on with this festival that it is often the speakers you are not so much looking forward to that deliver the best and most interesting talks.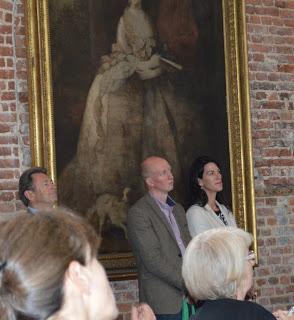 The first day started with talks from Alan Titchmarsh, Kathryn Aalto and Piers Torday.  I am not going to go through every talk I went to in detail but this was a good start to the day.  I almost went on the garden tour instead, very almost, but quite a few other people left to do that and I decided at the last minute to stay and listen.  I was glad I did, all three talks were interesting and enjoyable.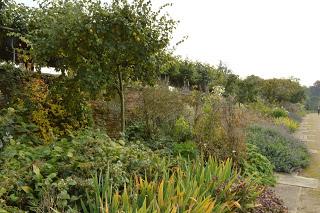 In the afternoon I went to listen to Will Self, Kim Wilkie and Sue Stuart-Smith give three very different talks all (I would say loosely) around the theme of the quote from Candide, "Il faut cultivar notre jardin".  I am not sure what I expected from this session, I went from sheer curiosity but I definitely enjoyed it more than I expected.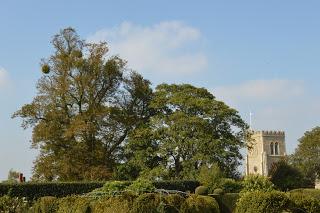 I then mooched along to listen to Tom Stuart-Smith before wending my way home.  It had been a good day.
Sunday started with a talk hosted by Evan Davis that involved Chris Mullin, Tim Richardson and George Plumptre.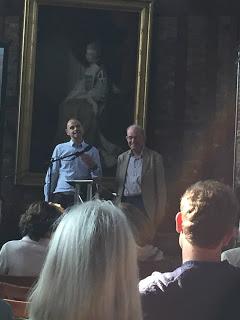 The talks were about the creation of a garden, 18th century gardening as an extension of politics and Churchill the Gardener.  Again these seem quite disparate topics but the talks were very interesting and told me lots I did not know.  I think I might have (did) enjoyed this session best of all.
The afternoon involved Deboroh Orr and Alys Fowler,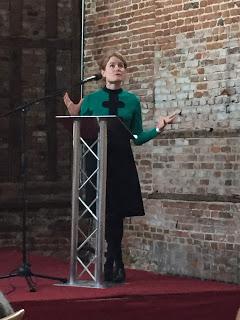 Alys talked us through her summer of exploring Birmingham canals.  This was entertaining and also very informative.  It felt like it was very much a personal journey for her and it was good to be allowed to hear about it.  I learned lots about canals that I did not know.  Most of what I know about canals comes from reading Thursday's Child by Noel Streatfield many many years ago.  (When not reading Tom's Midnight Garden, The Secret Garden or Tolkien, I was reading Noel Streatfield.  Oh, and Alan Garner - actually I read lots.  Where is Jackanory these days?)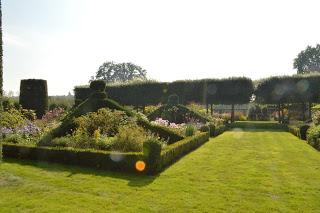 The final session I attended was by Hermione Lee and was about Three Women Gardeners' Lives and their Gardens.  It turned out to be about four women and was fascinating.
These are only the talks I went on, there were lots of other things going on as well and many other speakers.  What I like about the festival is the ability to dip in and out and to discover things along the way.
The gardens at Hatfield took me two sessions to get around.  I started out on the Saturday between talks and then had to go back on the Sunday to complete my journey.  It is a very grand and also very beautiful place.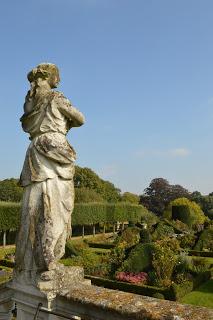 The garden is planned around views and there are good viewing points where-ever you go.  There are steps and banks, raised areas and hollows.  The gardens live and breathe the investment in time and (let's be frank) wealth that have gone into making them.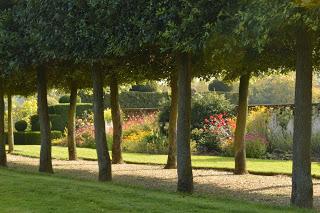 It was a lovely sunny day, and there were lots of shadows and spots of sun.  I loved this view as I thought it was all about darkness and light.  The borders were fantastically bright with hot colours.  This was not safe planting for coach parties, this was a demonstration of the joy of color.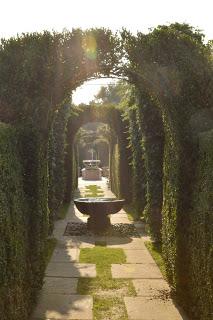 A lot of the yew heading was being restored and re-grown.  Even though some of it was not quite knitted together it did not spoil the effect.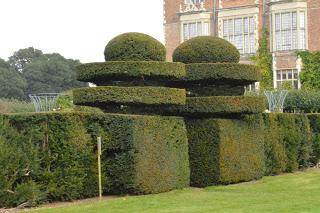 There is a lot of clipped yew.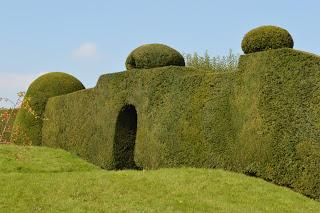 Some of it with that bumpy I'm quite old feeling.  It made entrances that begged me to explore,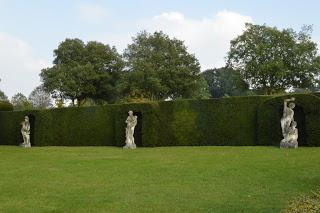 and created backdrops for some of the many statues.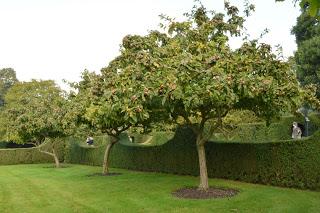 Elizabethan inspired planting was evident, I loved the many medlar trees that were growing.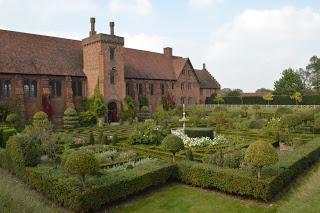 This formal parterre in front of the Old Palace was magnificent.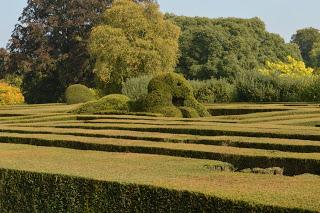 and there is a maze with a thonking great lion/cat in the middle of it.  I might have squeaked a little when I saw this.
But nothing, nothing prepared me for this next view.  I was wandering up to the one of the entrances to the house.  I could hear running water and so realised that I would turn the corner to see a water feature.  I expected Neptune, I expected horses and fish spouting water, I expected something huge and grand and befitting a house like this.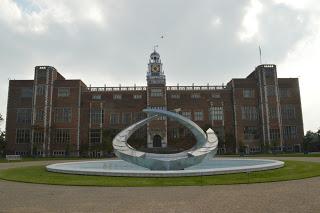 I was not expecting this, but I loved it.  I truly loved it.  It is bold, it is a massive statement and I think it works.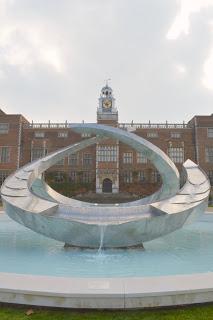 Definitely a good legacy for the next generation.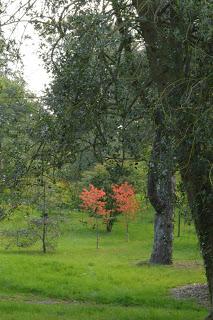 I walked into the parkland and contemplated the onset of Autumn.  Then I found this wonderful beast.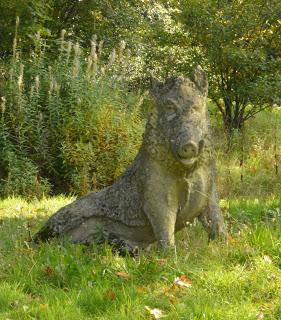 I pondered about him, why was he sat there, he seemed a bit plonked, a bit out of place.  I then pondered what he might be looking at.  I went and stood behind him to see.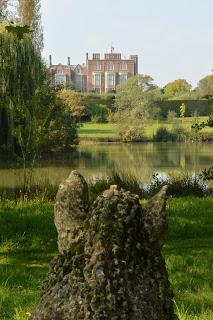 What a great view of the house across the lake, he knew a thing or two this boar about where to sit.
Now I am thinking about next year and hoping that this event will happen again.  I treasure the space it gives me to stop and think.  I came away with a list of must-buy books, so many that I am having to step how many I buy over a few months.  The first batch have arrived already so I am expecting the dark autumn and winter evenings will involve a lot of reading.  I will post separately about the book buying; some are books written by the speakers but others were referenced by speakers and I had to investigate.