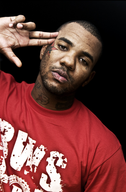 09/06/2011 – by Cynthia Wright
The rapper, Game in a possible attempt to keep his career somewhat relevant has decided to jump on that old bandwagon that -people-know-about-but-don't-discuss topic of gay rappers in the music industry.
It appears that Game believes that there are "several" rappers in the industry that subscribe to the man-loving and that he's certain that he's worked with a few of them in the past.
Of course, the rapper refuses to label himself as homophobic, his issue is with those that are gay but continually lie about it. He went on to explain that hiding your sexuality can put others at a risk for disease and hurt – once the secret becomes known.
Excerpted from Popcrush:
Naturally, Game didn't name any names or out any of his peers. He did hint, however, that he's likely worked with a gay rapper in the past. "Possibly, yeah," he confirmed. "And not being just full-out gay, just pretending he loves girls and lives the rap lifestyle, but really he's a man fan… There's a lot of man fans out there in hip-hop. I see how you n****s be looking at n****s you're around too. They be looking at n****s crazy. Beyonce should have asked 'Who run the world? Gays"
The rapper's new album was released August 23rd and is currently available on iTunes.