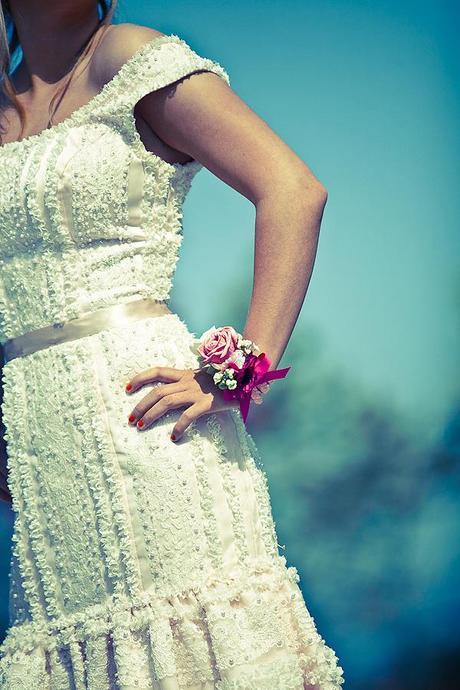 Still in love with vintage weddings? I am. Gorgeous retro styling and old fashioned lace and prettiness gets me every time. But vintage has been around for a few years and now it's time for change! Today, the English Wedding blog brings you…
The Future of Vintage!
Exclusively on the English Wedding blog, this gorgeous alternative vintage wedding shoot features stars of the UK wedding scene: Charlotte Balbier wedding dresses shine in the unique setting of Cheshire's Styal Lodge.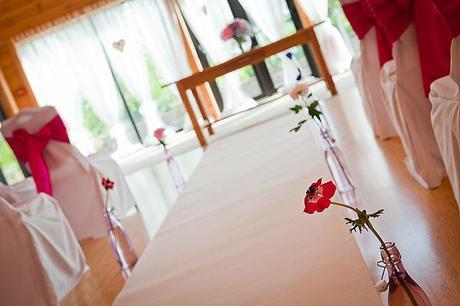 The brainchild of
wedding photographer Jonny Draper
and Georgina Higham who, along with her mum and sisters, runs
Styal Lodge wedding venue
– this shoot reveals a stunning and exciting future for vintage weddings: full of colour and quirkiness, with a focus on details and accessories to complement those gorgeous
Charlotte Balbier
dresses (kindly supplied by
The White Closet bridal boutique
in Didsbury).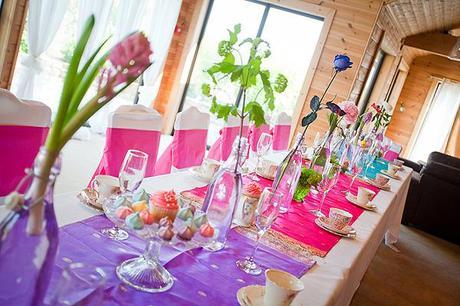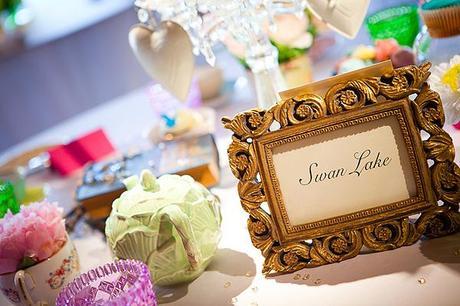 The Future of Vintage
is bright and quirky, full of colour and vibrance, with exciting accessories and creative details – it looks good enough to eat!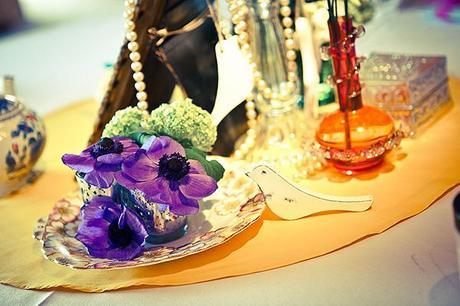 Wedding photographer Jonny Draper explains how the Future of Vintage shoot came about
"What started out as a chat with Georgina (Manager of Styal Lodge) about a spring bridal shoot turned into something we didn't quite expect!
"The more we talked about what we could do and who we could involve, the more ideas we had and the more we realised that we wanted it to become a shoot that not only inspired but one that wasn't afraid to make statements and really show that there is no such thing as one particular style or idea.
"That was when 'The Future of Vintage' shoot was born.
"Straight away we knew there were certain people who could help bring the ideas to life and that's where Charlotte Balbier, The White Closet, Silk Wedding Videos, Emma Draper MUA, And The Dish Ran Away With The Spoon and Pink Pepper came in!"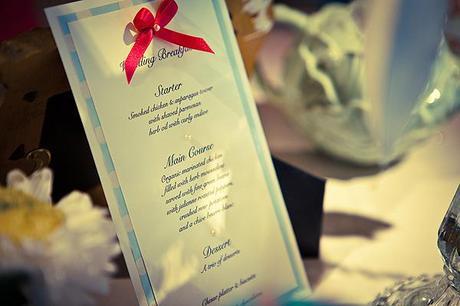 Georgina Higham, Manager of Styal Lodge wedding venue, shared her inspiration for the Future of Vintage shoot
"Styal Lodge is a new wedding venue with a very unique concept behind it. We offer couples the chance to create their perfect wedding in their own way all in a beautiful setting. As we have grown in the first year I realised the importance of working with local 'wedding people' (I like to think of everyone in a little wedding bubble!) it's amazing how much you can learn from all areas of weddings not just your little bit.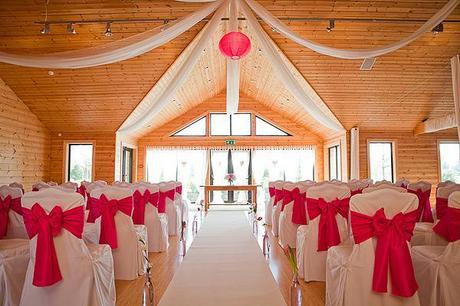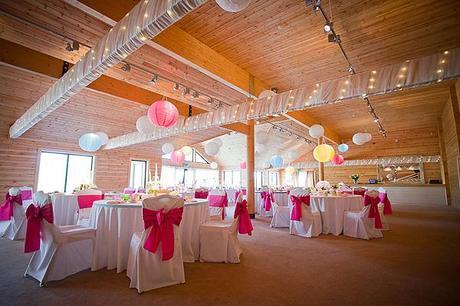 "So I sat down with Jonny Draper, who I was lucky enough to meet back when we opened and immediately admired his style and approach to wedding photography, and we had the idea of creating a photo shoot that would be
something completely different and inspirational
for all who saw it.
"The theme we began working with was a vintage concept that had sort of gone off on a tangent and we arrived at the future of vintage idea- a kind of 'Vintage Pop Art'!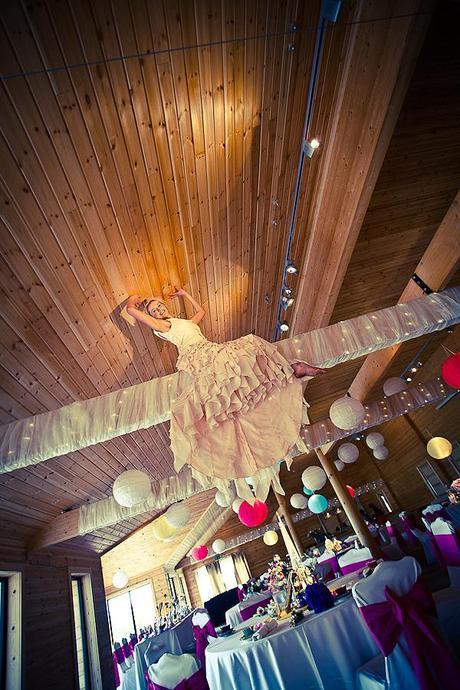 This image blows me away! Talk about imagination!!! There's no fancy photography tricks - the bride is really up there in the rafters of Styal Lodge. Brilliant or what?!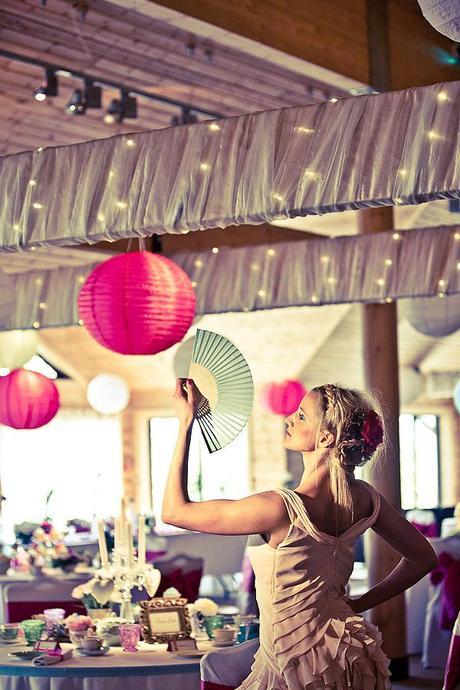 "It was important to get the right people involved so one of our caterers Pink Pepper joined to help with the overall design and provide us with their fabulously beautiful collection of vintage china, it really is so so gorgeous and looked perfect.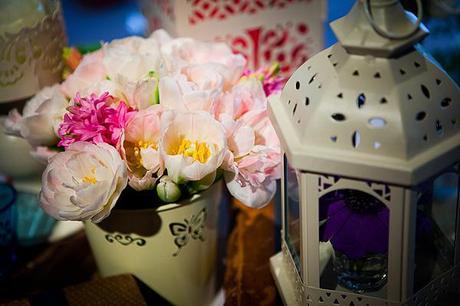 "We also had help from Special Days Events with extra props and chair covers, and we had '
And the Dish Ran Away With The Spoon
' to provide us with vibrant cupcakes, jam tarts and mini meringues (heavenly!) which we used throughout the table design and complemented the look.
"We were lucky to have dress designer Charlotte Balbier on board with her beautiful dresses, along with Nikki Graeme from The White Closet Bridal Boutique and with Emma Draper as make up artist and Eve Broadhurst looking after hair the shoot was brought to life. I felt very privileged to be working with such talented people and I believe we really achieved something special thanks to the help and support of everyone involved."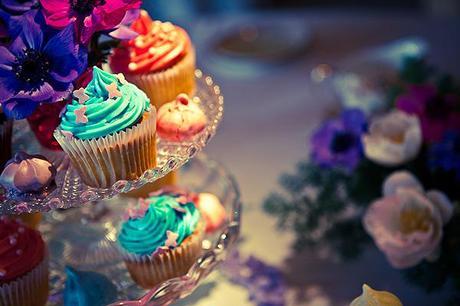 The stunning cupcakes and colourful meringues came from And the Dish Ran Away With the Spoon.
Anna Gill told me, "When Jonny first mentioned the idea for the future of vintage shoot and the type of look that he and Georgina were trying to achieve, we felt like the timing couldn't have been better as we had very recently been experimenting in the kitchen with colours and 'twists' on the obvious cake choices for weddings, due to lots of customer demand for something a little different.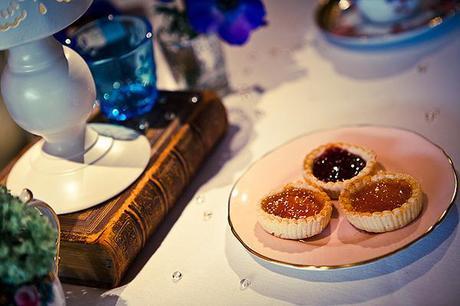 "This is what drove us to produce our 'acid-colour' meringues as we felt they fitted perfectly with the colour-pops from the accessories and make-up on the day and our jam tarts were a colourful nod to the traditional British teatime treat!
"We love traditional as much as the next person but we always love to work on something a little quirky for a wedding and we felt this shoot showcases that perfectly."
Vintage inspired dresses by Charlotte Balbier were the star of the show on The Future of Vintage shoot.
Charlotte says, "It's always exciting being invited to be involved in new projects and shoots and especially when the style of shoot is so cool and unique!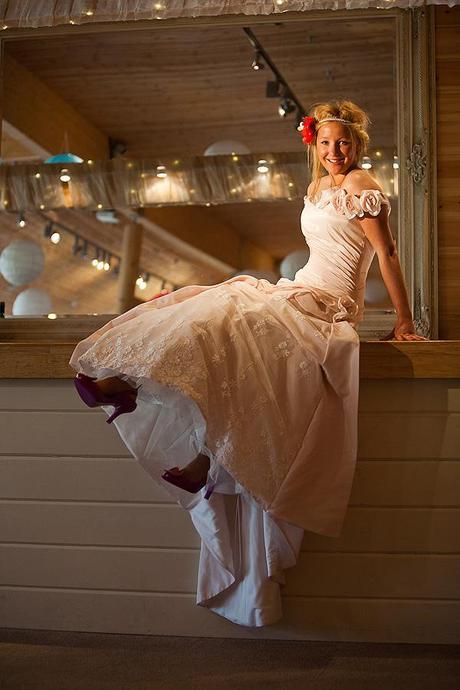 Poppy looks amazing in Charlotte Balbier's "Strawberry Sundae" and shoes by Vivienne Westwood
"The styling was very on brand with Charlotte Balbier and how the brand is moving forward…. Bridal fashion takes a new direction with modern day vintage!"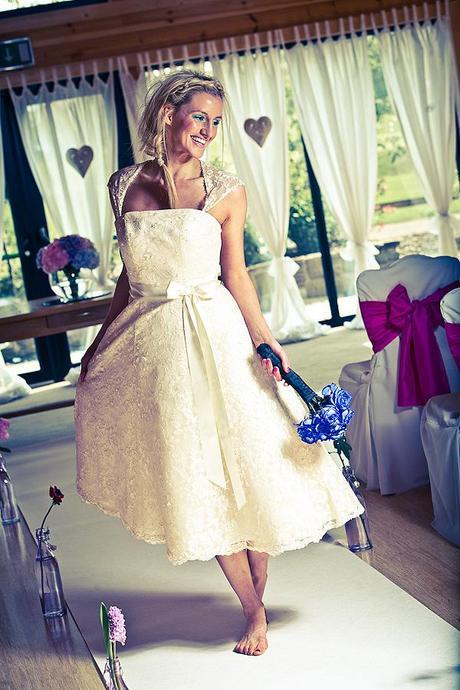 The White Closet boutique provided Charlotte Balbier wedding dresses for The Future of Vintage.
Nikki Graeme from The White Closet was thrilled when Jonny & Georgina asked them to be involved in the shoot.
"As a vintage-inspired boutique this immediately sounded like our cup of tea. We adore Charlotte Balbier's collection; her dresses offer our brides a great choice whether the bride opts for a slim fitted gown with an art deco feel, or indulges her love for lace.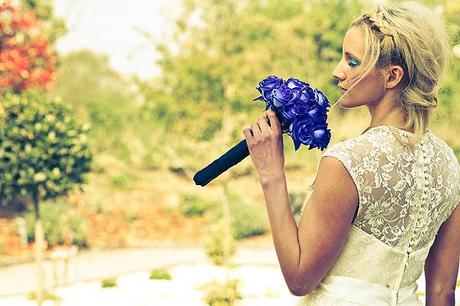 'Sweet Pea' by Charlotte Balbier - beautifully modelled by Stacey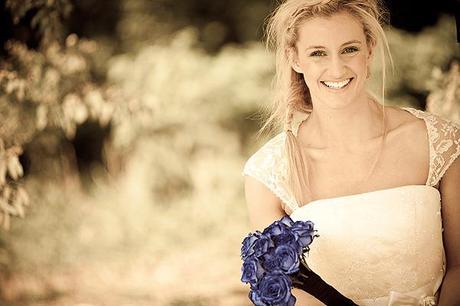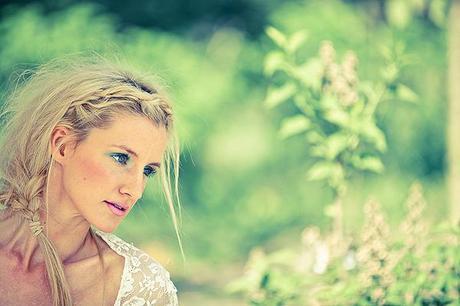 "We're huge fans of her short dresses which are a nod to the fifties era but with a cheeky fun charm.
"Charlotte's Fay dress, along with the candy bright make-up and accessories demonstrate the ever evolving nature of vintage. "The Future of Vintage" is clear to see in these stunning images."
Emma Draper added a blast of glorious colour for the models' make up.
"I was very excited when I was asked to be a part of the "Future of vintage" shoot, especially as I would be working with the finest wedding experts. "Vintage" is something which gets talked about a lot by brides of today, but it can mean different things to different people.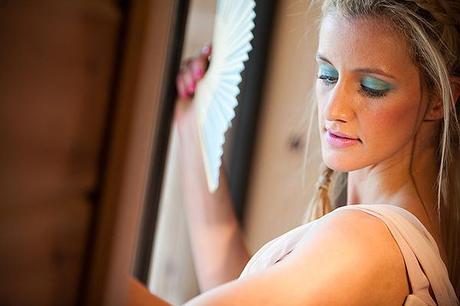 "For this shoot we wanted to move vintage on even further by taking cues from today's fashion world and mashing this with vintage bridal trends. Current fashion is all all about colour clashing and lots of candy brights – take heritage fashion brands' Vivienne Westwood and Betsey Johnson's recent catwalks for example, where they were seen clashing clothing and make-up colours. Make-up brands have also been launching their new bright colour collections.
"The rich bright candy make-up colours I used for this shoot worked so well with the overall theme and it worked because every element to the day had been carefully thought through, from how Styal Lodge had been decorated – with pops of colour everywhere, brightly coloured flowers, vintage crockery, colourful chinese lanterns, bright pink shoes and hair accessories. I layered and clashed eye, lip and nail colours – bright oranges, pinks and greens to work and clash with all of these things, using products from MAC and their Quite Cute range , Topshop's new lipsticks and gorgeous Illamasqua brights.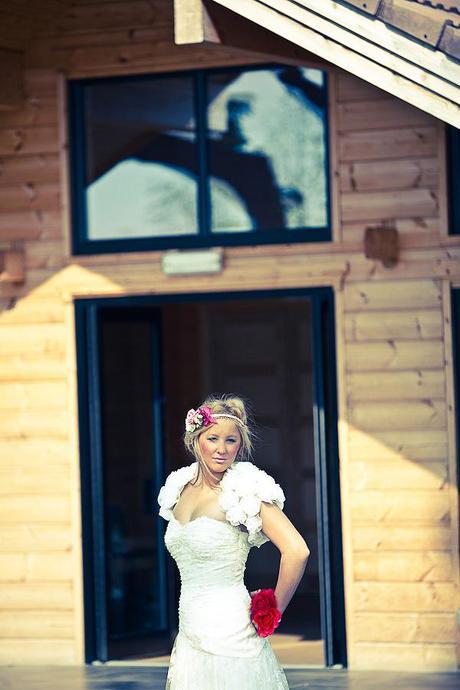 Poppy looks stunning in "Flo" by Charlotte Balbier - and candy bright make up by Emma Draper completes the look
Emma continues, "Brides these days are wanting to be much more individual and get much more out of their wedding day, and their overall theme and look has never been so important. They are asking much more of their suppliers to create a specific look. Their photography at the end of it all is like their very own fashion shoot! This just shows that when all elements of their planning is combined it is possible to achieve a fabulous look like this."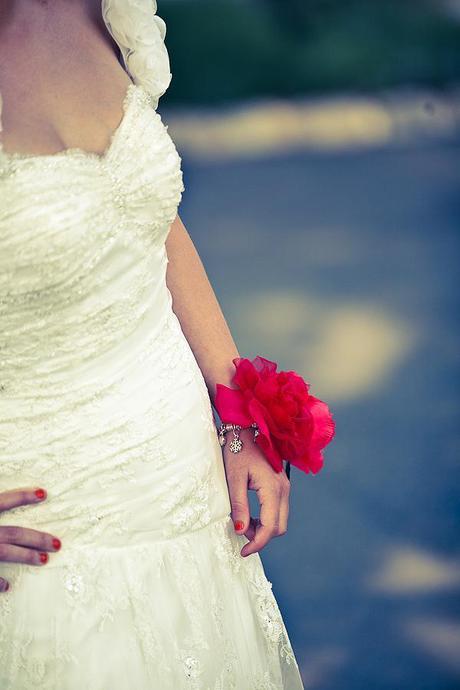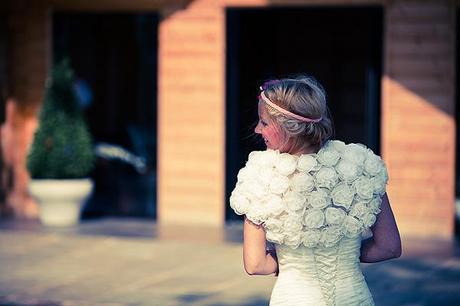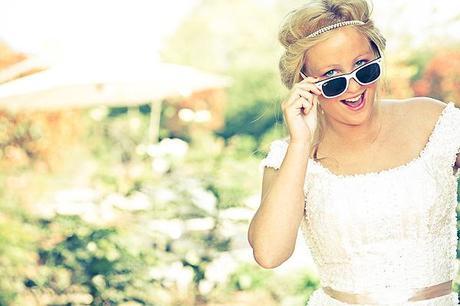 The Future of Vintage shoot takes in the surroundings of Styal Lodge, which is an impressively versatile wedding venue: recently dreamed up, designed and built in the Cheshire countryside, and owned by the Higham family it's a unique venue for a luxury wedding.
Inside Styal Lodge wedding venue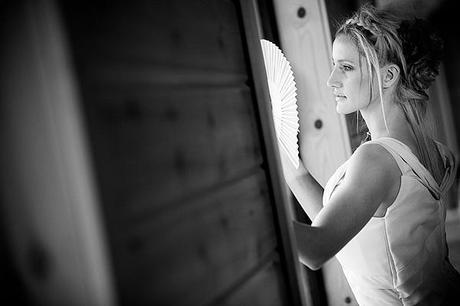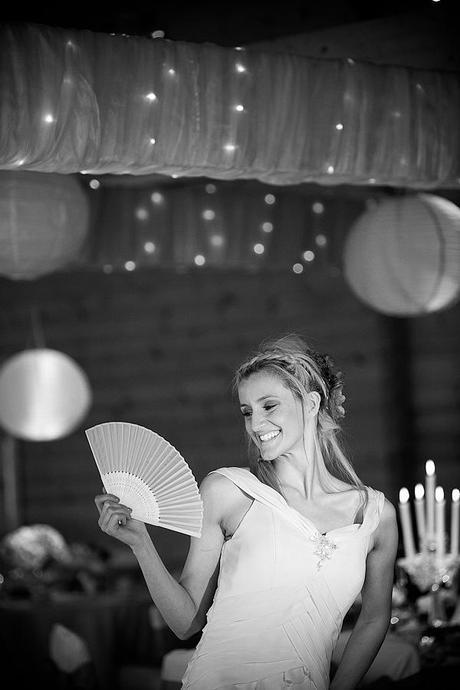 Dress: Tempany (in nude) from Charlotte Balbier's English Tea Party Collection (for best view of the gorgeous skirt, see the image taken on a roof beam, above!)
The garden at Styal Lodge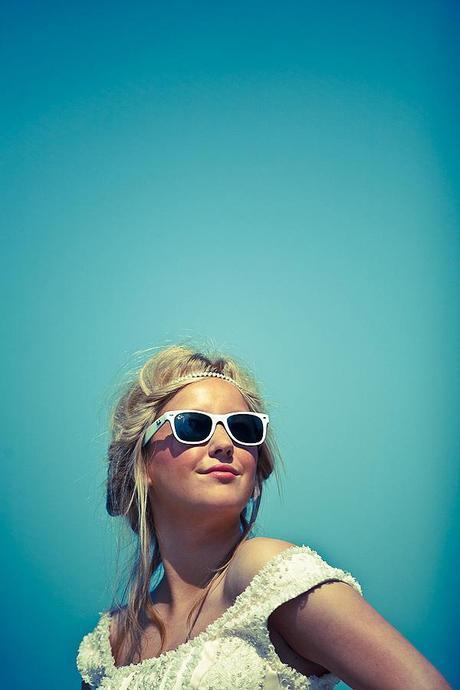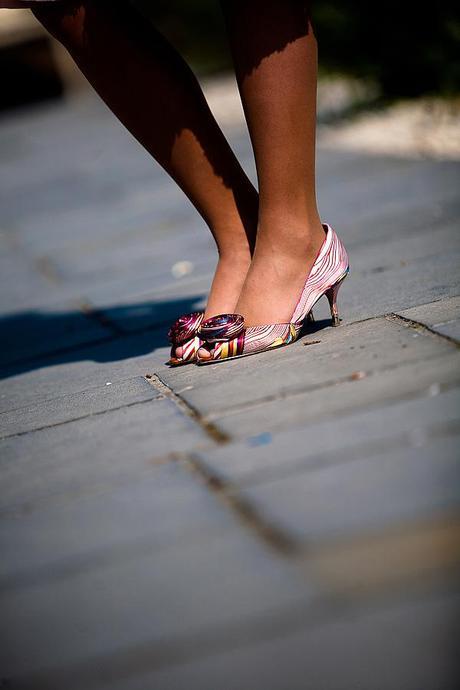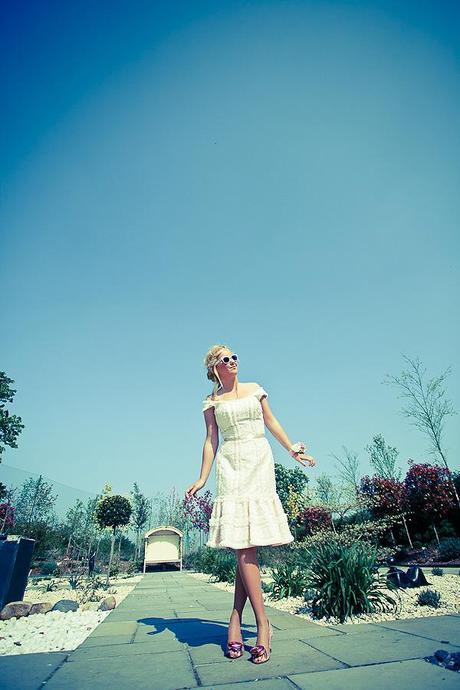 Poppy models 'Ruby' from Charlotte Balbier's Boutique Collection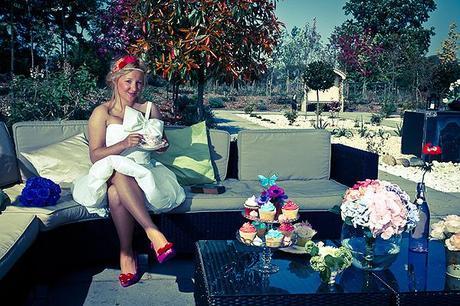 The ideal shoes for The Future of Vintage? Poppy says "Vivienne Westwood!" Classic vintage brides are wearing white and ivory Jimmy Choos… but bright young things can find inspiration from bright, poppy colours at Vivienne Westwood.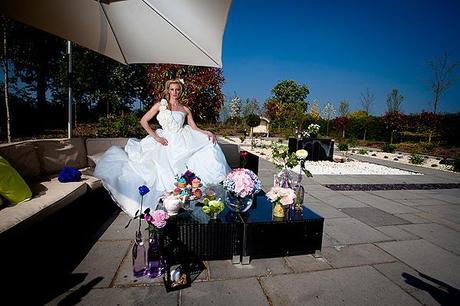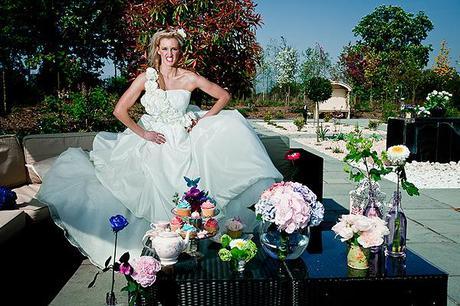 The garden at Styal Lodge is young and promises a fabulous display of flowers this summer. Because the venue was created especially for weddings, the layout is designed for you to get great wedding photos and for your guests to have a fantastic space to relax – complete with outdoor furniture as shown here!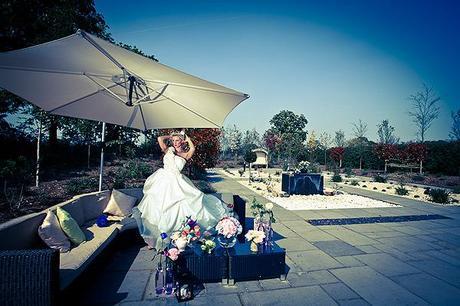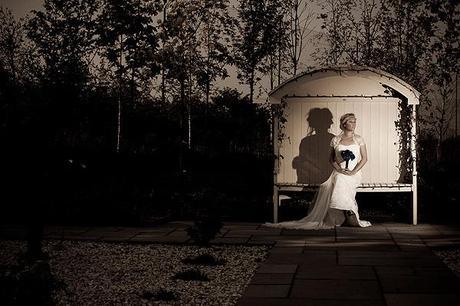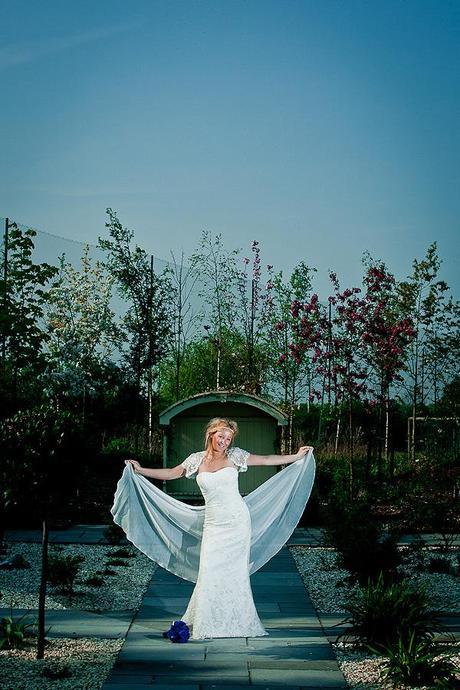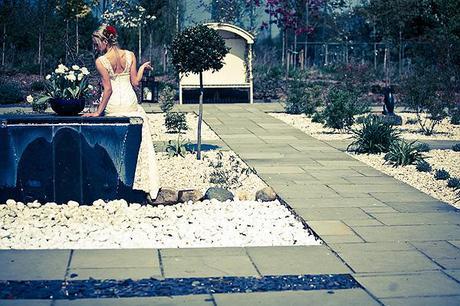 The famous platform! (My favourite bit)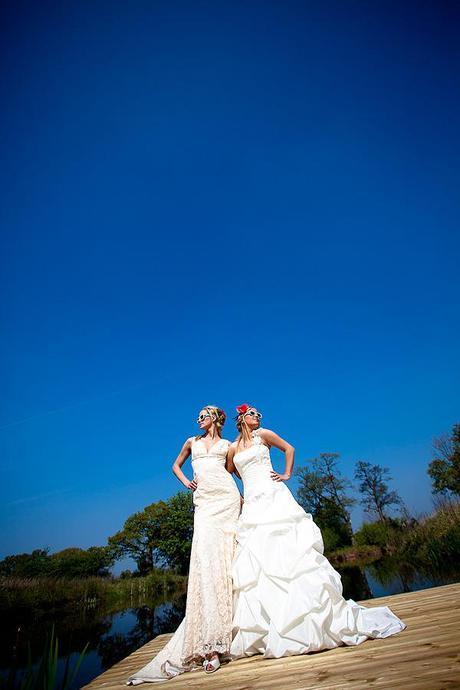 I've been following the blog of Styal Lodge since last year, and watching progress as they build a platform for brides and grooms, "a secret spot to whisk the wedding couple away to" which overlooks the water. When I visited the lodge earlier in spring, there was a heron in the reeds – now that's when you know you're really in the heart of the Cheshire countryside.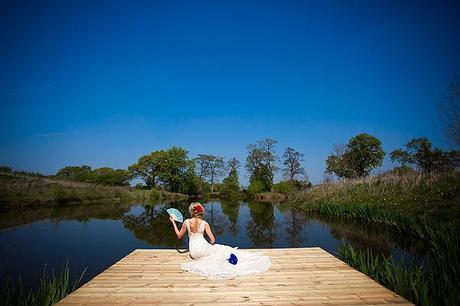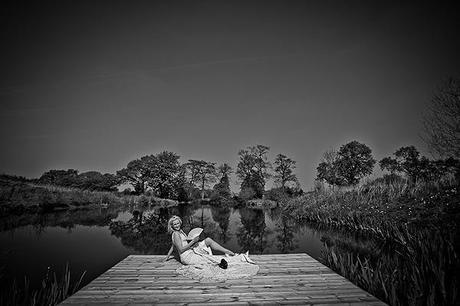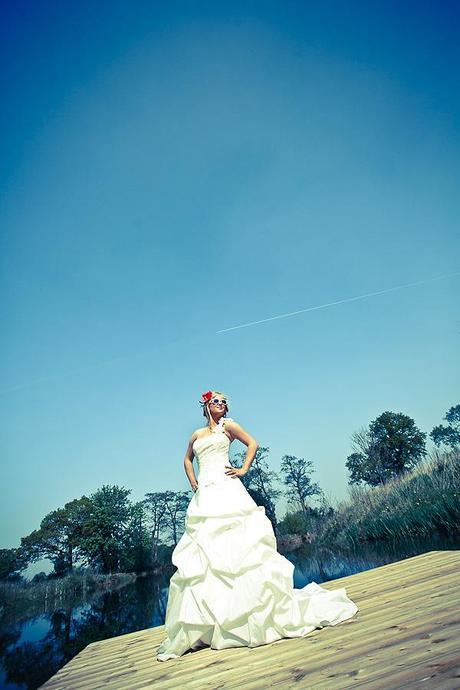 Dress: Candi by Charlotte Balbier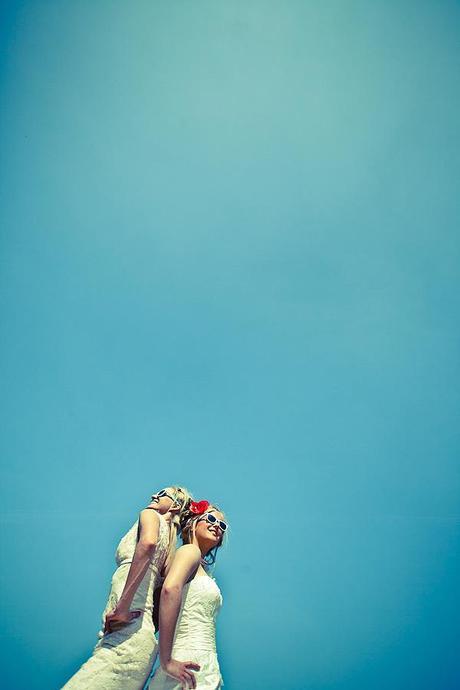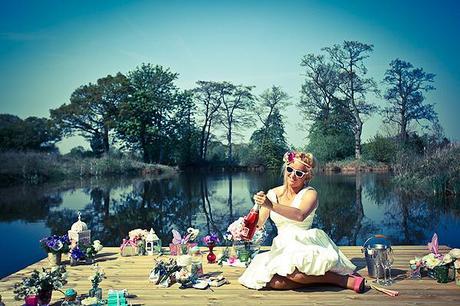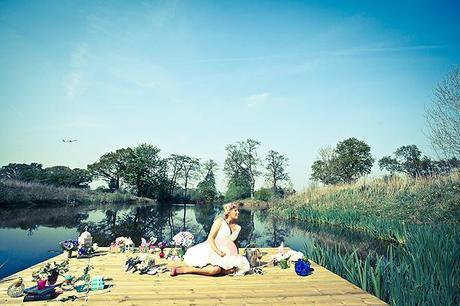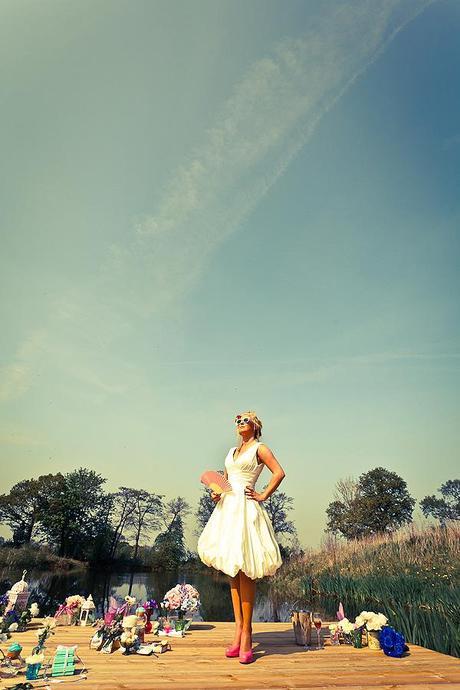 Charlotte Balbier's "Fay" design - from the 2011 collection
Everything comes together to create a brilliant, creative and quirky wedding look. The cute and unusual Charlotte Balbier wedding gown, funky pink shoes, and all those fantastic, colourful decorations and accessories. Even the ray-bans just add to the fun atmosphere of The Future of Vintage wedding shoot!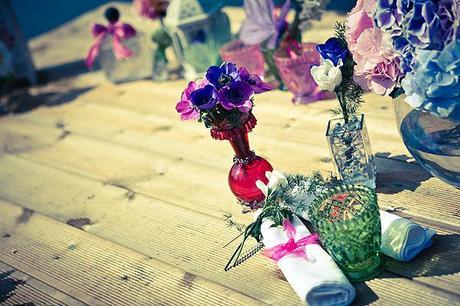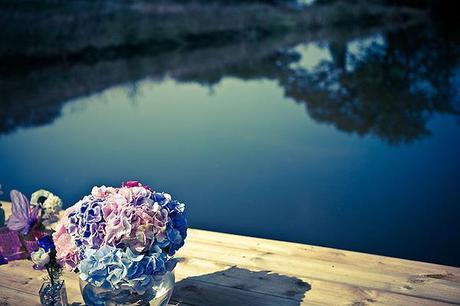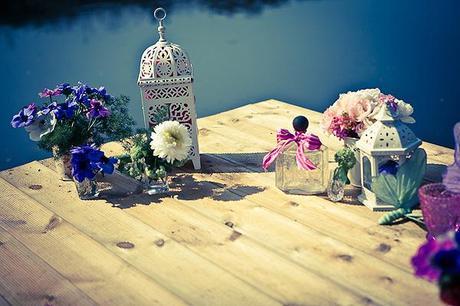 Huge thanks to everyone involved in The Future of Vintage shoot:
Wedding photographer Jonny Draper
The girls at Styal Lodge: Georgina, Sarah, and model Poppy Higham
Wedding dress designer Charlotte Balbier
The White Closet bridal boutique
Emma Draper make up artist
Model Stacey McKenzie
And The Dish Ran Away With The Spoon – colourful cupcakes
Pink Pepper catering
Special Days Events