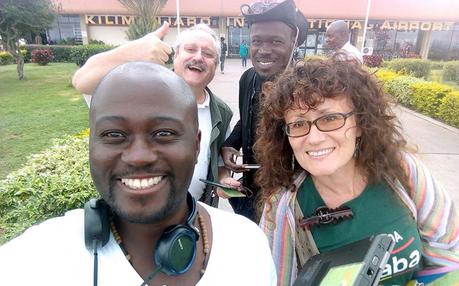 With over 40 years' experience working in tourism and aviation in Uganda, Kenya and Tanzania, Professor Wolfgang Thome is uniquely placed to share his insights on the future of travel post covid-19 in East Africa and across the continent. If you want to know what is happening in tourism circles in Nairobi, Cape Town, the Seychelles or Lagos, Wolfgang is your man! (The above photo was taken at Kilimanjaro Airport in 2017. Pictured with us are fellow travel writers Solomon Oleny and Edgar Batte).
Travel has been impacted more than any other aspect of our lives. For some of us, that affects everything: our business, our lifestyle, our ability to spend time with close family. As we try and assess what the new normal looks like, I decided to ask Wolfgang his views. He is both a frequent traveller and in daily contact with airlines, hotels and tourism boards across Africa.
Overall, Uganda seems to be doing well with our approach to managing coronavirus. Do you think this will encourage tourists to travel to Uganda post covid-19?
Initially did Uganda indeed do very well based on the experience with past Ebola and Marburg outbreaks. Numbers kept stable but those responsible took their eyes off the ball with regard to truck drivers entering from Tanzania, Kenya and South Sudan. It took too long for them to take public input seriously and get off their high horses and institute checks before trucks were allowed to enter Uganda. What is needed is to restore public trust and confidence. 'Beautifying' numbers is a transparent ploy to make the country look better ... yet, numbers are going up again, literally every day. We therefore have some way to go to demonstrate to potential visitors from overseas - when they are allowed to come in again without mandatory quarantine - that Uganda is safe and ready to host them.
What opportunities do you see for the Ugandan / East African tourism and travel industry post covid-19?
The main opportunity right now I see is in domestic tourism. Kenya has reached a domestic tourism percentage of over 55 percent (domestic tourists as a percentage of overall visitors). We in Uganda need to move towards such goals too. That said, discounting factors in Kenya for domestic tourists can reach 65 per cent off published rates and in some cases even more ... so Uganda's hotel and lodge operators need to take a leaf from that rebating level if domestic tourism is to truly take off. The present US Dollar rates quoted for hotels and lodges also need to go out of the window for Ugandans who want to pay in their own currency. Achieving this is possible but requires a major shift in mindset.
Read #MohammedHersi's take on the future of the tourism industry - Post #COVID19 on Wolfgang's website. Hersi is Chairman of the Kenya Tourism Federation.
Wolfgang, you are a speaker at a number of tourism events and exhibitions across Africa, notably AfriaDev in South Africa and Nigeria Travel Week. In your view, what is the future for big trade events like Magical Kenya and Uganda's Pearl of Africa Tourism Expo?
I do regularly speak at major aviation and tourism events and trade shows across Africa. Unfortunately as of now, some eight such engagements have been postponed and cancelled this year. I do not see any major tourism event taking place this year and our hope is now based on 2021 and no secondary or tertiary Coronavirus infection waves.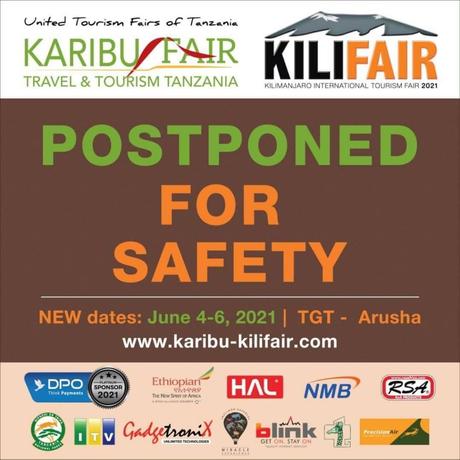 When it comes to regional events does the Karibu - KiliFair excel as the largest such fair in Eastern Africa. The more local events like the Magical Kenya Travel Expo in Nairobi, the Swahili International Tourism Exhibition in Dar es Salaam or the Pearl of Africa Travel Expo in Kampala are focusing mainly on promoting their respective countries, which is of course why they were established. The big African tourism trade shows like the Africa Travel Week, which includes World Travel Market Africa, IBTM and ILTM, Indaba in Durban or We Are Africa in contrast promote many African safari and beach destinations and are therefore bringing larger numbers of exhibitors and trade visitors together from around the world.
What is the future for aviation travel post covid-19 in Uganda, East Africa and the African continent?
Brussels Airlines will resume European flights as of 15th of June 2020 and should be back in Entebbe, in combination with Kigali, from probably mid-July although no details are available, even for me, at this moment on how many flights they will launch with. The route to Bujumbura in Burundi is due to follow by mid-August. Kenya Airways intends to relaunch flights as of 8th of June and Safarilink and Jambojet, as soon as the Kenyan government lifts the movement restrictions in and out of Nairobi County, Mombasa County, Kwale County (Ukunda) and Kilifi County (Malindi). Please read my blog ATC News where I publish all the latest information about resumption of flights in East Africa and beyond.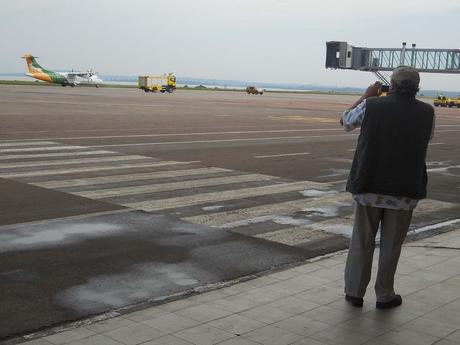 Wolfgang Thome in action on the tarmac at Entebbe Airport, filming the inaugural Precision Air flight to Dar es Salaam, July 1st 2017.
At what point do you think we should reopen primate tourism and should there be limits?
While we wait for any scientific evidence on the possible virus transmission from humans to primates, is it better to err on the side of caution and not open tracking for gorillas, chimpanzees, golden monkeys and other primate species. As and when primate tourism reopens, will visitors obviously have to wear masks and may even need to be tested before being allowed to track. The timeframe for reopening depends on the advice of veterinarians and scientists and we ought to listen to their advice.
Will you be travelling this year? If so, where?
As I mentioned before, eight of my speaking engagements and attendances were cancelled while I cancelled two planned trips to Kenya between late February 2020 and now for obvious reasons: borders are still closed, air transport is not yet available and while the virus keeps spreading, in any country I may want to visit like Germany, Belgium, Zimbabwe, Zambia and Botswana, I will not endanger myself nor my grandkids when I come home. This means that for all intent and purpose, regional and international travel for me will start again next year though I intend to use the time gained to step up travel across Uganda.
Tell us about a typical day in lockdown for you Prof.
A typical day includes my regular writing of articles and news items for ATCNews.org, the preparation of the daily #COVID19 updates at 6 am and 6 pm and, while the lockdown lasted, also a regular dose of humour under the headings #CoronaHumour #CoronaMemes.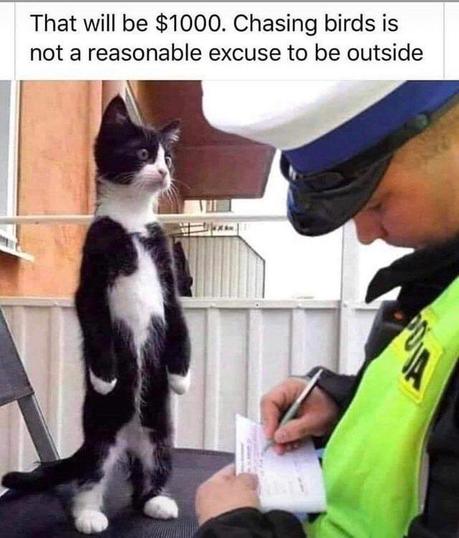 Thank you Wolfgang for keeping us smiling during lockdown with your #CoronaHumour #CoronaMemes
During the day I spend as much time as I can find with my grandchildren. I take regular walks through the garden with my grandson in tow to show him birds, butterflies, insects, flowers and orchids and then devote time to cooking meals. If I cannot have a served Egg Benedict once in a while I just have to prepare them myself. What I have refrained from doing is participating in the tsunami wave of webinars and video conferences of which, when available, I read the summaries only to realise I did not miss a lot.
I hardly miss my once a week or once a fortnight trips into the city (apart from those Eggs Benedict at Kampala Serena Hotel and Mestil Hotel). I do check in regularly with key contacts via email or WhatsApp and so overall there was hardly any change in my day's pattern compared to pre-lockdown days.
How will you proceed when the lockdown has been lifted?
Now that the lockdown has been lifted in a qualified way with the use of private vehicles possible again, I will nevertheless exercise utmost caution and restraint. My visits to the city will be far and few between while infection numbers in Uganda are still on the rise. I urge your readers to exercise similar caution and take extra care in their movements and interaction with others. Stay safe!
I hope to spend more time travelling around Uganda in the coming months. Note for example that Rainforest Lodge Mabira set to reopen on Monday 1st June 2020.
Who is Professor Wolfgang Thome?
Wolfgang is a prolific writer and blogger at ATC (Aviation, Tourism and Conservation) News. He is an aviation expert and has worked at a strategic level in tourism across East Africa for over four decades.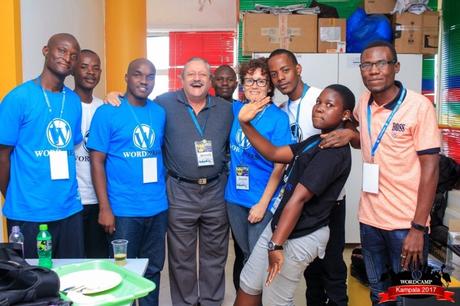 Wolfgang and I are speakers and regular attendees at the annual Wordcamp events for Kampala's blogging and WordPress website development community
As lockdown eases, I will relaunch my popular 'Introduction to Digital Marketing for Tourism' workshops where we discuss: how hotel staff can encourage guests to write positive TripAdvisor reviews and check in on Facebook; tips for using Instagram and Facebook Business Pages; video marketing, Instastories, YouTube, Facebook Stories and WhatsApp status updates; email marketing and how to work with bloggers.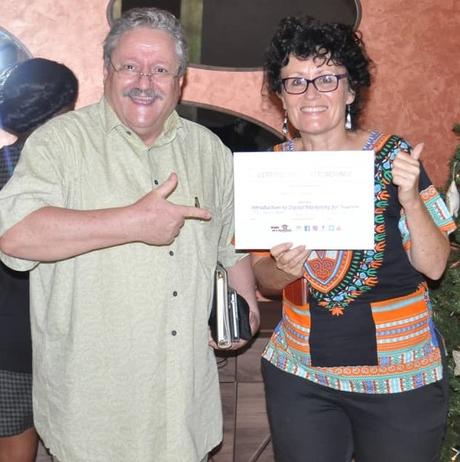 Thanks Prof Thome for helping Diary of a Muzungu promote digital training to the tourism industry in East Africa. Workshops always receive very positive feedback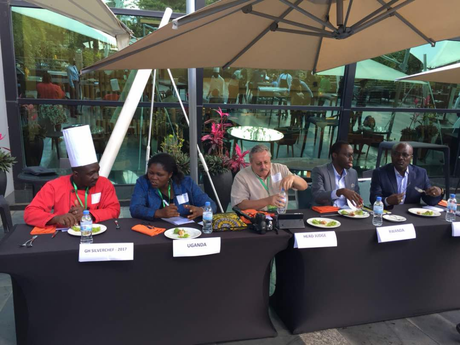 In 2018 Wolfgang headed a team of judges from across the region at the Gorilla Highlands Silverchef competition, an event that promotes tourism in south western Uganda, Rwanda and the DR Congo. The 2018 event was held at the Kigali Marriott Hotel
How we travel post covid-19 remains unclear but travel we will - in time. A big thank you to Wolfgang for keeping us up to date on the future of travel in East Africa. Remember to check out his blog ATCNews.org and follow him on Twitter and Facebook.