The Full "Fifty Shades Freed" Trailer Is Out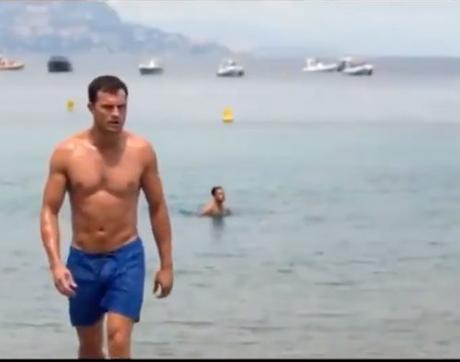 The world may be a shitty place at the moment, but at least there's one tiny silver lining: next Valentine's Day will be the last one where the world is tormented with a new Fifty Shades Of Grey  movie. Can I get a whips and chains amen?!
Entertainment Tonight reports the trailer cautions fans to not "miss the climax" of Christian Grey and Anastasia Steele's romance in the last movie, which is kind of funny since I almost climaxed giggling so hard at how (shocking!) terrible this movie looks. In what easily could have been renamed Fifty Shades Of CGI, the trailer starts out with Dakota Johnson and Jamie Dornan grinning ear to ear while greeting one other with "Good morning, wife" and "Good morning, husband." Some of y'all may have to take a seat over such incredible dialogue, but I'm more in awe by how those two genuinely look happy to be in a scene together. But then I'm reminded over how that genuine glee is probably because they knew they only had three more days left on set before they never had to see each other again.
The new film is all about the Greys getting married. We then see those two lovebirds-for-the-sake-of-a-check take their multi-dimensional relationship on a world tour. They're fucking on the beach. They're fucking in front of mountains. They look like they're about to fuck in a jet. They fuck while waiting in line at Krispy Kreme. Okay, maybe not the last one, but I'm sure that's on the Director's Cut.
The trailer then gets back to the standard and highly plausible timeline of their career and life advancements, including Anastasia's newfound status as a fiction editor and Christian surprising her with a mansion. The mansion plotline looks somewhat interesting since it's a real fixer upper, but, instead of Chip and Joanna Gaines, it appears Christian hired some leggy blonde with a look in her eyes that says, "You're gonna need take these Frank Lloyd Wright-inspired lady bits to Pound Town if you want to see blue prints for a mother-in-law suite." Seems like a fair deal considering the rising costs of real estate in Greater Seattle!
There's also the standard fare of red room sex scenes (that are marginally more risqué than a Lifetime movie), spooky chase scenes in a dark SUV, and that hot dude with Meg Ryan's hair who is mad Anastasia took over his job. The whole thing was going to be a write-off in my mind, but we get the return of Kim Basinger, who really made the last movie by delivering her lines in a monotone with a "my agent told me this was a sequel to L.A. Confidential" daze in her face. Which is fitting, since usually half the audience at these movies got duped into going by being told they were going to see Thor or Saw 600 or paint dry or anything better than a 50 Shades move!
Pic: YouTube
Source: The Full "Fifty Shades Freed" Trailer Is Out
4 total views, 4 views today