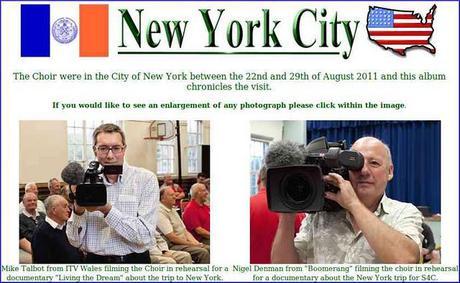 Click above to visit the Fron Choir's New York visit photo album.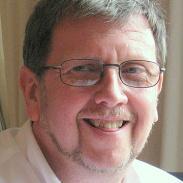 AmeriCymru spoke to David Thomas Jones , the Press and Publicity officer of the Fron Choir following their recent successful and dramatically eventful visit to New York
.
AmeriCymru: The Fron just visited New York City, where did you perform and how were those shows?

David:
The Fron and our soloist Irish soprano
Margaret Keys
officially had three engagements - two concerts and a performance at
The British Garden
at Hanover Square, in the heart of Lower Manhattan. The gardens were created as a memorial to the 67 British subjects who lost their lives in the tragic World Trade Centre attacks of September 11, 2001. The first concert was at St. Bartholomew's Church 325 Park Avenue (at 51st Street) and the second at St. Patrick's Cathedral 5th Avenue between 50th/51st Streets. Two Welsh TV stations accompanied us, and filmed both concerts. They wanted us to do some impromptu singing in the city so we sang on the steps of St Bart's and later in Times Square. Times Square was quite amazing as the crowds stopped and listened and cheered loudly and applauded. When we sung the Star Spangled Banner Americans came forward and sang with us and some had tears running down their cheeks. We also sang on the Staten Island Ferry and received a super reception.
AmeriCymru: What did you perform in NY and does your list of songs to perform in NY vary from what you might perform at home? Is there a difference in how audiences in the two places react to the songs you choose?
David:
No, we did not change our repertoire and the reaction of the audiences was brilliant. St Patrick wanted us to sing secular music or similar music. We had to submit our programme for approval. So we sang in the main Welsh and English hymns, a piece of Russian church music, Welsh Lullabies, Franz Schubert's Sanctus, Panis Angelicus and You'll Never Walk Alone. St Bart's were more relaxed about our programme so we added the Rose, Gospel Train, Bring him Home, Speed Your Journey and the Battle Hymn of the Republic. We ended singing Amen (a negro spiritual) and the Welsh National Anthem as encores in both venues.
AmeriCymru: What do you think is the place of music in modern Welsh culture today?
David:
I may not be the best person to answer this as I would say very important but then I have been a member of the Fron Choir for 26yrs and music is a very important part of my life. I'm a teacher and to be able to sing for four hours a week is a great stress buster. All you can think about is the music - it sort of revitalises you.
As for the place of music in Welsh culture, I would think that every town if not village has some sort of choir - be it male, female, mixed or children's choir. The Rugby World Cup has just started and an official Rugby CD has been launched. Wales have five tracks on it and we are honoured to be singing two of them, Hen Wlad Fy Nhadau (the Welsh Anthem), and Men of Harlech. Bryn Terfel sings two and Katherine Jenkins the fifth.
Our CDs are still popular; we have sold well over one million. Our fifth CD will be released next month; it's called Ultimate Collection and will be available from Amazon and available as a download from ITunes. However I must say that the majority of sales so I'm told do not come from Wales but from across the border in England. In fact our CDs are on sale in over 34 countries so we're spreading Welsh culture world wide. Not bad for an amateur choir from North Wales whose members sing for the love of it! We would love to release our CDs in US but Decca US tell us that choirs have no appeal in the USA.
AmeriCymru: How do you think this kind of classic Welsh choral music is doing in the face of changes and trends in modern life?
David:
There is talk about choirs struggling for members and that choirs are getting older and no young voices are coming in. We still have four members of the Fron singing today that were in the choir when it first formed 65 years ago, and at the other end of the spectrum, half a dozen between the ages of 15 and 21. I don't think that many of today's youngsters are likely to give that sort of commitment, but my advice is to make all ages welcome. With youngsters, one shouldn't worry if their membership is initially short. The important thing is that they have broken the ice and are likely to return. We have a few good regular members who have returned after a break of 10 or 15 years.
I know today there are many more distractions with TV, films on demand, new technology, interactive games, social networks etc but there is nothing like being part a group who produce a brilliant sound and when the sound is appreciated by an audience it can't be beaten. There is also a close comradeship and friendship between choristers and they support each other in difficulties. Choirs need to get that message across and they and every member has to work hard at recruitment.
AmeriCymru: How does the Fron balance sacred and secular, folk and classical and modern styles, Welsh and English and other languages?
David:
A good song is a good song whatever style it is. We don't separate songs into styles and we don't really think about languages we just set out to entertain our audiences. The Fron was formed to compete at the
Llangollen International Eisteddfod
, which is three or four miles away from Froncysyllte. Through the Eisteddfod we have made friends with choirs from all around the world and have exchanged music. Since I first joined the choir 26 years ago I have sung songs in around 18 different languages. One of the early choirs that visited Llangollen was the Modena choir from Italy. It was hosted by local families and the parents of Dennis Williams, one of our founder members still singing with the choir, put up the choir's MD and one of the choristers, his son, was a 17 year old tenor by the name of Luciano Pavarotti.
AmeriCymru: How do your audiences receive the different types of music you perform-- is your audience graying and dwindling like classical and jazz audiences in the US or is there a younger generation embracing the music?
David:
Since we released our first commercial CD under the Universal label five years ago, we have noticed our audiences getting younger. The audiences also want to hear the tracks that are on our CDs and that is something that took some getting used to as we thought an audience would want to hear new and different songs every time they heard us.
We have had a faithful following in pockets around the UK since the choir was first formed. One such pocket is the Potteries, the area of Staffordshire that was known world wide for its bone china and Wedgwood. There we have had a Christmas concert at its New Vic Theatre every December for the past 30 years and they have always been sold out; the theatre holds over 600. It's a different concert for us as it's a theatre in the round. We form up in two rows around the piano - the third row being the audience. We face choristers, which is again quite different for us and you notice that some pull some strange and funny faces when they sing.
Booking us around December is getting to be difficult as we now have additional regular concerts in Chester, Manchester, and Birmingham. These concerts are often booked two years in advance.
AmeriCymru: While you were in New York, there were a couple of surprise environmental events and your stay was unexpectedly extended, what happened there?
David:
Yes. These events will certainly mean we have to rewrite our history. The first was at St Bart's whilst we were closing the concert we felt the steps tremble. We thought that there must be a subway under the Church and it was not until we started to have Tweets from Britain asking about the earthquake that it dawned on us what had happened. The locals then confirmed to us that it was an earthquake.
On the Wednesday TV news reports started mentioning hurricane Irene. There were 6 different models but only two predicted it coming towards us. Then as the week progressed more and more models predicted New York being hit. Then New York's Mayor Bloomberg announced that the subways would start shutting down from 12 on Friday and buses would stop on Saturday. Bridges in to the city were to be closed and evacuation centres were set up with capacity to house 800,000 people. Shops and Restaurants closed from noon on the Saturday and all flights in to New York were to be suspended for three days. We stocked up with supplies as our hotel did not have a dining area as guests eat in surrounding restaurants.
The choir were due to fly out on the Sunday but could not so we had to book another night - maybe three. The hotel however was fully booked and they did not know who was likely to arrive. We had to pack our bags Sunday morning and wait in anticipation. Luckily most of the choir could stay at the Wolcott due to cancellations but 26 had to move 2 blocks down to the Gershwin Hotel. We were only allowed to book one night at a time so we were OK for the Sunday. American Airlines then offered to get us home in two flights one on the 5th and another on the 6th of September. This was going to cause massive problems to choristers as many had work, some had hospital appointments one was even due to have an operation on the Thursday and another – a policeman was due to give evidence in court on the Tuesday. Choristers were also concerned about running out of various medications. Our tour operator decided to get us home however and whenever possible.
We eventually flew from JFK, Newark and LaGuardia airports in all sizes of groups on the Monday, Tuesday, Wednesday, and Thursday. The groups took various routes home with some flying to London then Manchester some had detours to Chicago and Dallas with one group taking 23hours to get to Manchester.
As for Irene its self we had seen what it had done to the Eastern Coast so we were quite apprehensive. I must say that New Yorkers take things in their stride and were quite calm and unconcerned about its arrival. Eventually when it came it caused flooding in Lower Manhattan especially the Battery area, but luckily mid Manhattan escaped very lightly when it was downgraded to a tropical storm. One comedian on Twitter posted "Hurricane Irene has been downgraded to a British Summer".
As the storm hit the hotel with torrential rain on the Saturday the choir were gathered in the foyer with other guests and a blitz atmosphere prevailed. The choir started singing a song and a group of young ladies from Russia responded with their own song and so we passed the time.
Later it was reported that the Gershwin had a grand piano and a large foyer and as everything had been cancelled in New York we decided to give a concert. On the Sunday night we gave a third unplanned concert to around 50 stranded international visitors to the city.
AmeriCymru: You've got several shows coming up throughout September and October, where can people go to watch the choir perform?
David:
We were delighted that we all made it home by the 3rd of September as we sang in a wedding in Llangollen. We have two more concerts in September - on the 24th in Yeadon Town Hall, Leeds, and the 29th in St Oswalds Church, Oswestry.
In October we have two concerts; the first on the 15th at De Montford Hall, Leicester whilst the second is part of a mini tour of 3 concerts with Irish soprano Margaret Keys who came with us to the US. On the 22nd we are at the Floral Pavilion, New Brighton - tickets available from http://ow.ly/6qN9p
The two remaining concerts of the tour are in November. Theatre Hafren, Newtown on the 5th with tickets available from
http://ow.ly/6qN5h
and the third concert is on the 19th at the William Aston Hall, Wrexham with tickets available from
http://ow.ly/6qNf3
--
Fron is pronounced Vron.
There is no V in the Welsh language so f = v and ff = f
Follow the
Fron on Twitter
Visit the
Fron's Web Page