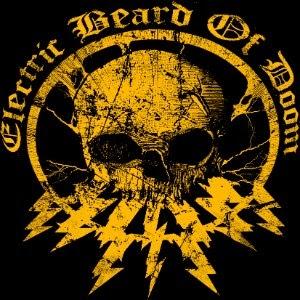 Today's Spotlight is on Pat Harrington, Head Honcho & Slave to the Sludge at Electric Beard Of Doom, Guitarist/Vocals at Geezer and Guitarist at :::KILLCODE:::  The Electric Beard Of Doom is here to lay Sonic Decimation upon the masses with the Heaviest, Stoniest Psych Rock,Space Rock, Heavy Blues and Post Apocalyptic Astral War Cries! Electric Beard Of Doom, Doom/Stoner/Psych/Sludge Podcast at http://www.mixcloud.com/ElectricBeardOfDoom/
Start at the beginning, how did you get started with this crazy idea of broadcasting music and starting your own podcast?
 I had been considering it for a while, but never really knew how to get into it. I had recently discovered the "Doomiverse" and started to follow a lot of the blogs, submit my bands for the internet radio stations etc... One day Gary, from Grip Of Delusion Radio, posted that he was looking for fresh faces to contribute to the station. I got in touch with him... and the rest is history, as they say.


 We're all the product of our musical past. What's your musical history?
 Been playing guitar for about 30 years now, first song i learned was "Good Times, Bad Times" by Led Zeppelin, about 2 years later, Reign In Blood came out... it all grew from there: Celtic Frost, Black Flag, Dead Kennedys, Bad Brains... A product of the NYC music scene, I've been playing in and around NYC for over 15 years. Had some success with a band called SLUNT, got a record deal... had the opportunity to tour the US and Europe with the likes of Motorhead, Paul Stanley, COC & Marilyn Manson. Got to do some real cool shit!
First album you ever bought?
I got KISS Alive for Christmas when I was 5... it changed everything.

 First musical epiphany moment?
Saw the video for Prince's "Let's Go Crazy", when I saw him play the solo at the end of the song, I knew that I had to be a guitarist.

 First album that terrified the hell out of you?
Probably Black Sabbath, it seems funny now, but back then those guys were still pretty fuckin scary!

What's the last album to grab you by the throat and insist you listen?
 Because of the podcast, I get exposed to so much great music nowadays, it seems every week I have a new favorite! First time I heard Dopesmoker, my body froze, couldn't breathe, it was as if I had found the song I'd been looking for my entire life. Electric Wizard's Dopethrone had a similar effect... more recently the Melvins "Nude With Boots", The Midnight Ghost Train's "Buffalo" & Wo Fat's "The Black Code" all made me re-think what heavy music was about and expanded the possibilities.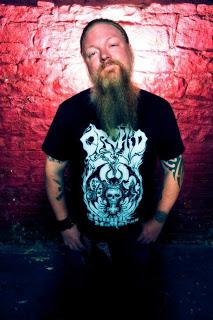 What do you see happening in the music scene today, good and bad?
   Well I'm fairly new to this underground scene we got going here and one of the things that struck me right away was that it is it's own self sufficient, self-sustaining entity. The blogs, labels, radio, fans, etc... all operate as if the mainstream hard rock and metal world doesn't even exist. More importantly, we all seem to operate despite the mainstream. Additionally, the focus is on the music, not some corporate pre-packaged processed bullshit. Sometimes bands cross over and that's awesome, eventually I think the mainstream might even catch up to what the underground is doing! I'm just really excited to be a small part of it.
   When people talk about the 80's, some tend to deify it as if it was an amazing period in time. As someone who lived through it can tell you, it sucked! Yes we were there on the ground floor of great musical movements like hardcore, thrash, etc... but that's only because everything else sucked so bad. You wanna judge a period of time, look to the underground... during exceptionally shitty times, there tends to be a great underground scene. Right now, we have a great underground scene... that's because everything else (including most mainstream hard rock and metal) sucks SO BAD!

   With so many music sites, how would you describe what you do? What's your unique take on the music and broadcasting?
 I dunno, first and foremost, I want to entertain. I want people to have fun when they listen to the Electric Beard Of Doom. I want people to get hip to great new music, I want the bands to be excited when we play their tunes on The Beard! I guess all I got is my taste, my voice, and my sense of humor. I guess I'm doing a good job, because the response has been a bit overwhelming and I've already been able to do quite a lot in a pretty short period of time. As long as I don't start to take myself too seriously and turn into an asshole, maybe The Beard can keep growing for a long time.

Illegal free downloads on your site. Yes or no, and why?
No, I'm a musician and no matter how I feel about the issue, I will always respect the artists wishes on this matter, even if I disagree. Besides, there are so many bands who give their music away on Bandcamp or otherwise, there is no reason to search out and promote illegal shit.

 What's been your all time greatest "Find"? That band you "discovered" before anyone else and started the word spreading?
   One day I put out a post on the FB page trolling for new music, I got a response from Rochelle, the bass player from Moon Curse. She directed me to their Bandcamp page; they don't have a FB page or any other website. I instantly loved their album, bought it right away, posted the link on the FB page and played one of their songs on the next podcast. I thought no one else knew about them, I was wrong of course, but shit that was a rush! That's about as close as I've gotten so far, except for my band Geezer! I was the first one to break Geezer...

  If you could write a 1,000 word essay on one song, which one would it be, and why? What makes that song so important?
   Probably would be Dopesmoker... that song/album is so important on so many levels. Musically, it creates landscapes with distortion. The chant-like vocals evoke an almost trance-like state. The slow, plodding, repetitive, monolithic nature of piece elicits a range of emotions. It can simultaneously be all things to all people or be cast aside as an anomaly. It is one of the heaviest, deepest, most mind altering recordings in the history of music!

  .
   Swamp Machine from Holland, Doctor Doom (France), Borracho's new album is seriously some next-level-type-shit... and Geezer!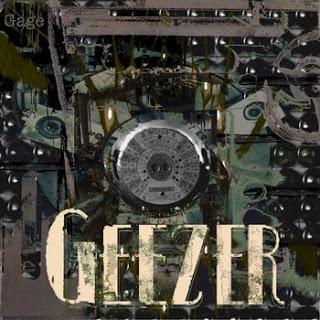 Give us three bands that we need to keep our eyes out for

   Tell us about your personal music collection. Vinyl? CD? What's your prized possession?
   Recently I've become a vinyl junkie, but my computer holds almost 100 GB of music. Compared to some, that probably ain't much, but I got an old computer, the library now grows at an exponential rate and I'm running out of room... Some prized possessions? Got some cool old vinyl! I bought Reign In Blood the day it came out.. still have it... D.R.I.: Dealing With It... more recently, I love my Spelljammer: Vol. II Die Hard Edition from STB Records... Mind Control by Uncle Acid is a bad-ass, total package! I also just got the Blood Lust picture disc from Easy Rider Records! Got the Limited Edition Devil To Pay and Ape Machine LP's , which are awesome! The Wo Fat/Egypt Split, Cyclopean Riffs from Totem Cat is phenomenal in every way. I always show off my Moon Curse album too.
 What makes it all worthwhile for you?
The love of music, man. For me, there is no other way... I've been playing music, been around music, in bands, touring, recording, etc... for more years than I'd like to admit. For the most part, I haven't been able to make a living on it (yet) and without the support of my wife, I'd be living a much harder life. I've seen many musicians, better ones than I, fall to the wayside because it just is so fuckin hard. I've been lucky for sure, but patience and endurance are just as important. At the end of the day, I still love to pick up a guitar and play, I love creating art and I love the collaborative spirit that goes into making music... Now that I do the podcast, I enjoy the idea of spreading music in a different way, there is still self expression in that... creativity, that's what it's all about.

  How would your life be different if you weren't involved in music?
   I dunno, it's a cliche to say, "I'd be dead or in jail!", it's also a fuckin cop out. I can tell you one thing tho, without music, my life sure wouldn't be as fun!

  Ever been threatened by a band or a ravenous fan?
As I mentioned, I was in a band that toured Germany opening for Motorhead. Many times hanging out with the German fans after gigs, they would yell at me... that language is so harsh, I couldn't tell if they loved me or if they wanted to rip my head off!

 In the end, what would you like to have accomplished, or be remembered for?
For better or worse, I guess I just want to be remembered for being real, for being myself. Everyone loses their way here and there, but I've always followed my heart and have done what I thought was right. I'm not in it for money, I'm definitely not in it for fame... for whatever reason, I just dig making music... I dig making HEAVY music. If I can make a few ripples in the water along the way, that'll be good enough for me
.
   Many people may not realize the hours you devote to what you do for little or no pay. Is there a day job? If so, how do you find the balance? 
 Currently, I have many projects going on simultaneously. I'm in a great NYC rock n roll band called Killcode, who just released our first CD (Killcode) on CME Records. I also have a band called Gaggle Of Cocks, we just released our sophomore effort digitally on Sliptrick Records and will be selling CD's on Bandcamp as soon as I can get around to it. Through the podcast, Electric Beard Of Doom, I started doing some production/promo work. Along with Brendan Burns and Snake Charmer Booking, we just put on the Eye Of The Stoned Goat 3 in Brooklyn and it was a smashing success! And of course, I have a lot going on with Geezer! In addition to all that, I have a 7 month old son and I am in full on Mr. Mom mode while the Mrs. makes the bulk of the loot... So, 220... 221... whatever it takes!
   What's next? Any new projects?
Starting to expand The Beard a little bit, gonna take a stab at putting together some more concerts. Initially I'll stick to NYC and the surrounding areas, then who knows? Also gonna start doing some promo work... throw my weight behind projects and people that are making a positive impact on the scene. Got a big show with Killcode coming up at the Bowery Ballroom... Some great Geezer gigs coming up... Also, Geezer's debut, Electrically Recorded Handmade Heavy Blues, is being released on Blues Blvd. Records (Belgium) on Sept 15th! In addition to that, our EP is still raking in unbelievable reviews and creating a lot of buzz. So far, it's only been available as a digital download (FREE) on Bandcamp, but I can now say that you can expect to see it on vinyl in the very near future! More on that later...
   Finally, other than the music, what's your other burning passion?
   Aside from being an American of Irish descent and a musician (and now a dad!) the only other thing that I identify myself as is a New York Football Giants fan! I've been a Giants fan my whole life. In my house, Sundays are for Giants football! We cook, we drink, we get down... on gameday, nothing else is as important. I will pass 2 things on to my son, my love for music and my love for the NY Giants... what else does a man need?
Choose an emoticon