Original content: The Flower Color Meanings In Your Wedding Bouquet
If you've been thinking about which flowers you'll be carrying in your bouquet, you've probably had some questions about which flowers signify what when you're walking down the aisle. Many of your decisions regarding your bouquet will likely be affected by your overall color scheme; here's a color-by-color breakdown of the meaning of bouquet flowers.
ADVERTISEMENT
A photo posted by Wedding Forward (@weddingforward) on Nov 25, 2015 at 11:14am PST

1. Believing In Blue
Blue is an incredibly popular color for wedding bouquets. Blue bouquet flowers carry a connotation of trustworthiness and dependability. Both the oceans and the sky are blue and are constants in nature and life; making blue the representative color of commitment and steadfastness. Blue bouquet flowers, meaning commitment and trust, are available in several different blooms. These include craspedia, gloriosa, delphiniums and several others; shades range from very light to deepest blue.
2. Glimmers Of Green
Green bouquet flowers carry meanings of fertility and growth.  Green is a color that's deeply entwined in nature and represents life. It's a very versatile color for your bouquet because it works well in many different types of venues and settings.  Symbolizing self-respect, balance and a sense of well-being, green bouquet flowers are available in a range of shades, including grass-green and lime. Some common green bouquet flowers are Ammi majus, sala, eucalyptus parvi, and scabiosa, as well as waxflower.
3. Yearning For Yellow
Carrying yellow flowers in your bouquet imparts a note of optimism and happiness. Yellow bouquet flower meanings are all about hope and enlightenment, so they make a great addition to your bouquet. Some popular yellow blossoms for your bouquet include roses, daffodils, phalaenopsis orchids, and tulips.
4. Obviously, It's Orange
Orange flowers are very popular because they represent warmth and energy.  Orange is a fun, obviously flamboyant color and it comes in shades from peach to rust and everything in between. If you want orange blooms in your bouquet, look for poppies, spray roses, Alstroemeria and Gerbera daisies. Tulips, carnations, and Ranunculus are also gorgeously orange.
5. Partaking In Purple
Purple has traditionally been the color or royalty and imparts a regal feel to your wedding flowers. Balanced delicately between blue and red, the color purple also has a mystical side; purple flowers can add a touch of whimsy or a feeling of elegance to your bouquet. Popular purple blooms include Hyacinths, violets, hydrangeas, "blue" roses and limonium.
6. Warming To White
If you haven't considered a bouquet of anything but white flowers, you're not alone.  White flowers represent purity and a fresh start. A bouquet of white conveys simplicity and innocence and is among the most popular of all color choices for wedding bouquets. Beautiful options for white blossoms include Gerbera daisies, roses, Gladiolus, and hydrangeas.
7. Planning For Pink
Pink is a color that can be both very energetic and very calm, depending on the shade. Carrying pink flowers in your bouquet sends messages of light-hearted hope and happiness. Beautiful pink blooms include roses, hydrangeas, calla lilies, and cordyline leaf.
8. Romancing With Red
Red flowers send a clear message of the intensity of your love. It is the color that represents passion and symbolizes the deepest feelings of the heart. Traditionally, red roses are the flower of choice for red wedding bouquet flowers; their meaning is unmistakable. Other options for red flowers include tulips, carnations, and gerbera daisies.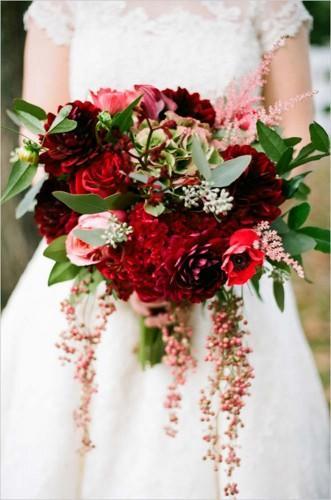 the-meaning-behind-colors-in-your-wedding-bouquet-jenna-henderson-photo-331x500.jpg', null)" data-vars-social-target="https://www.weddingforward.com/feed/ -> the-meaning-behind-colors-in-your-wedding-bouquet-jenna-henderson-photo-331x500.jpg" href="https://www.pinterest.com/pin/create/button/?url=https://www.weddingforward.com/meaning-behind-colors-wedding-bouquet/&media;=http://www.weddingforward.com/wp-content/uploads/2015/02/the-meaning-behind-colors-in-your-wedding-bouquet-jenna-henderson-photo-331x500.jpg&description;=The%20Flower%20Color%20Meanings%20In%20Your%20Wedding%20Bouquet%20%E2%98%85%20the%20meaning%20behind%20colors%20in%20your%20wedding%20bouquet%20" rel="nofollow" class="icon-pinterest pin-nd">Pin It
the-meaning-behind-colors-in-your-wedding-bouquet-jenna-henderson-photo-331x500.jpg" rel="nofollow" onclick="ga('send', 'social', 'Facebook', 'SC - Btn Click','https://www.weddingforward.com/feed/ -> the-meaning-behind-colors-in-your-wedding-bouquet-jenna-henderson-photo-331x500.jpg', null)" class="icon-facebook wwm_socialshare_imagewrapper facebook_custom">Facebook
Sorce: Jenna Henderson photographer
9. Gorgeous And Gold
Carrying gold wedding flowers in your bouquet gives it an air of understated elegance and sends a message that you are celebrating your union. Matte gold accent flowers and red roses pair beautifully and provide a bold statement of love and celebration for the day and the journey you are beginning together.
10. The Importance of Your Flowers
Your wedding flowers will provide a backdrop of beauty for your ceremony, and the right bouquet flowers will compliment your dress and complete your vision for your big day. The wedding flowers you choose are a representation of you and your love; they represent your hopes and dreams and the commitment between you.
11. Choosing Complementary Styles
The flowers you choose should complement your wedding dress and not be overwhelmed by it. They should reflect your personality and style, as well as the theme you've chosen for your wedding.  Your wedding flowers, in general, should also follow the same rules. They should not overwhelm your venue or be dwarfed by it; your arrangements should be suited for the area for which they're intended.  Consider the message you want to impart with your wedding flowers and work from there.
12. Picking The Right Bouquet
Besides the bouquet flower meanings, you also need to take into account the type of bouquet you want to carry. Not all flowers look right in all types of bouquets; make sure you're discussing your bouquet style when choosing your flowers. Keep in mind that some bouquets are more appropriate for one bride than for another; your dress will also play a big role in the size and style of your bouquet. Very ornate or intricate dresses may benefit from understated bouquets, while a plain wedding gown could be completely transformed with an ornate bouquet.
13. Some Final Flower Thoughts
Your bouquet should (obviously) be the largest and most elaborate of the bouquets carried on your big day. Other bouquets for the maid or matron of honor, other bridesmaids and the mothers of both the bride and groom should become less elaborate as you make your way down the list. For the groom, a distinctive boutonniere that echoes the bride's flowers is essential, with a less-elaborate option (one blossom instead of two, perhaps) for the best man of and the groomsmen.
Your wedding flowers can be as unique as the rest of your wedding plans. Experiment with floating blossoms in bowls of water on your reception tables. You can incorporate seasonal fruit in bright colors, candles, or just about anything else you can think of to tie into your wedding theme. Keep bouquet flower meanings in mind and let yourself be creative!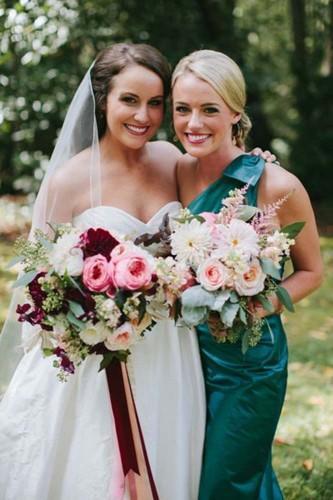 the-meaning-behind-colors-in-your-wedding-bouquet-paige-reaux-photo-333x500.jpg', null)" data-vars-social-target="https://www.weddingforward.com/feed/ -> the-meaning-behind-colors-in-your-wedding-bouquet-paige-reaux-photo-333x500.jpg" href="https://www.pinterest.com/pin/create/button/?url=https://www.weddingforward.com/meaning-behind-colors-wedding-bouquet/&media;=http://www.weddingforward.com/wp-content/uploads/2015/02/the-meaning-behind-colors-in-your-wedding-bouquet-paige-reaux-photo-333x500.jpg&description;=The%20Flower%20Color%20Meanings%20In%20Your%20Wedding%20Bouquet%20%E2%98%85%20the%20meaning%20behind%20colors%20in%20your%20wedding%20bouquet%20" rel="nofollow" class="icon-pinterest pin-nd">Pin It
the-meaning-behind-colors-in-your-wedding-bouquet-paige-reaux-photo-333x500.jpg" rel="nofollow" onclick="ga('send', 'social', 'Facebook', 'SC - Btn Click','https://www.weddingforward.com/feed/ -> the-meaning-behind-colors-in-your-wedding-bouquet-paige-reaux-photo-333x500.jpg', null)" class="icon-facebook wwm_socialshare_imagewrapper facebook_custom">Facebook
Source:  Paige Reaux photography