Last August 10, my friend Dan and I, along with fellow bloggers, were invited to a Singaporean-themed restaurant called Orchard Road in SM Megamall to celebrate Singapore's National Day and to know more about the new Orchard Road Dining Pass.
Their glass-enclosed kitchen reminded me of Singapore's hawker centers, but Orchard Road had a cleaner and classier dining environment. But what surprised me is the affordable price of the food—they are even priced less than the hawker stalls in Singapore. Read more…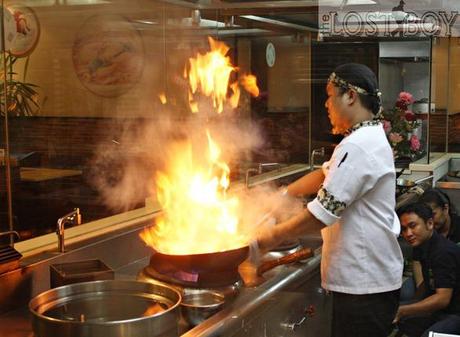 We eagerly sampled eight of their dishes, all of which are in the Orchard Road Dining Pass. Below are our impressions to each:Roti pratha is a thin flour pancake cooked on a flat grill. We actually thought it was dessert, but when it came, we were surprised it had a savory curry dip on the side. Orchard Road serves it with kopi (coffee) or teh (tea). We thought it was unique and quite tasty.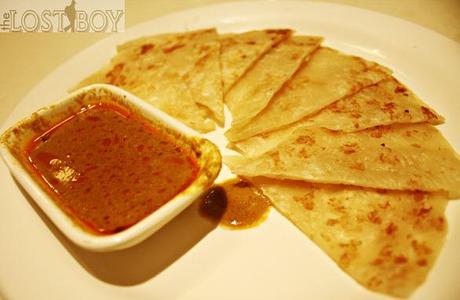 Laksa is spaghetti-like rice noodles in a coconut-based curry soup. I did not like laksa when I had it in Sentosa Island in Singapore, as it strongly tasted of fish. However, I did like Orchard Road's version, since it was creamy and refreshing. It didn't have a peculiar fish taste, too.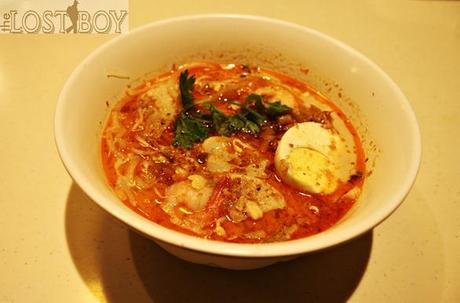 Char kway teow is flat rice noodles stir-fried in soy and egg. I liked it a lot when I had it in Singapore, and I also liked Orchard Road's tasty, albeit milder, take. Should you need to choose a noodle dish, I recommend getting this one.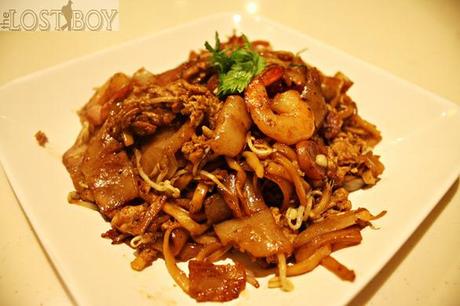 Satay chicken are skewers of marinated grilled chicken served with peanut sauce. I've had a lot of satay before, but what I liked about Orchard Road's satay chicken was its peanut sauce. We both agreed that it accentuated the flavor of the chicken. It was one of our top picks.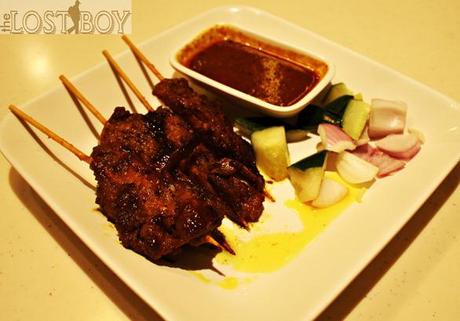 Singapore fried chicken was an instant favorite. We found the crisp skin addicting, and the meat juicy. We actually were munching on the bite-sized pieces throughout the meal. Beware of the small bones, though.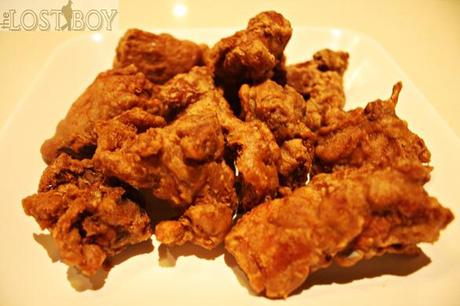 Char siew is simply roasted barbecued pork. Unfortunately, this was our least favorite entrée. I thought it would have been better if the sauce were put separately from the pork so its barbecued taste would have been highlighted.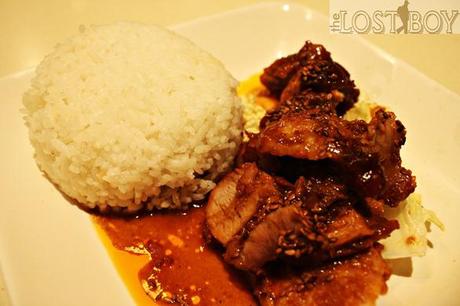 Hainanese chicken rice, touted as Singapore's national dish, is boiled chicken accompanied by sauces, flavored rice, and chicken broth. It was hands down the piece de resistance of our big meal. I immediately noticed the aromatic flavor of sesame and enjoyed the simple flavors of the chicken amplified by the three sauces included. This is a good introduction to those who will dine at Orchard Road for the first time.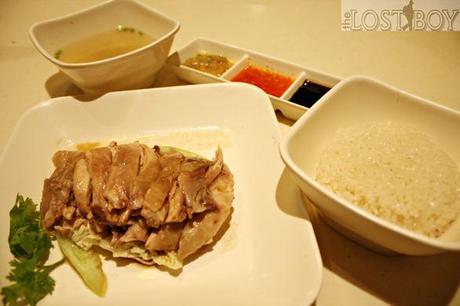 Red ruby has water chestnuts in coconut milk and shaved ice. Sure, we may be accustomed to the sweetness of our halo-halo, but in my opinion, red ruby is a welcome alternative. I thought the blandness of the crunchy water chestnuts was well contrasted by the sweet coconut milk. Plus, I like how the ice was finely shaved. It was a good ending to our meal.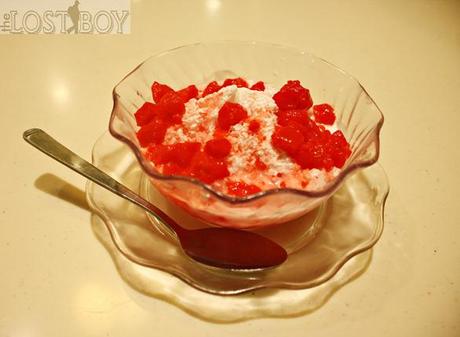 Verdict: Orchard Road has a great ambiance, value for money, and good food overall. Missing Singapore or curious about Singapore cuisine? Orchard Road will surely satisfy.
Know more about Orchard Road Dining Pass through this post and like Orchard Road on Facebook.
ORCHARD ROAD
2/F Bridgeway, SM Megamall, Ortigas, Mandaluyong (Google Maps)Hours: 10am-9am, DailyContact: +63 2 470 4546Prices: Rice meals start at 155php.Notes: Major credit cards and Philippine-issued ATM cards are accepted. 
The menu is available here: (Page 1)
Special thanks are due to the wonderful people of Orchard Road for the delicious meal, and Mr. Sean General and the representatives from Euro RSCG Agatep for having us on this event.