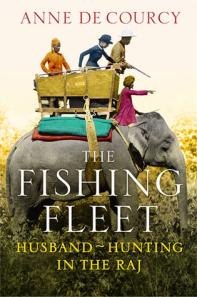 What's it all about?:
From the late 19th century, when the Raj was at its height, many of Britain's best and brightest young men went out to India to work as administrators, soldiers and businessmen. With the advent of steam travel and the opening of the Suez Canal, countless young women, suffering at the lack of eligible men in Britain, followed in their wake. They were known as the Fishing Fleet, and this book is their story. 
For these young women, often away from home for the first time, one thing they could be sure of was a rollicking good time. By the early twentieth century, a hectic social scene was in place, with dance parties, picnics, tennis tournaments and perhaps a tiger shoot and glittering dinner at a raja's palace thrown in. And, with men outnumbering women by roughly four to one, romances were conducted at alarming speed and marriages were frequent. But after the honeymoon life often changed dramatically: whisked off to remote outposts, they found it a far cry from the social whirlwind of their first arrival. 
Anne de Courcy's sparkling narrative is enriched by a wealth of first-hand sources which bring this forgotten era vividly to life.
What did I think?:
I was looking forward to reading this novel as part of a British Empire challenge I am taking part in with a group on GoodReads as I have discovered a bit of a love for fiction and non-fiction set in India, past or present. Recently, I also read The Jewel in the Crown by Paul Scott and really enjoyed it so in comparison to that, this book was a bit of a let down for me unfortunately. However, maybe I am being slightly harsh with my comparison and as a work of non-fiction combined with the first hand accounts that the author has managed to retrieve, it's an interesting and quite enjoyable read. Set in the British Empire heyday at the end of the 19th century and beginning of the 20th century, Anne de Courcy provides us with an intriguing account of how young women arrived in India in droves, purely for the task of finding a husband. Known as The Fishing Fleet, the young women would often have a splendid time attending many parties, meeting many new people, and being treated almost like royalty as they enjoyed all the beauty and splendour that India had to offer.
Once married however, for many women the rose-tinted spectacles which they had viewed India under were officially off, and real life set in. Living in India was a huge adjustment for many of these new wives as they battled with the language, intolerable heat, infection and diseases, and raising their children. Especially the latter as many young children were sent back to England when very young to get a "proper education," and it was an incredibly hard decision for many mothers over whether to be separated from their offspring, or move to England with their children and be separated from their husband. The couple may also be stationed in a rather remote area with no electricity or running water, and definitely no active social life, making it quite a solitary and lonely existence for wives trapped at home. Then there were the women who didn't manage to find a match and had to return home, almost in disgrace as "Returned Empties," which sounds horrifying! This is considerably more humiliating when you consider:
"As the reputation of India as a place where even the plainest could find a mate grew, so did the number of young women traveling out there."
Generally speaking, while reading this book I didn't really discover much about India and The Fishing Fleet that I didn't already know, but I have read a few books now on the subject so I can't blame the author for that. It was very informative in places, but at points I felt the writing hopped about a little bit and I would have liked to learn more about the specific ladies that the author mentions in more detail. I did enjoy the photographs at the back of my Kindle edition nevertheless, they made parts of the narrative come alive for me a little more. If you haven't read anything before about India or The Fishing Fleet at the time of the British Empire, this is an interesting read and I would probably recommend it but personally, I didn't find out anything new or extraordinary.
Would I recommend it?:
Maybe!
Star rating (out of 5):