YALC is the brain-child of current Children's Laureate Malorie Blackman, who was awarded an OBE for her services to children's literature in 2008 and from the moment appointed, has been incredibly passionate about getting young people to read. Alarming statistics show that only 3 out of 10 young people read daily out of school, and a fifth say they would be embarrassed if a friend saw them reading.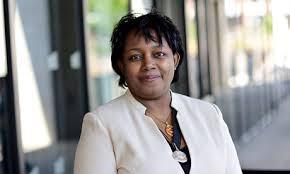 Malorie Blackman (photo from http://www.theguardian.com)
Malorie says…
"We are incredibly lucky to have such a wealth of fantastic children's authors and illustrators in this country who create incredible stories for young adults to enjoy.  It's so important to encourage, sustain and where necessary instil a love of reading in our teenagers.  Reading opens doors and creates life opportunities. That's why I want to do my utmost to promote YA books for all our young (and older!) readers."
All hail Queen Malorie! YALC promised a fantastic line-up of events, including panel talks with authors, intimate workshops, a publishers stand with goodies galore and an opportunity to purchase a wide range of YA fiction from sponsor Waterstones. Having bought our Early Bird Tickets for both days (Saturday 12th and Sunday 13th July) my sister and fellow blogger Chrissi Reads were very excited to experience all the delights YALC had to offer. So, how did it go?
DAY 1 – Saturday 12th July
Our introduction to YALC

London Comic Con – the craziness!
Photo from nintendo-insider.com
I have never experienced the pure craziness that is the London Comic Con, and couldn't believe the immense crowds both outside Earls Court and inside where moving around became a bit of a mammoth task. After finally locating the YALC section at the back of the huge hall, Chrissi Reads and I let out a huge sigh, gritted our teeth and began to move through the crowds. (What things we do for our love of books!). We also weren't prepared for the amount of people in strange and wonderful costumes – we recognised Spider-Man, Batman, The Power Rangers, Darth Vader and some Stormtroopers and…er… Half-Naked Lady? It was quite an experience! What was funny though was how quickly we got used to seeing costumed superheroes wandering around, checking texts and posing for photos and it became entirely natural to see Iron Man for instance, desperately seeking the toilets.
After locating the YALC Book Zone, our first task was to get some tickets for the first panel talk – The End of The World As We Know It with James Smythe as chair and also featuring Sarah Crossan, Patrick Ness and Malorie Blackman to talk about the dystopian genre, why they think it's so "hot" right now, and what they see as the future of the genre. Malorie Blackman officially opened the proceedings in a fabulous costume and speaking in Klingon, and Patrick and Sarah provided some witty and interesting insights into the world of dystopia. Does it represent the fears teenagers have for their future? And is there also some hope and positivity in these worlds that young people can cling on to for comfort?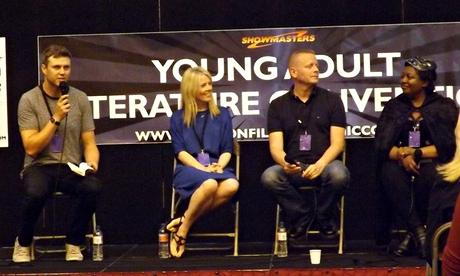 James Smythe, Sarah Crossan, Patrick Ness and Malorie (Klingon) Blackman
Photo from http://www.theguardian.com
The talk was very entertaining and I was especially excited to see Patrick Ness (my new favorite author) who did not let me down and had me in fits of giggles. Next, it was time to see what else YALC had to offer. We visited publishers stands where I managed to bag some bookmarks, a cute YALC badge and even some advance copies of books I'm quite excited about. This included There Will Be Lies by Nick Lake and Solitaire by Alice Oseman. And where Waterstones are selling books, it's compulsory to buy some! I picked up Noughts and Crosses by Malorie Blackman and the illustrated edition of A Monster Calls by Patrick Ness. Then we visited a couple of stands where other YA authors were promoting their work and I picked up The Narrows by James Brogden and Dystopia by Anthony Ergo, both authors were absolutely lovely and took time to talk to us. At the Hot Keys Book stand, they had a fabulous idea going where you could bring in a book and swap it with another which is where I acquired a copy of Bog Child by Siobhan Dowd.
After all that book buying and walking around it was time to go home, shoulders feeling the extra strain but incredibly happy bloggers! Bring on Day 2.
DAY 2 – Sunday 13th July
Talks, talks, oh and a Book Wall!
The next morning, Chrissi Reads and I were up bright and early but we were still not prepared for the enormous queue that awaited us when we arrived at Earls Court. Looping right round the building it ended up in the underground parking space and then looped a bit more. We needn't have worried however, as soon as the doors opened at 09:00, the queue moved very fast and it was a little easier to navigate our way to the Book Zone to make sure we had all the tickets for the talks we wanted to see. The first talk didn't start for a while, so it was the perfect opportunity to curl up on a bean bag and read under a Wall of Books.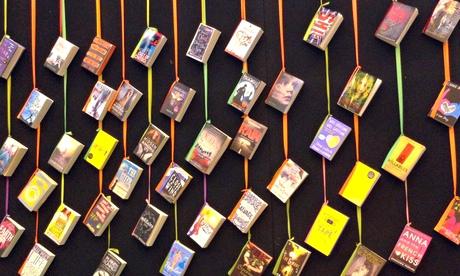 The Book Wall at YALC
Photo from http://www.theguardian.com
Sooner than we knew it, it was time for the first talk which was set to be interesting with the title: I'm Too Sexy For This Book, featuring the newly-crowned Queen of Teen, James Dawson at the helm and also featuring Cat Clarke, Non Pratt and Beth Reekles. The talk was absolutely hilarious and dragged down into the gutter at times but always in a fun way, with innuendos galore and lots of "sexy fun time." Where do you draw the line with sex in young adult novels? Shock announcement – yes, some teenagers do actually have sex! All panellists agreed that if the sex is portrayed in a positive and educational way, it cannot be a bad thing. Personally, I remember Judy Blume's Forever feeling quite graphic to me as a teenager, but I think I also learned a few things that I may have got the wrong information about otherwise.
The next talk was Crossover: Not Just For Kids, the panel consisting of David Maybury as chair and authors Nick Lake, Anthony McGowan, Meg Rosoff and Matt Haig. They explored how novels such as The Hunger Games and The Fault In Our Stars are being read by adults as well as teenagers and the possible reasons for this. They certainly made me feel more comfortable about being an adult YA fan, and Nick Lake made the very good point that a lot of books we consider classics now would actually fit into the YA genre quite well, for example The Catcher In The Rye and Oliver Twist.
Our final talk was Sisters Doing It For Themselves with chair Sarra Manning and female authors Tanya Byrne, Julie Mayhew, Isobel Harrop and Holly Smale. This again was a great bunch of authors with fantastic insights into the role of our modern day heroine in YA fiction and heroines that inspired them personally in literature. We had a range of answers here from Tanya Byrne who took inspiration from people around her, Sarra Manning who had a soft spot for "mad girls" such as Sylvia Plath and one of my own personal favourites, Anne of Green Gables who was Holly Smale's heroine.
YALC – THE END?
So it was time to drag our weary bodies back home, we had an absolutely fantastic weekend and it was worth every minute queueing and being bumped by crowds. Thank you to Malorie Blackman for putting on a great programme, all the authors who came and gave talks and thoroughly entertained us, and all the publishers and people behind the scenes that made the event possible.
YALC – this time next year? (please?!)