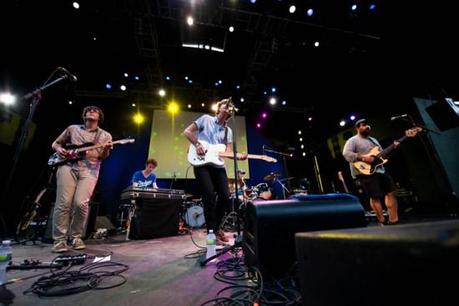 Times New Viking opened this past weekend's Celebrate! Brooklyn Free Concert Series in Prospect Park. The trio of midwesteners played a short set with offerings from thier newest release Dancer Equired.
Real Estate began their set with a couple new cuts from their newest album Days. From there, the New Jersey natives continued with thier psychdelic surf tones with tracks like "Green River", "Fake Blues" and finished just as the sun was setting with the crowds favorite, "Beachcomber".
Finally it was time to get serious with The Feelies. These verterns of New York's late 70s/early 80s punk scene rocked from the moment they said hello to the moment just before they said goodnight. Their set list read like a greatest hits live album from Maxwells. On that list were "Away", "What Goes On", "Deep Fascination", "On the Roof", plus a few from their newest release Here Before.

View Photo Album

View Photo Album

View Photo Album