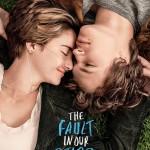 John Green's bestselling tear-jerker will finally come alive in the big screen in June (or at least in US theatres). Possibly 2014's most awaited love story, "The Fault In Our Stars" is not exactly a coming-of-age film. The story tackles how sweet, young love can be affected by a life-threatening illness, and how no matter how short or long our lives are, what matters in the end is how you chose to live your life.
Sure, it's all the same main message in most of the heart-wrenching drama you see on television and in theatres, but there's just something about Augustus Waters and Hazel Grace Lancaster that makes you write your own version of the story.
Check out the official trailer below. Not a serious fangirl or anything, but you know, you should totally like 
https://www.facebook.com/faultinourstarsmovie
! With Josh Boone at the helm, Shailene Woodley stars as Hazel Lancaster in this definite summer blockbuster, along with Ansel Elgort as Augustus Waters, Nat Wolff as Isaac, Willem Dafoe as Peter Van Houten (the author of An Imperial Affliction, Hazel's favorite book), and Sam Trammel of the
True Blood
fame as Mr. Lancaster. Prep your eyes and have boxes of tissue ready for some serious waterworks--
The Fault in Our Stars will premiere on August 20 in the Philippines!
#TFIOS