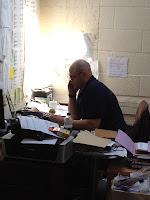 The master-mind himself has made an appearance, Daniel! Daniel has grown up around the food industry, and he has been baking since he was 21. If you would like to make him extremely happy order plenty blackberry crumbles with a mascarpone cream, because they are his favorite dessert to make. We all know that a happy boss means happy employees! Despite his complex cooking habits, Dan is a very simple man with simple taste. As a child his favorite dessert was dipping biscuits into egg yolk and sugar that was beaten together. Growing up hasn't changed the complexity of his favorite delights, he still enjoys a nice and easy apple pie after his favorite meals. Dan's dream meal would be to share some Gnocchi, his favorite food, with his favorite celebrity David Niven.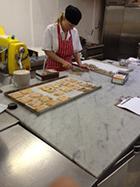 Let's move to the kitchen where all the magic happens. One of the artists in the back is Anna. Anna has been baking here at Family Cakes since the beginning, and really enjoys letting her imagination run wild when she is making wedding cakes and birthday cakes and especially children's birthday cakes! She's not picky when it comes to her favorite desserts, enjoying all Italian style desserts. However, she is very picky about who she would share her favorite meal with. There isn't a celebrity on earth that Anna would like to share her favorite meal of Pierogi or favorite childhood dessert of cheesecake with.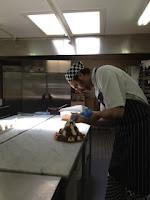 The other "master cake sculptor" who is also responsible for the magnificent cakes that Family Cakes produces is Vincenzo. Vincenzo has been baking for close to twenty years, and it is evident in the cakes that he makes. Like Anna he really enjoys using his skills to bake elegant wedding cakes. Vincenzo grew up in Sicily, but despite his time living in the UK he still favors traditional Italian style desserts and fillings. In fact he favors all the flavors from home. If he could share a traditional Sicilian fish dinner with anyone in the world, past or present, he would choose his father. Then he would top off the dinner with his favorite childhood dessert, Cassata Siciliana.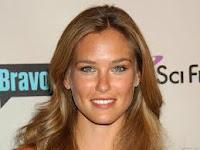 Family Cakes Company is a family run company, and works closely with other local catering companies. One of the companies that we consider our sister company would be Sandwich Man with Mireille at the helm. She is often around the office consulting and working alongside Dan. Mireille likes to keep it simple when she is baking, preferring to  make a Bannana cake. If she had the chance I'm sure Mireille would like to make a Banana cake for and share some pasta with spicy tomato sauce with her favorite movie star Brad Pitt.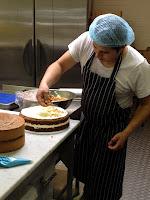 Let's not forget about the kitchen hero Juan. During the week of July the 16th when both Vincenzo and Anna were on holiday Juan stepped in and continued making beautiful and creative birthday cakes.