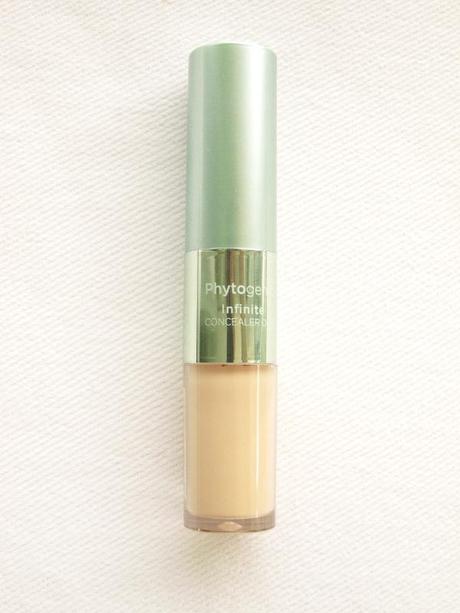 "Dual concealer in one to effortlessly hide any types of skin imperfections from a spot to a larger area."
"Two textures in one:

   ① Cream Stick: When natural coverage with moist finish is desired (e.g. light freckles, age spots)

   ② Matte Liquid : When full coverage with matte finish is desired (e.g. acne-spots, moles)."

"Sweat and water resistant formula through Water in Silicon Mechanism: moisture pigments are coated by the silicon to prevent  smudge by sweat or water."
It's only downfall is the lack of shades in the Phytogenic range (which does include foundation and pressed powder).  I will take just a bit of time to praise this oh so practical form of concealer.  What's lovely about it is on either side of the tube you get one different form of coverage, your choice…liquid or stick.  So you get two forms of concealer in one travel-friendly product, which is so awesome.  Read more to get the full review and video demonstration.
My Phytogenic concealer shade is NB 25 which is a spot on for me medium-fair shade with an asian yellow undertone.  NB 25 is a close or exact equivalent of MAC NC35.  The drawback here is this is the deepest shade available here folks.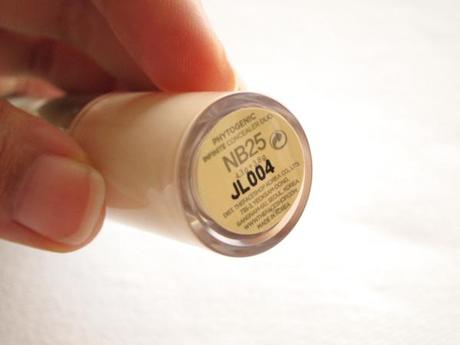 On one end you have the liquid concealer which comes with a doe-foot applicator.  The consistency is creamy but not greasy, very unlike the MAC Studio Finish concealer, kind of like a thick, dense whipped consistency and the finish on the skin is a very much appreciated demi-matte sort.  Anybody may choose how they want to use this concealer, two options and textures make it very versatile.  For girls with light eyebags and blemish spots they may only need the liquid end more often and the stick end can be used for heavier concealing over dark spots, darker under-eye circles, or blemish marks.  I layer both under my eyes as you'll see very soon in the video demonstration.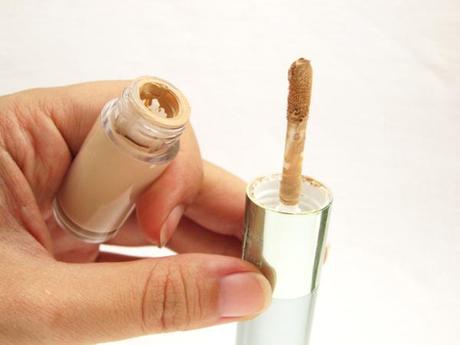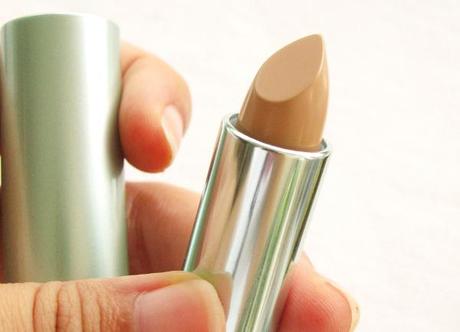 The other end is NOT A NUDE LIPSTICK ok…it's just tapered like a lipstick but this is still concealer.  I actually found it a tad bit silly at first that they shaped it this way, but upon application I sort of understood why, its easier to apply concealer around facial features using this.  If you are using this on a client I advise that you use a concealer brush, but since this is my own personal stick I use it directly on my skin.  The stick goes quite a fair bit down the tube so I'm pretty sure there's as much or MORE product than in my MAC Studio Finish pot which costs Php900+, and that's just talking about the side of stick product, you still have liquid on the other end, right.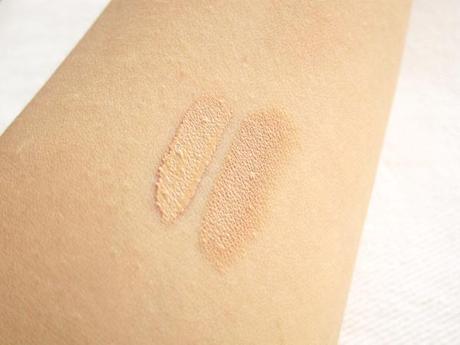 LEFT: Liquid, RIGHT: Stick
The stick form gives the right amount of drag and coverage, just enough so you know there'll be good longevity especially under the eyes with not a lot of slip, quite similar to my NARS concealer stick in Custard which I used up all the way to the bottom over a year ago.  It appears slightly darker in the swatch than the liquid but when you blend out both forms of concealer they're practically the same.  If I hadn't tanned from my brother's games my Phytogenic foundation shade would be NB 23 which would be like MAC NC30.  The three concealer shades which I SAW were available are NB21 (a tsinita fair match), NB23 ( a warm ivory), and NB 25 (a light medium).  This Face Shop Phytogenic Infinite Concealer Duo tube costs about Php795 and that's much more of a bargain for two products in one, liquid and stick, as compared to paying Php900-Php1000 for a pot of cake concealer by MAC.  I really just wish this range had more shades though because it's undoubtedly a delightful find.  Watch this video demo I did of how I apply this concealer.  On days where I don't want to wear foundation this is all I really need as a base.