Viva Verdi!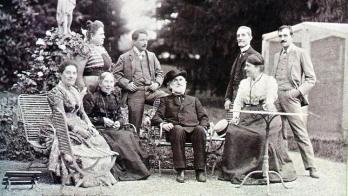 Verdi (seated at center) at his villa in Sant'Agata
For an artist who lived as long and fruitful a life as Verdi had, who traveled to as many towns, cities, and foreign venues as only he could have done, given the difficulties of travel at that time, the Italian master preferred the simple life of a country squire.
Despite having visited such hotspots as Paris, St. Petersburg, and most points in between; despite having been received by the crowned heads of Europe, along with the cream of upper crust society, Verdi felt most at home in Sant'Agata, a sleepy little village not far from Le Roncole, the place of his birth.
Acclaimed throughout the land as one of the most successful and beloved opera composers who ever lived, Verdi considered himself, first and foremost, as a man of the earth. A farmer, gardener, and productive landowner, he dabbled in all sorts of unrelated undertakings, including the field of politics.
The most rabid of Italian partisans (and "as proud as Lucifer," or so it was said), Verdi turned down countless offers to seek elected office. "I am an artist," he would effectively argue. "I have no knowledge of politics" – and since when did that obstacle ever stop anyone from running?
Nevertheless, the composer eventually relented, and, in 1861, won a seat for himself in the very first Italian parliament, which he suddenly gave up after hearing of the death of Count Camillo Cavour, one of the architects of the newly unified nation.    
Another area in which Verdi was far from proficient, but who many later conceded he truly made his own, was religious music. Like Mozart before him, Verdi wrote assorted organ and instrumental pieces for the church, especially in his youth. However, one of his most inspiring compositions came late in life – just like Mozart. And again, just like Mozart, that work turned out to be a mass for the dead. Only Verdi had no nocturnal visitors come to his door. Oh, no, Verdi would dedicate his Requiem to a once-living, once-breathing hero of his adulthood.
The idea for a Requiem Mass arose after the May 1873 passing of poet and author Alessandro Manzoni, long credited as one of the country's most respected modern writers (his novel, The Betrothed, or I promessi sposi in Florentine dialect, was considered required reading in Italian academies of higher learning). Verdi's original conceit, which he gave voice to upon composer Gioachino Rossini's demise in 1868, was to have Italy's most renowned composers write a section each of the mass – thirteen sections in all.
Unable to gather sufficient fervor for the scheme, Verdi completed his portion, the Libera me ("Deliver me, oh Lord"), and promptly went about his business. Apparently, the time was now ripe for the mass idea to be resurrected, in a manner of speaking, along with the previously completed Libera me.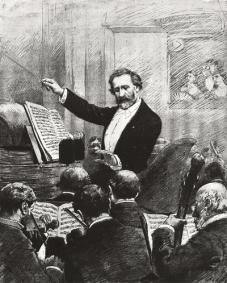 Verdi leading the orchestra (A. Rosenberg)
In May 1874, exactly one year after Manzoni's death, the Requiem was performed at the Church of San Marco, in Milan. Verdi himself conducted the work, and went on to conduct it "fifteen times in Paris, four in Vienna, and three in London." That's quite an impressive achievement for a supposedly non-theatrical production – and for an avowed anti-cleric such as Verdi!
Here is a snippet of this moving work, the opening Requiem aeternam ("Grant them eternal rest") and Kyrie eleison ("Lord have mercy"), from a live 1998 recording made in Montreux. Quite a number of well-informed music experts have felt this piece rivals Verdi's finest works for the stage, not only in power and force, but in emotional impact and intensity – most uncommon for a religious composition. To be blunt, many consider the Requiem to be Verdi's greatest non-operatic opera! You be the judge:  http://www.youtube.com/watch?v=7dERBj-3zFI.
And a Child Shall Lead Them
There was another little baby born around the same year of 1813, just a few short months before Verdi – on May 22, to be exact. Only this baby's birth took place in Dresden, Germany, many miles from the Italian border. The baby's name was Richard Wagner.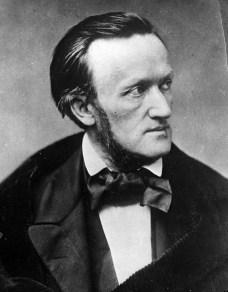 Photo of young Wagner
Short of stature, with a huge, bulbous head and piercing blue eyes, the young Wagner fancied himself a playwright, in the Shakespearean or Goethe mold of all things – we should be so lucky. His ambitions (and his enormous ego) knew no bounds, and grew larger with self-importance the older he got.
As an example, Wagner wrote his first symphony in 1832 (he had just turned 19), his first opera, The Fairies (Die Feen in German) a year later at age 20. At first glance it would appear that Herr Wagner had a huge head start over Signor Verdi, but unfortunately that was not to be the case. Verdi would outlive – and out-produce – his German rival by almost two decades.
Indeed, the most fascinating thing about the egomaniacal Wagner was that in all his writings and correspondence, as well as in his voluminous essays on anything and everything connected to music, art, politics, religion, philosophy and the like, never once did he mention Verdi by name, an astounding omission!
Keep in mind, of course, there was no Internet or cell-phone service in Wagner's day; and due to the many outbreaks of pestilence that Europe was routinely prone to, along with protracted wars and skirmishes and such, the majority of the region's population was kept ill-informed of the major happenings in the world at large.  
Still, one couldn't help getting the feeling that Wagner had deliberately snubbed his Italian-born colleague, but no matter. Although he never recognized Verdi's true worth, Verdi was intimately aware of Wagner's merits, especially after the volatile German master started publishing his music dramas The Flying Dutchman, Lohengrin, Tannhäuser and Tristan und Isolde. Staging them was another matter entirely.
Never the easiest person to get along with in the best of times, Wagner had the greatest difficulty arranging for his works to be performed. For you see, most theaters of the time were simply incapable of marshaling the huge orchestral forces his operas demanded, not to mention the fiendishly difficult vocal writing and massively elaborate instrumentation, to include the most extraordinary scenic requirements imaginable.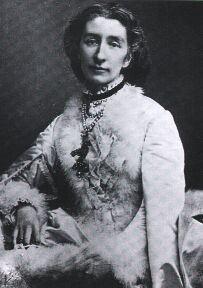 Cosima Wagner
Undeterred, Wagner persevered. Of course, he had his moral and financial backers, among them the famous composer Franz Liszt, whose daughter, Cosima, Wagner eventually married – a convenient little side benefit. The homely but utterly charming Cosima became his steadiest companion and fiercest defender (and purveyor) of his legacy in the years after his death.

He also had numerous detractors (too numerous, to be perfectly honest), and was constantly in debt to one or the other of them throughout his life (ah, Mozart!), so much so that he was run out of Germany on several occasions.
But turbulence was Wagner's middle name. As opinionated and outspoken an individual as they come, he frequently meddled in local affairs, especially domestic politics (here we go again!), which got him into endless trouble with the authorities. He was also an inveterate womanizer (quite unlike Verdi in that respect), being particularly attracted to other men's wives (Cosima was no exception, either) – a nasty little habit he formed early in life, one that he flirted with far too often for his own good.
By now, you must be wondering what everyone else must have wondered at the time: given all these extracurricular activities, when did this fellow find the time to write such long and complicated works? Certainly, an epic of the proportions of The Ring of the Nibelung, which is divided into four parts and lasts all of 16 hours on the stage, must have taken him a lifetime to complete.
Well, not exactly a lifetime, but close enough. It took a total of 25 years out of Wagner's professional life to finish the tetralogy. John Culshaw, producer of the first complete Ring recording in stereo, quite matter of factly described him as "a man possessed." That was an understatement!  
Toward the end of his life, the "man possessed" got the chance to see his Ring cycle performed in a theater built to his exacting specifications. With the help of his patron, King Ludwig II of Bavaria, Wagner was able to finish work on a wooden structure in the town of Bayreuth, high up in the Bavarian Alps.
Inaugurated in August of 1876, the theater featured a sunken orchestra pit and hooded outcropping where only the conductor's head emerged. There were no private boxes and no interrupted sight lines: everyone had a perfect view of the stage. There were no windows or air conditioning either. One experiences a total immersion in Wagner's world – that is, if you survived the summer heat.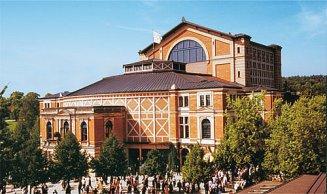 The Bayreuth Festpielhaus in Bavaria
To this day, the annual Bayreuth Music Festival – held every July and August – is one of the world's most sought-after theatrical events. Most people wait years for tickets. Since its opening nothing but Wagner's operas have been performed there, usually to exceptionally high musical standards, just as the composer had intended.
Curiously, Richard Wagner, that hater of all things Italian, died in Venice, Italy, in 1883, of heart failure. He was 70 years old. Verdi was one of the first to openly mourn his death. I wonder if Wagner would have done the same for Verdi had the situation been reversed… It's worth pondering.
As horrid a person as he was in life, though, Wagner did write some truly memorable music. Here's an outstanding example of his musical abilities in a sonorous vein: the heavenly Pilgrim's Chorus from his early opera, Tannhäuser: http://www.youtube.com/watch?v=ZfoCvCxNAw4.
(End of Part Three)
Copyright © 2013 by Josmar F. Lopes