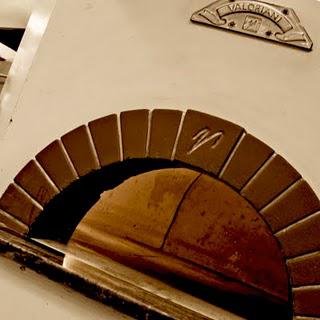 What do you think of when someone says "Italian"?
For me, foremost, it's always food. Pizza, followed by pasta. Gingham tablecloths, chunky white glazed terracotta pitchers filled with light red wine. Overhead pergolas creaking under the weight of hundred-year-old grape vines. Patchwork quilt panoramas over blanketed fields and forest of Tuscany. Possibly a little drunken merriment in the sunshine thrown in for good measure.
Secondly, I think of Italian men. Passionate, forward, confidant, sexy because of the prior three, irrespective of how handsome they are, and above all, stylish. I recall a visit to Florence in 2002, when I saw a janitor wearing Armani pants. Actually, I couldn't even call them pants - they were slacks. Immaculately tailored, Armani trousers. My Senior Associate Lawyer husband was wearing Levis, which he only ever exchanged for Benetton or Billabong shorts. Even his suits came from some unremarkable and since forgotten Melbourne store. The most valuable souvenir he retained from that trip was that it wasn't just a woman's responsibility to look good.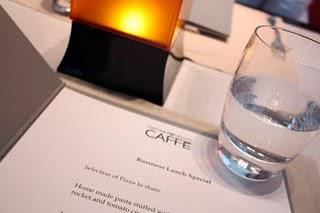 One of the great perks of writing a blog that centres around food is that you tend to get the occasional free lunch. And recently, I strolled down the 'Via Rodeo' within Mall of the Emirates to enjoy the offerings from the Emporio Armani Caffe. Walking down this strip is about as unfamiliar to me as it gets. It's a section lined with money - Versace, YSL, Ferragamo, Jimmy Choo, Cavalli, Ralph Lauren, Marc Jacobs, Dolce and Gabbana. These are the labels I only ever see in Karama, and then of course, they're all lies, lies, lies. Apart from once owning a pair of Ferragamo sunglasses, my wardrobe is sadly lacking in any of this splendour. I just can't bring myself to spend that amount of money on such a small item. But that doesn't mean that a small part of me doesn't want to. But when I hold a piece of fashion from one of these labels and weigh up - "dress from Italy?" or "trip to Italy?", I tend to opt for the latter. One day though it would be nice to have both...
So back to lunch....
The benefit inside the benefit of a free lunch is that you tend to go to places that you might have previously overlooked. And the Emporio Armani Cafe, being at the end of the via d'oro as it is, has been thus far neglected by me. And, I found out, this is a great shame. Because this cafe provides a fairly authentic Italian experience - rarely come across since I arrived in Dubai.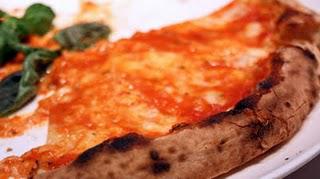 It's not really the atmosphere - although it is slick, clean lined and stylish. It is the food and the coffee. Sadly there is a complete lack of wine at the establishment (very un-Italian), but the pizza is so far the best I have had here. It is genuine; wood fired, thin, flakey, bubbly pizza dough, and topped with magical Napolitana sauce. The Margherita was perfect in its simplicity, a true test of the base and the topping. The Bresaola and rocket pizza was a triumph.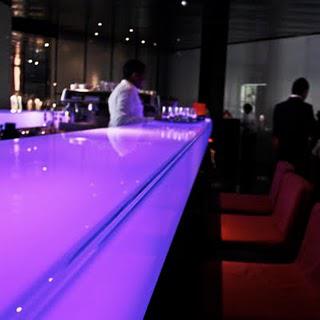 After pizza we had a choice of mains, and being the ravenous carnivore I am, I found it hard to go past the lamb chops. It was a true test - as will be the following for vegetarians - I suggest you skip onto the next paragraph. Considering we get most of our lamb here from Australia and New Zealand, it is no longer spring lamb (We get this between January and March), which is lamb 3-5 months old, born in the southern hemisphere spring (October). It's still a little early for the Northern Hemisphere spring lamb, and so we are getting the older Antipodean lamb. This means it has an extra layer of gristle in the lamb cutlet that in the younger lamb melts away while cooking. Now the chef did a good job - the cutlets were tender, the sauce flavoursome, but the gristle was there. I think the mark of a very good restaurant is the adaptation of the menu according to season. Lamb back straps would have been better (this mid-season lamb is more flavoursome).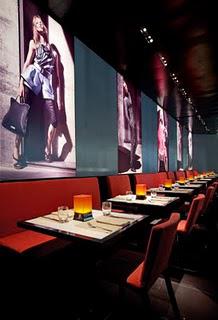 Lastly, we finished with coffee. And again, they triumphed. Italians would sneer at me ordering my cafe latte - it's sacrilege I know to drink milky coffee after lunch, but there was no dessert on offer (this was a tasting of their business express lunch - in and out in an hour), and I needed something to take the place of the panacotta I really desired. The coffee was rich and flavoursome - a deep crema that permeated the thick foam that rested on top. And yes, it was foam, not froth. Dense and creamy, like the head on a Guinness, just the way it's supposed to be. The milk was hot, but not boiled - as it always seems to be in this part of the world, a cardinal coffee making sin, as it breaks the bonds in the milk, changes the taste and ruins the texture of the foam.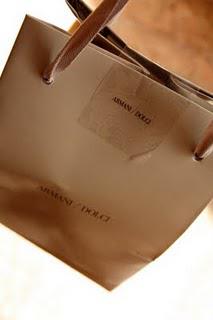 I left in perfect time to pick up my youngsters from school - in and out quickly, as promised. Not a business lunch for me, but express nonetheless. And then to top it off, I was given a goodie bag. An Armani paper bag to stroll down the Via Rodeo with. Sure, it was small, and filled with chocolate and jam, but nobody else knew that. I lifted my nose and walked like a woman with a dress in the bag that didn't cost me my summer holiday.
------------------------------
The verdict? Go, and order pizza. Or just have a coffee - It really is worth it. Emporio Armani Caffe is located on level 1 of the Mall of the Emirates, and open from 10am to 11pm daily. Incidentally, the group that controls this cafe also owns Almaz by Momo, which is directly upstairs, and another favorite of mine. I like a bit of consistency.
Leave me a comment and make my day...