Update 1: New York City, Tuesday, March 10, 11:55 a.m.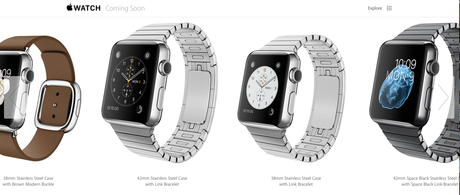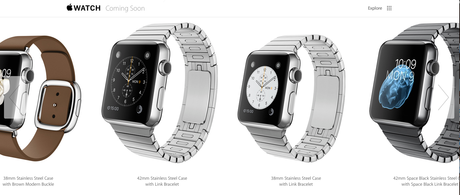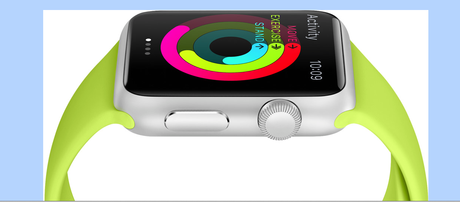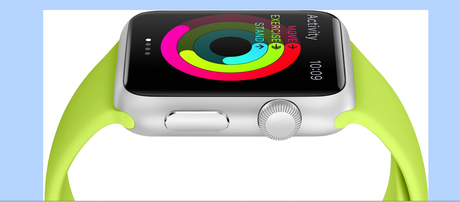 It has been planned for quite some time, my presentation at the INMA Mobile Summit, March 9, in Austin, Texas. Appropriately, my presentation was titled "Smartphones, Tablets and Mobility: The choices Publishers are making Worldwide".  Around lunch time, when Apple was getting ready to announce the launch of its much awaited smart watch for April, almost everyone at the conference was discussing how the arrival of the smart watch would affect how news and information are presented and consumed via a new platform.
I, of course, hailed the arrival of what I now call the "media quintet"—the smartwatch being the new instrument in the current phone, website, tablet and print orchestra. How would the music change with this new addition?
There are more questions than answers, but some are already provided now that Apple has made the announcement.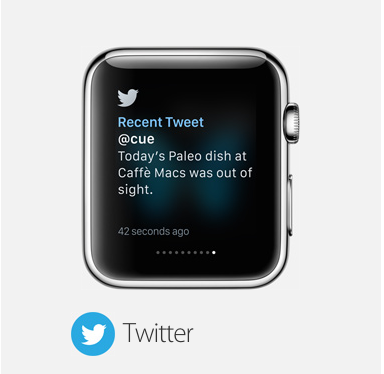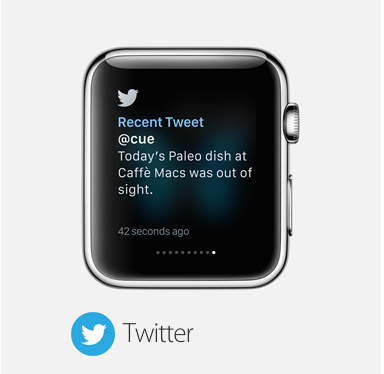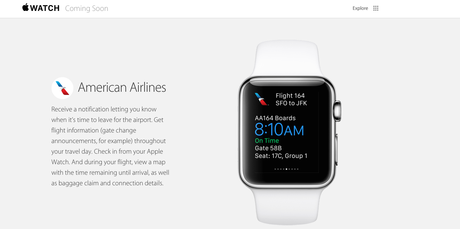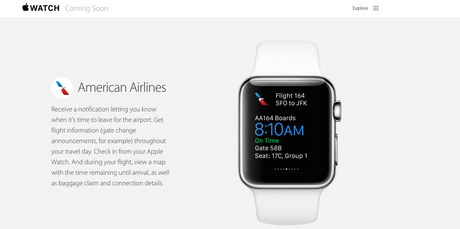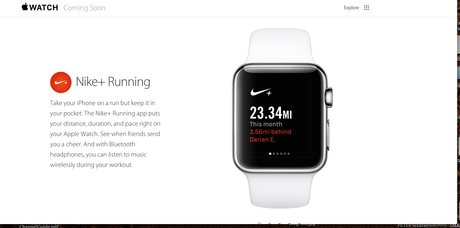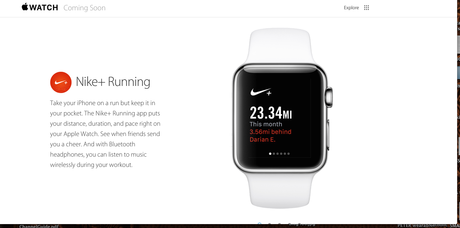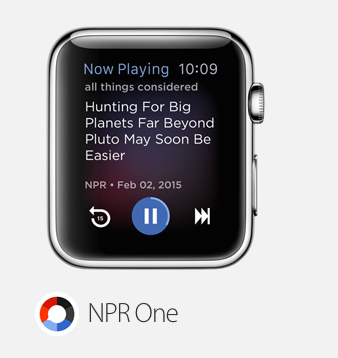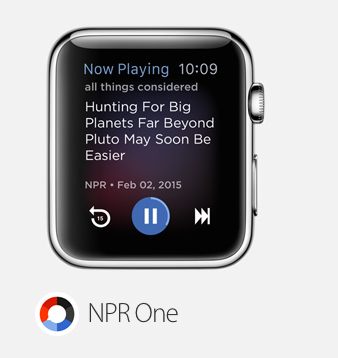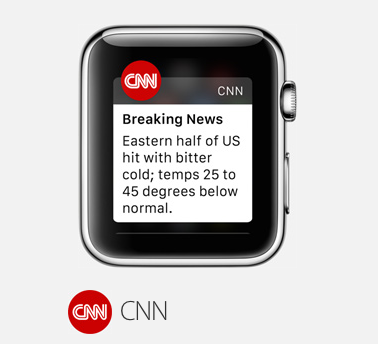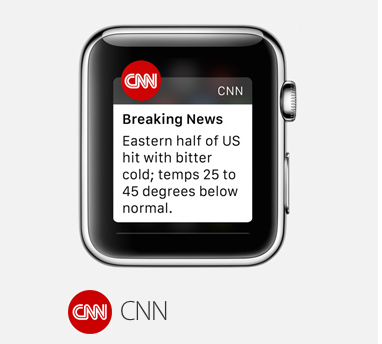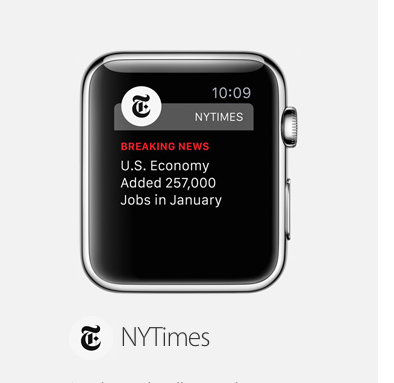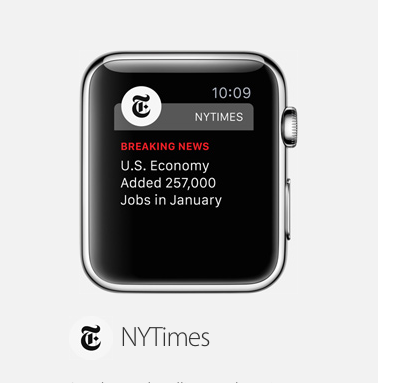 The first news apps on the Apple Watch: Take a look at CNN, The New York Times and NPR (National Public Radio), among the first apps to make their debut in the new smartwatch.
What size is your wrist?: The Apple Watch comes in two sizes and three versions: 38mm and 42mm across Sport, Edition, and um, regular.
Have money, go for the gold: Apple Watch Sport, the low-end model housed in aluminum, starts at $349 for the 38mm model and $399 for the 42mm model. The stainless steel Apple Watch will start at $549 for the 38mm model and $599 for the 42mm model, with prices ranging up to $1,049 and $1,099 depending on the band they're paired with. The 18-karat gold Apple Watch Edition will start at $10,000. Those will only be available in select retail stores. 
When can you buy it?: The Apple Watch will go on sale April 24. Preorders for the watches start April 10. Apple will open sales in the US, UK, China, Australia, Canada, France, Germany, Japan, and Hong Kong. Though the watch isn't available until April 24, you'll be able to try it on starting on the 10 if you head into an Apple Store. When it does go on sale, it'll also be available in some department stores and boutiques.
Keep your iPhone handy: You will need your iPhone 5 or better to operate your Watch. This will not replace your iPhone.
Early Reviews
Very few have seen an Apple iWatch, but someone at The Verge has.  He was not so totally impressed.
Highlights of his review:
"It's not immediately intuitive

"And it turns out it's actually pretty complicated.

"… two buttons that aren't particularly well differentiated.
Digital Crown and the communications button next to each other 

"That feeling of not knowing exactly where you are or what's going to happen is pretty disorienting for an Apple product — the steady iterative updates of iOS and OS X mean that it's traditionally been quite easy to pick up a new iPhone or MacBook and understand how to use it. "
Meanwhile at the INMA Mobile Summit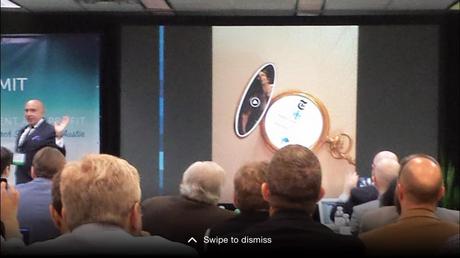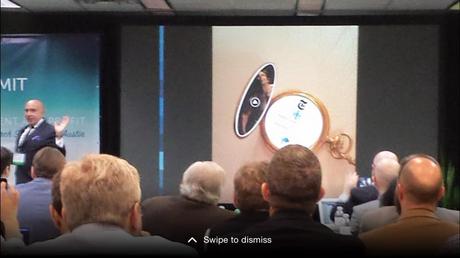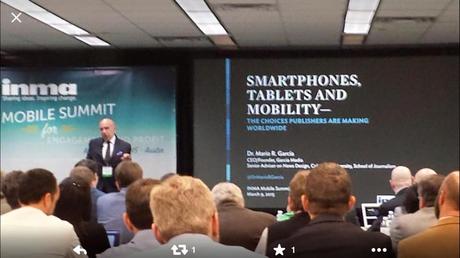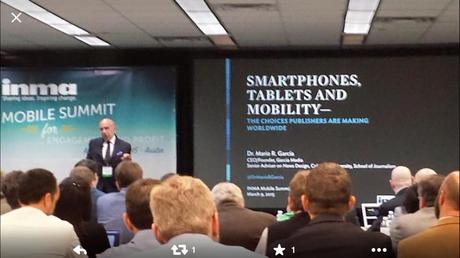 My session included smart watches, and my own version of one, inspired by my grandpa's pocket watch
If one listens to the speakers the first day of the Summit, one emerges with this takeaway: Publishers, editors, journalists and designers—start practicing the type of journalism of interruptions that are, for the first time, stored inside a time machine.  Timely journalism has gained a new definition.  The notion of frequency to which I refer often, now has a face, and numbers to mark the hours, the minutes and the seconds.
Highlights about wearables from the INMA Mobile Summit:
Mukund Mohan (Microsoft Ventures)— Pointing to the smart watch he was wearing:
"Ever since I got this smart watch, I am using my iPhone 50% less. I like it."
R B Brenner (Director, School of Journalism, University of Texas) and Robert Quigley (Senior Lecturer, New Media, University of Texas):
"We are starting new courses, including one about smart watches and storytelling."
Ola E. Stenberg (Digital Editor, VG, Norway)—
"Our digital transformation will accelerate faster. In 2009, VG had 19,000 mobile users; in 2014, one million, and remember that Norway is a small country.  At my company, Schibsted, we will continue to experiment with mobile platforms, including smart watches."
Mark Strama (Head, Google Fiber):
"With Google Fiber: things will go so much faster; soon entrepreneurs will create apps that can benefit from this capacity… Google Fiber will change how we will engage with the Internet; increased accessibility."
Heidi Lehmann (Strategic Development, Trellie):
"Female stats tell the story: 94% interested in /aware of wearable tech; feel constantly tethered to phone; want more style….. Apple has realized that it had to stop thinking like a computer maker, and consider the huge women market/accessories."
For more information on the Apple Watch:
The Apple story
http://www.apple.com/live/2015-mar-event/
Our previous blog posts on smart watches:
Suddenly: the media quintet is a closer reality
http://www.garciamedia.com/blog/suddenly_the_media_quintet_is_a_closer_reality

Smartwatches don't do it—-yet—-for the Swiss
http://www.garciamedia.com/blog/smartwatches_dont_do_it_yet_for_the_swiss

Training the next generation of mobile journalists
http://www.garciamedia.com/blog/training_the_next_generation_of_mobile_journalists
From Stibo Accelerator:
NEWS ON SMARTWATCHES :Which opportunities arise for the media industry by presenting news on smart watches?
http://www.stiboaccelerator.com/smart-watch/
https://www.facebook.com/stiboaccelerator/posts/872035692848062
Watch the Apple video:
http://www.apple.com/watch/
CJR: site of the day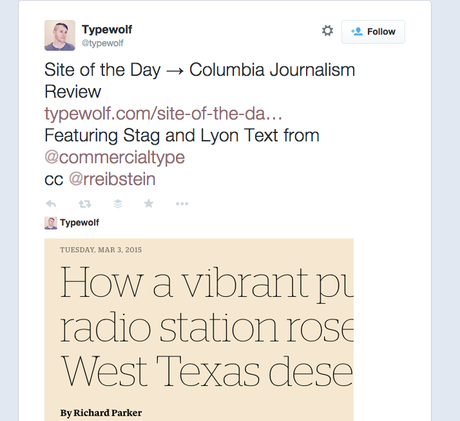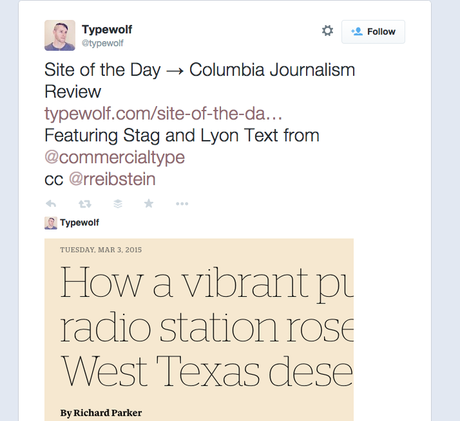 We are honored that Typewolf has selected our recent project with the Columbia Journalism Review as the site of the day!
TheMarioBlog post # 1702
Please enable JavaScript to view the
comments powered by Disqus.
comments powered by

Disqus