by Julia Quinn
(Bridgertons #1)
Published January 1st 2000
371 pages
This review doesn't contain spoilers!
*This book will be a prize of the Small Blogs, Big Giveaways event*
Blurb:

Can there be any greater challenge to London's Ambitious Mamas than an unmarried duke?
— Lady Whistledown's Society Papers, April 1813

By all accounts, Simon Basset is on the verge of proposing to his best friend's sister, the lovely—and almost-on-the-shelf—Daphney Bridgerton. But the two of them know the truth–it's all an elaborate plan to keep Simon free from marriage-minded society mothers. And as for Daphne, surely she will attract some worthy suitors now that it seems a duke as declared her desirable.

But as Daphne waltzes across ballroom after ballroom with Simon, it's hard to remember that their courtship is a complete sham. Maybe it's his devilish smile, certainly it's the way his eyes seem to burn every time he looks at her…but somehow Daphne is falling for the dashing duke…for real! And now she must do the impossible and convince the handsome rogue that their clever little scheme deserves a slight alteration, and that nothing makes quite as much sense as falling in love..

Read the first chapter here.

About the title:
The Duke and I being:  Simon – The Duke / Daphne- The Bridgerton
What I expected:
Just another historical romance and an average plot.
What it was:
Oh, I was so, SO much more! The approach to the plot is very unique and it WASN'T just another historical romance.
My Reactions:
I laughed, I cried, got totally involved. Oh, and I was very surprised.
My Thoughts :
Great book, fantasticaly written, amazing dialogs = I-fell-in-love. Julia Quinn is a goddess!
MUST BE READ: Anyone should read one of her books. ANYONE, even if you're not into historicals.
TO BE READ: …If you can read.
NOT TO BE READ: If you absolutely HATE historical romance, or any romance. WHAT ARE YOU DOING HERE THEN?
Worth buying? HECK YEAH!

Cover Art: 4/5
Plot: 5/5
Setting: 5/5
Writing: 5/5
Dialogue: 5/5
Originality of Plot: 4/5
Characters Development: 5/5
Ending: 5/5
Pacing: 5/5
Likelihood to Recommend: 5/5
Analytical Ratings: 48/50- Can't Live Without You!


SEXUAL CONTENT – I see fireworks!

SPOILERS AHEAD- The Duke and I Extras:
Memorable Quotes (From Goodreads):
"Men are sheep. Where one goes, the rest will soon follow.

-Lady Whistledown"
— Julia Quinn (The Duke And I)

"And if you say that's because you lot barged into her home like a herd of mentally deficient sheep, I'm disowning all three of you."
— Julia Quinn (The Duke And I)

"His mouth captured hers, trying to show her with his kiss what he was still learning to express in words. He loved her.
He worshipped her. He'd walk across fire for her. He—

—still had the audience of her three brothers.

Slowly breaking the kiss, he turned his face to the side. Anthony, Benedict, and Colin were still standing in the foyer.
Anthony was studying the ceiling, Benedict was pretending to inspect his fingernails, and Colin was staring quite shamelessly."
— Julia Quinn (The Duke And I)
This is a compilation of the material avaliable on JQ's Site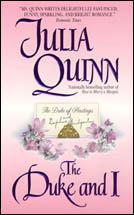 Of all my books, The Duke and I was the most difficult to title. I have a personal fondness for Daphne's Bad Heir Day, but How to Bear an Heir was also a contender for the "Most Fun Titles You Never Used" award.

Eagle-eyed readers will spot a few of my favorite characters in the pages of The Duke and I. Lady Danbury, whom everyone loved so well in How To Marry A Marquis makes an appearance, as does Robert, the hero from Everything And The Moon (although I don't think he actually says anything.) Also, Riverdale, as in James Sidwell, the Marquis of How To Marry A Marquis is mentioned in Chapter One which you can read on this page. Click here.

Finally, while I was writing this book, someone very close to me was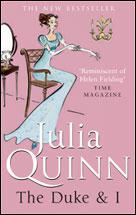 diagnosed with Multiple Sclerosis, and so I've decided to donate a portion of my royalties to the National Multiple Sclerosis Society. Scientists are getting closer to a cure every day, and in my book, that will be the greatest happy ending of all.

Lady Whistledown, the gossip columnist who debuted in The Duke and I, "narrates" her own anthology in The Further Observations Of Lady Whistledown. This book is not, however, officially part of the Bridgerton series. Several characters from the Bridgerton books either appear or are mentioned, but none play leading roles. Except for Lady Whistledown, of course.
Original cover from January 2000 and The UK Cover.

From THE DUKE AND I, meet Daphne, the Duchess of Hastings (née Bridgerton)

Daphne's not exactly a tomboy, but nor would I call her a girly-girl, and I always pictured her wearing clothes with a simple elegance.
This evening gown gets its glamour not from frills or flounces, but from the simple drape of the yellow over-dress.  The bows on the side add a nice touch, but without being overbearing.  And something about the hair seems just perfect for Daphne!

I'm not sure why this carriage costume, on the right, seems so perfect for Daphne.  I think it might be the color, which reminds me so much of the cover of The Duke and I.  I can see her wearing this after she is married, in her new life as a young duchess.

Music that inspired Julia Quinn's writing, music that reminds her of her books: "I didn't always realize it when I was writing them, but each of my books has a soundtrack".
The Duke and I

*"Take My Hand" by Dido
I love this song. There is something about the relentless beat under the soaring melody that seems so urgent. It's a surprisingly good song to exercise to! And I love the image of Simon taking Daphne's hand and letting her help him heal.


*"Mouth" by Merril Bainbridge
This song fits for so many reasons! Sometimes I feel it is Daphne (minus the part about being famous on TV.)


*"God Only Knows" by the Beach Boys
This song makes me tingle. Somehow the emotion really fits the book.


*"Pretty in Pink" by Psychedelic Furs
I don't care how many pink covers I get for my books–The Duke and I will always be my Pink Book!



* RITA finalist, short historical category. The RITA is the highest honor given out by Romance Writers of America.
*#11 on Amazon.com's Bestselling Romances of 2000 list. Chosen as one of the ten best historical romances of 2000 by the editors at Amazon.com. This is the third year in a row that JQ has been so honored! For a look at the entire list, click here.
* #27 on The New York Times Extended Besteller list (paperback fiction.) The Duke and I spent three weeks total on the list.

* Five weeks on the USA Today Bestseller list (peaking at #43.)
* Two weeks on the Publishers Weekly Mass Market Paperback Bestseller list (rising to #14.)
* A Waldenbooks bestseller! The Duke and I spent three weeks on the mass market bestseller list (climbing to #7) and five weeks on the romance bestseller list (spending three of those weeks at #3.)
* A Featured Alternate Selection for the Doubleday Bookclub.
* Also available in Large Print and as an e-book.
Have you read this book before? What did you think?