'The Disaster Artist' and James Franco are critical darlings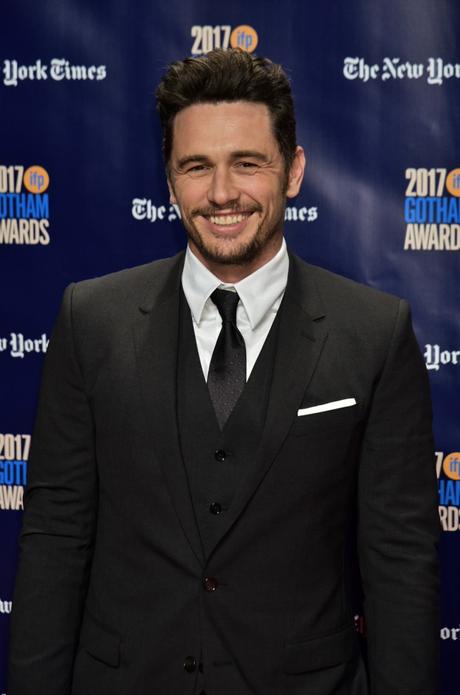 After what seems like a small eternity, The Disaster Artist hits theaters today. If the critical reception is any indication, James Franco may have a hit on his hands.
The film, directed by and starring the often offbeat, 39-year-old actor/director, details the making of the 2003 camp classic The Room. The story follows that movie's star/writer/director, Tommy Wiseau, and his friend and co-star, Greg Sistero, as they create an unintended cult phenomenon. Based on Greg's 2013 book The Disaster Artist: My Life Inside The Room, The Greatest Bad Movie Ever Made, (co-written by Tom Bissell), the movie co-stars Dave Franco as Sestero as well as Seth Rogen, Alison Brie, Josh Hutcherson, Zac Efron, Jacki Weaver, and Ari Graynor.
The Disaster Artist has already achieved something the film it's based on never did – critical kudos – which is kind of a new thing for Franco the director. It's currently rated 95% "fresh" on Rotten Tomatoes. Critics are calling it "extremely entertaining" and "sweet and affectionate", with some suggesting that James may find himself nominated for a Best Actor award come Oscar time. On Monday, he received a Gotham Award for Best Actor, the first of many, I'm guessing.
James, who admitted he came late to the party as far as the cult of The Room was concerned, felt that after reading the book the story needed to be told. He told the Huffington Post that "Before I was halfway done [with the book], I was like, 'This is an amazing story.' I love Hollywood history. I love Hollywood stories. I read books about Hollywood about as much as anything. I knew, as a storyteller, I'm obviously drawn to things that are unusual."
Franco enlisted an all-star cast (who look eerily similar to their Room counterparts), as well as screenwriters Scott Neustadter and Michael Weber to bring the book to life. In an interview with the LA Times, the writers wanted to create a script that was "equal parts 'Boogie Nights' and 'Ed Wood' with a dose of 'Sunset Boulevard' thrown in for good measure." They had nothing but praise for James, whom they claim embodied the character of Tommy, complete with his bizarre, unidentifiable accent and unique mannerisms. "By the end of shooting, none of us could remember what he actually looked like." And, proactively addressing any potential haters, they added:
Quick word about our fearless director. Throw away whatever you think you know about James Franco unless you've been in the trenches with him. The man is a dynamo. It was more than just his performance and preparation. His focus is superhuman. His esprit de corps is irresistible. The best on-set experiences are when everyone feels safe to take risks. As captain of the ship, James created that environment. It was exhilarating to go to work every day.
[From the Los Angeles Times]
The Disaster Artist employs an extreme attention to detail in recreating some of the iconic scenes from The Room. Original blueprints of the sets were employed and the lighting was specially designed to replicate the amateurish look of the original movie. James discussed shooting the infamous "Oh, hi Mark" scene with Vulture, recalling that:
We were doing the words like we were singing a song. We had this song of the dialog as the original people had said it, and we would try to sing it like they sang it. Then we had the dance of their movements, so we'd choreograph our movements like they did it. It was really a matter of watching. You're looking for every little twitch of the mouth, if the hand was cocked at a certain angle. We'd have these iPads with the scenes and watch them over and over again together.
[From Vulture]
If The Disaster Artist is a success, it's probably because James put a lot of heart and soul into it, just like Wiseau did with The Room. James told Variety that "I truly think the secret sauce to 'The Room' is Tommy's passion and the fact that this was an incredibly personal film to him. Whatever he says now and however he's rewritten the history, this is Tommy's heart and soul out for everyone to see on screen." TDA really seems like James' own passion project and, after learning about how hard he worked to tell this tale, he certainly is deserving of the acclaim.
Photos: Getty Images, WENN.com
Source: 'The Disaster Artist' and James Franco are critical darlings
3 total views, 3 views today