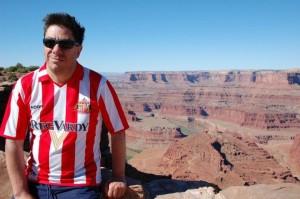 Rob Hutchison: proving he's not just about one-word verdicts
Rob Hutchison – find him at Twitter on https://twitter.com/RobHSafc – is best known around here for his one-word ratings, always welcome and always arriving just as Monsieur Salut is about to go out, obliging little white lies to Mme Salut to cover the delay. He now launches an occasional new column, the idea for which appeared as a light bulb above his head as he returned from the opening game at City. He aims it to be weekly – I think occasional is more likely! – and also to devote it to the counter view to the norm on all things Mackem. Over to Jake to come up with a magical image …
Hello campers! Here we go with another season of unbridled joy, my glass was positively overflowing with excitement as the season kicked off.
David Moyes started his season off by playing an absolute masterstroke, slotting John O'Shea into our central midfield berth.
O'Shea rarely strayed from his holding slot in front of the back four as it completely stifled Man City in the final third and very rarely did they get in behind us. The slot suited him, as marauding runs forward were not the order of the day and it freed on Kabs & Kone to come forward at dead ball situations. A real touch of creative genius and I'm sure it will be utilised more often this season. Can't believe no previous manager has thought of this before, hey ho.
The other gossip is, of course, the Kone situation. He needs to be offered a new deal without fail. He's by far our best player and it sends out a strong message that we back our top men and reward them for their outstanding performances. Not sure what all the fuss has been about really. Agents will be agents in the 21st century we all know that. It is what it is so play the game, make him captain and give him the money.