The Demos is an album we didn't know we were supposed to expect and one that didn't plan to make, but here we are with 11 tracks to dive into.
The Saskatchewan native and 3-time Canadian Country Music Association Female Artist of the Year wasn't sure she was going to release an album any time now or in the future, but the pandemic spurred this on.
Before we knew the album was coming, and before we talked to Jess about it, we had already heard the previously released singles, Country Girls, Halfway Home, and Mapdot. We celebrated as she earned her first #1 single at Canadian country radio with Country Girls . We sang along to all three songs like we do the rest of her catalogue. And that was all great.
And now we get all of that, plus new songs, plus the demos of Mapdot, Leave Each Other Alone, Halfway Home all in one complete package on The Demos!
Listen to Jess Moskaluke's first #1 single, Country Girls, now.
Jess Moskaluke - Country Girls
One of the standout tracks on the album is Leave Each Other Alone, which features Australian artist . We asked Jess about working with Travis and all of that came to be and learned that she met him through a mutual acquaintance (songwriter Phil Barton) when she travelled to play in Australia at the C2C festival in 2019. She was able to use his band while she was there and got to know Travis a little bit. And then, when it was time to make this album and work on Leave Each Other Alone, he was the fit she was looking to find.
"The first time I heard him live was a wow moment for me, my jaw was on the ground and I was like, 'First of all, how do I not know who a voice like this is just because of a border. And secondly, how can I work with him?'", she added "When we decided to put this album together I said to one of my managers, 'You know I really would love to have Travis on this album, I know it's a longshot, there's no reason for him to do this, and I don't even know if I have a song really, but can we just ask him and see what he says.' And so we did and Travis was like 'oh my gosh yes I would love to' which completely took me by surprise."
So from there, they had to get a song. But, as luck or serendipity or whatever you'd like to call it would have it, Jess did have the song.
Leave Each Other Alone was already half done, just like the rest of the songs that made the album. So, she pitched it to him, to add his vocals, asked if he thought they could do it. He said yes, and the rest is history.
Note: You can hear Jess Moskaluke's demo take on Leave Each Other Alone without Travis on the album as well, which is a great look at the behind-the-scenes and making of the song and how it all came together.
But first, listen to the finished duet version of Leave Each Other Alone here.
Jess Moskaluke ft. Travis Collins - Leave Each Other Alone
This album may not have been planned. Some of the songs may have been half-finished, semi-forgotten, or otherwise set aside. But together, as a collection of eight individual songs and 11 completed tracks, they make up a country album that fits into Jess Moskaluke's discography seamlessly. We won't look back at this as a pandemic record (other than the backstory), and whenever she decides it's time to release the next album, The Demos will continue to just be a chapter in her career.
Her vocal performances match everything we've become used to. The production is on target. The hopeful, positive, upbeat (and multiple) allusions to love are welcome and give a great vibe.
The Demos is a good listen. At 33 minutes don't seem to go by too quickly or too slowly, and the demo versions at the back of the album are different enough in sound that they don't feel like repeats put there just to make this a longer album. And they could have.
For more from our call with Jess about the making of The Demos and our new round of 5 Quick Questions with her, check out the post from earlier in release week.
The Demos, Jess Moskaluke Interview & 5 Quick Questions
With a growing list of talented country artists from Canada earning spotlight and accolades, especially women, Jess Moskaluke is reminding everyone that her three Female Artist of the Year trophies, and her Album of the Year awards from the CCMA and Junos weren't flukes. She's still here, still crushing it, and the Canadian country music scene is better for it and all of the artists that are showing us what they bring to the table right now.
Now, check out the full tracklist for The Demos, hit play on the stream, and enjoy the new Jess Moskaluke music.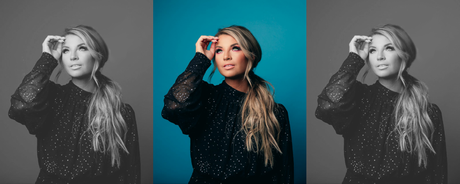 Jess Moskaluke, The Demos Tracklist