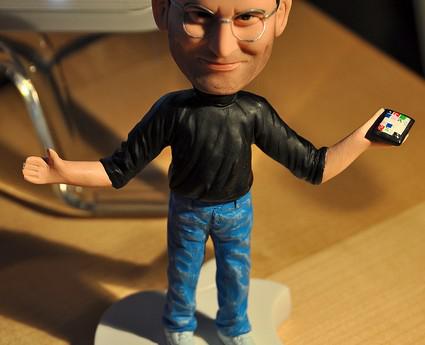 Steve Jobs: Sinister? Photocredit: http://www.flickr.com/photos/blakespot/6130669569/sizes/z/in/photostream/
After Apple CEO Steve Jobs' death last week, the lamentations began, with pundits falling over each other to attest to the man's genius. But theres been a bit of a backlash and some commentators are suggesting the praise has been over-the-top.
The Leader. We're in danger of turning Steve Jobs into a cult, said Martin Samuel in The Daily Mail. Replace his name with "The Leader", and you've got something "straight out of Orwellian fiction." Even at a "humble press conference" – the launch of the iPad – he received a "standing ovation." "He wasn't Mandela; he sold computers." The way that we deal with grief now is totally unstable – it often stems from "notoriety" as much as from what the person actually did. Steve Jobs, Princess Diana, Jade Goody – "Even Raoul Moat had his Facebook mourners."
Did he hasten his own death? There are doubts about Jobs' attitude to his health, too. A Harvard Medical School researcher, Ramzi Amri, quoted on Gawker, said in a post on Quora (an online forum) that the cancer Jobs died of isn't normally fatal; but as Jobs went for alternative medicine instead of the usual treatment, he may have hastened his own death. Amri told Gawker that it was his "PERSONAL opinion", but that it was based on over a year of research on the kind of tumour that Jobs had – a "neuroendocrine tumour", which, according to Amri, is so "mild" that the survival rate amongst his patients was 100 percent.
It's not just his personal life. There are troubling aspects to Apple as a company, too. Gawker ran an article explaining what was bad about Steve Jobs. Though he was an innovator, he was also "rude, dismissive, hostile, spiteful." Apple's success has been "built literally on the backs of Chinese workers." He censored the Apple store, banning everything from gay art to Vogue fashion spreads. Apple's "Worldwide Loyalty Team" is primed to hunt down leakers; Apple "applies coercive tactics to the press." He never gave to charity, and closed down Apple's philanthropic arms. He denied paternity of his daughter Lisa. "He will undoubtedly serve as a role model for generations of entrepreneurs and business leaders. Whether that's a good thing or a bad thing depends on how honestly his life is appraised."
Think outside the box. We're all acting like sheep, said The Register adding that Steve Jobs' legacy was not to settle – and yet look at all these companies rushing to emulate Apple. To suggest that Apple has somehow solved the problem of tablets and smartphones "once and for all, and that no on can surpass Apple's vision", is "riduculous" – and "a slap in the face" to Jobs.
More Steve Jobs & Apple

iPhone 4S: Siri – game-changer or gimmick?
Steve Jobs: Not a God?
Top 10 Steve Jobs quotes
Steve Jobs: tribute images
Apple after Steve Jobs
Steve Jobs is dead
More Apple »