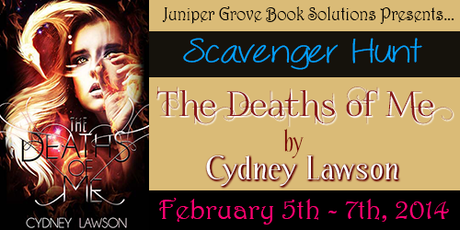 Welcome to the last stop of the The Deaths of Me by Cydney Lawson scavenger hunt. Hope you have had success tracking down all the keywords!  So now you just need to
stare
a little bit longer to find the last elusive word!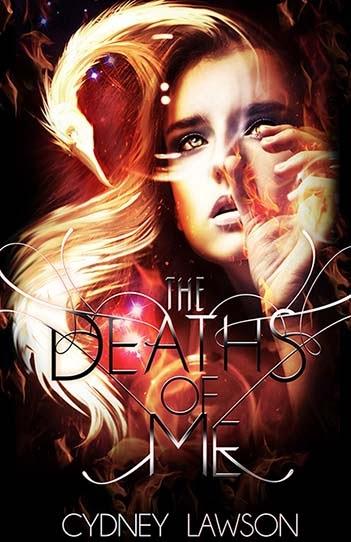 Title: The Deaths of Me
Author: Cydney Lawson
Published:

 

February 2014
Word Count: 80,000
Genre:

 

YA Paranormal
Synopsis: One, tiny little massacre, and suddenly Ivy's the bad guy.
Now indebted to the Covenant until the unforeseeable future due to her murderous actions, the vampire has a new mission: save Rory, the last half-phoenix, from the clutches of a crazed group of humans who are bent on harnessing immortality.
But saving Rory means partnering with Dane—a werewolf playboy who never shuts up. Forced to work together until the Covenant reveals their plans, Dane finds himself falling out of his heartbreaker ways and into love with Rory.
When Ivy learns that Rory's mounting passion becomes deadlier each time she and Dane touch, things get even more complicated. As the cult hunts them

 

down, Ivy must fight to keep the two apart. It will take all three of them working together and facing their pasts to save their own lives before the cult reclaims what they stole in the first place: Rory's life.
About the Author: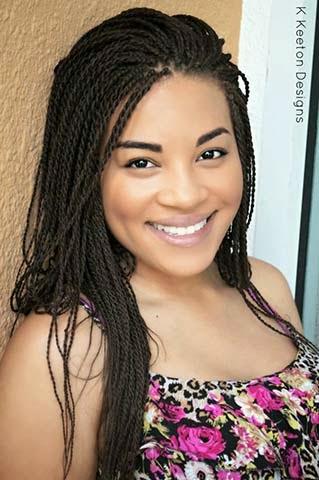 Cydney Lawson is an adventurous college student with a slightly awkward, yet quirky, personality. She can always be found with pen and paper in hand, and chocolate and a paperback close by. When not writing, Cydney can be found studying for her creative writing degree, spending time with friends and family, or cooking up a storm in the kitchen. Her dream is to move away from the craziness of the city and live in a cabin in the woods with her 2 dogs (who don't belong to her yet) as a full time writer and editor.
Amazon Author Page
|
Facebook
|
Twitter
|
GoodReads
|
Website
Giveaway Details:
There is a tour wide giveaway. Prizes include the following:
Grand Prize: Torch box that contains book swag such as: custom matchbooks, ritual candles, essential oils, and temporary vampire tattoos. A signed print copy of The Deaths of Me, a signed print copy of Wingless, and a $25 Amazon gift card.
Second Place: Torch box that contains book swag such as: custom matchbooks, ritual candles, essential oils, and temporary vampire tattoos. A signed print copy of The Deaths of Me, and a $5 Amazon gift card.
Third Place: Torch box that contains book swag such as: custom matchbooks, ritual candles, essential oils, and temporary vampire tattoos. A signed print copy of The Deaths of Me, and a bookmark.
10 additional winners will receive an eBook copy of The Deaths of Me
Giveaway is International for digital items and US only for Torch boxes, print, and swag items.
a Rafflecopter giveaway
Excerpt

for The Deaths of Me by Cydney Lawson:
"What are we doing, Dane?" She felt his hot breath on her neck when he _______ smelling her.
"I'm doing my job. I'm ______ sure you stay alive." He pulled back to look at her, and she could see the shine of bad ideas in his gaze. Ideas, she was fairly certain, ________ her.
"No. Really. What are we doing?"
Dane sighed and dipped his head ____ into the crook of her neck. His lips brushed her shoulder when he replied, "Being young, reckless, and most ___________, alone."
He ________ her firmly against him when he said 'alone', and it was all Rory could do to not melt in his embrace. His lips descended again against her skin, this time across her jawline. Rory swallowed ____ and bunched her dress in her fists to force herself to keep her hands to herself. Lest those hands send Dane to an _____ cremation.
She felt the smile against her skin when he whispered, "Do you want me to kiss you?"
Her mouth fell open in an _______ to scream yes, but no sound came out. Frantically, her gaze darted around the dimly lit corridor they occupied. Fairy music and distant _______ were the only sounds she could hear. Well, there was also the infuriatingly delicious growls of ____________ from the werewolf in front of her when he dropped her ____ to the floor once more to cup the back of her head.
Her skin felt like it was on fire, but it wasn't like any burn she'd ___________ before. And coming from her of all people, which was saying something.
She _________ around her mind to find some resemblance of responsibility to say, "We can't." The weak refusal sounded like a lie to her own ears.
Dane tenderly pulled her head back so he could _____ at her. He was all she could see. He was excruciatingly close, and all Rory wanted to do was get closer. Dane pressed the length of his body _______ her, swallowing her in warmth and desire, and smothering any thought of responsibility she might have had.
His hand left her hair to brace himself against the wall beside her head, truly ________ her. Was she breathing? The way her chest heaved _______ her dress, she had to assume she was. But then, where was all the air?
Dane's head lowered to hers as he _______ her lips like he owned them. Ever so slightly, as if they had all the time in the world, his lips grazed hers.
"Do," he teased slowly. "You. Want." Rory fought the ____ to crush her lips against his. "Me?"
Have you found all the keywords for today? 
Visit these other Blogs.
February 7th – Rachel @ Rachel Tsoumbakos

February 7th – Erika @ Cloud Nine Girl

February 7th – Sophia @ Bookwyrming Thoughts

February 7th – Maria @ Queen of All She Reads

February 7th – Carrie @ Indie Book Fairie

February 7th – Marni J. @ Word to Dreams

February 7th – Kel @ Literary Nook

And Remember,
If you get lost or have missed some keywords from earlier days, return to this
post
to get back on track!
Fill in the blanks in the special excerpt with the correct keywords and submit the completed excerpt below for 5 extra bonus entries!