Like you, I am perplexed by how the transgender movement has taken America by storm so quickly and successfully in the span of a mere year or two. The big TV networks are aggressively promoting the transgender agenda. Some examples:
ABC Diane Sawyer's interview with Bruce "Call me Caitlyn" Jenner got rave ratings.
PBS aired a 90-minute Frontline special "Growing Up Trans" on June 30, 2015, described as: "Just a generation ago, it was adults, not kids, who changed genders. But today, many children are transitioning, too — with new medical options, and at younger and younger ages. In 'Growing Up Trans'…FRONTLINE takes viewers on an intimate and eye-opening journey inside the struggles and choices facing transgender kids and their families."
The Learning Channel has a new series beginning July 15 titled, "I Am Jazz," about a young teenager who was born a boy and has transgendered to a girl since the age of two years old, with the full support of his parents.
Then I began noticing and putting some pieces together.
In his book Miracles, C. S. Lewis presciently observed that "Sexual intercourse is rapidly becoming the one thing venerated in a world without veneration."
And in a world where sex is the be-all and end-all, and where there no longer are constraints on sexual behavior, people get bored with normal, ordinary sex and look for new thrills to titillate their jaded but never-satiated appetites. One of those new thrills is sex with transgenders, especially men who seek out she-males. The latter are men who imagine themselves to be "transgenders," but who retain their penises. In other words, transvestites with breast implants.
Here are the pieces I put together:
1. This blog, Fellowship of the Minds, gets hundreds of spam comments a day. Thanks to our server WordPress's spam filter, 99% of those comments never see the light of day but are dumped into our spam folder. As the owner and administrator of FOTM, I empty our spam folder every morning and, if I have the time, periodically throughout the day. Among the commercial spam for this or that product, I regularly see ads for she-male porn. What is interesting is that we don't ever get spam for other types of porn. Only she-male porn.
Eddie Murphy
2. Do you remember actor Eddie Murphy being caught in West Hollywood in 1997 with a transsexual prostitute in his car? Murphy said he was simply being a "good Samaritan" by offering a ride in the wee hours of the morning. According to a report by Z107.9 on May 13, 2014, however, 25-year-old mtf (male-to-female) transsexual Honey Dip Ashton is threatening to sue Murphy for $1.2 million for his "empty promises." Ashton claims "she" had an intimate relationship with Murphy for years and posted a string of tweets detailing "her" encounters with Murphy beginning when Ashton was 17, a minor. Ashton's tweets include details about Murphy's home (that she used to give Murphy "oiled massages under the fireplace down in the loft with the black metal spiral staircase") and his anatomy (Murphy's penis "bends downward").
3. Former football pro Hank Baskett (husband of reality TV actress and former girlfriend of Hugh Hefner Kendra Wilkinson) reportedly had an affair with a she-male "model" named Ava Sabrina London when Kendra was 8 months pregnant with the couple's second child.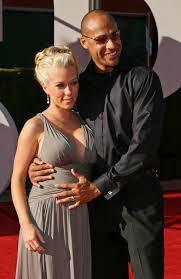 A pregnant Kendra Wilkinson with Hank Baskett
Baskett has denied the affair, but London gave National Enquirer a graphic account of "her" tryst with Baskett in April 2014. "She" said Baskett "contacted me through a [YouTube] video I had posted"; paid $400 for a wild sex romp at her Sherman Oaks, Calif., apartment; and that he "absolutely knew" that "she" was a transsexual. The Enquirer had London take a polygraph or lie-detector test administered by a "nationally renowned examiner," which "she" passed "with flying colors."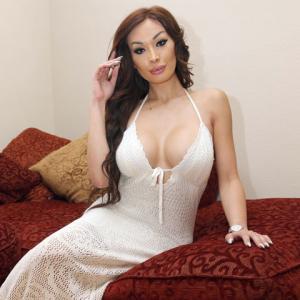 She-male Ava Sabrina London
There is a paucity of research on sex with transgenders because, like other political taboos (e.g., homosexuals and pedophilia; race and IQ), it's one of those politically incorrect topics for scientific research. The following is what little we do know, from an informative Salon article by Tracy Clark-Flory, a self-described "gender queer":
Men who are attracted to trans women are colloquially called "tranny chasers" or "transfans". The technical term for such attractions is

gynandromorphophilia

.
We don't know how many men have these attractions, but if porn is any indication, there are many. "T-girl" porn is the 4th most popular type of "adult" porn website, according to the book A Billion Wicked Thoughts, by Sai Gaddam and Ogi Ogas.
Heterosexual men are the main consumers of T-girl porn.

Gaddam and Ogas speculate that the appeal comes from the "novel juxtaposition" of feminine cues like breasts, with the penis, which "has a special power to activate the male sexual brain." According to homosexual journalist Daniel Harris, who wrote a memoir titled Diary of a Drag Queen which chronicles his experiences dressing in drag to attract heterosexual men, hetero men are opportunists "willing to overlook the imperfections of the disguise for the sake of a good blow job, which he has heard through the sexual grapevine, correctly as everyone knows is more expertly administered by men than by women." However, Harris claims that based on his experience, "there isn't a single type but many types" who are attracted to trans women and drag queens. They include "the man who is actually a homosexual and whose interest in transvestites is exclusively genital," and "genuine fetishists, the ones who actively seek out transvestites and may even prefer them to women."
According to a Northwestern University online survey of 205 men with a sexual interest in trans women,

51% identified as straight, 41% called themselves bisexual, only 6 men identified themselves as "gay." Kevin Hsu, one of the study's researchers, said this "contrasts with one popular misconception that men who have an interest in trans women must be gay men, or closeted gays. The interest in trans women appears to be a distinct sexual interest separate from heterosexual men's attraction to women for the majority of men, but there is a substantial minority who may experience it as their sexual orientation [i.e., fetish]. That is, their sexual attraction to trans women is the central part of their sexuality and not a secondary interest."
So how much of the current movement to normalize and popularize transgenderism is driven by this not-talked-about sexual undercurrent? Those who know will never admit it . . . .
See also:
Joan Rivers: We all know Obama is gay and Michelle is a tranny
Michelle Obama is a transexual?
Is this Michelle Obama's weenie?
Sightings of Michelle Obama in a swimsuit as rare as Big Foot's
More and more Americans think Michelle Obama is a man
~Éowyn