Diamonds are undoubtedly the most popular precious gemstone, but it's usually the white ones that get the most attention. Fortunately, there is a full spectrum of diamond colors to choose from, in case you prefer your gems with a little more edge. Black diamonds — hard to find and difficult to work with — make for a unique and dramatic gemstone.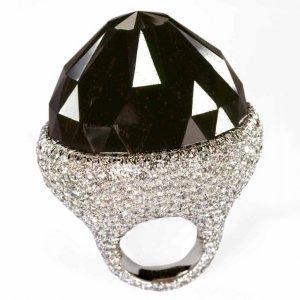 Though they are rare, one Swiss luxury brand excels at delicately turning the stygian stones into priceless works of art. De Grisogono, famous for its objets d'art using those fabulous black diamonds, has featured full collections of the dusky jewel since its inception in 1993. Now featuring jewelry, watches and other accessories, the brand that made black diamonds famous continues its trend-setting ways in today's market.
In the Beginning
Founded in 1993 by Fawaz Gruosi and two friends, De Grisogono began with the premise of giving the world a broader selection of eye-catching and timeless pieces featuring the midnight-hued mineral. In fact, the first collection they presented exclusively used black diamonds, despite the stone's rarity and brittleness. From here, De Grisogono flourished by incorporating the dramatic material into fashion staples like sunglasses, mobile phones and watches.
The Spirit of De Grisogono
Every luxury brand has a single item that truly launches it into prominence, and for De Grisogono that item was the Spirit of De Grisogono, a roughly 312 carat black diamond ring, which featured an additional 702 small white diamonds. The original stone weighed 587 carats and was hand-cut by Gruosi.
Diamonds may be a girl's best friend, but if you want a look that confidently stands alone, there are few better choices than a De Grisogono black diamond. Whether you prefer their elegant watches, architectural rings or studded sunglasses, the ebony obsessed jeweler offers a variety of options with an inky tinge.