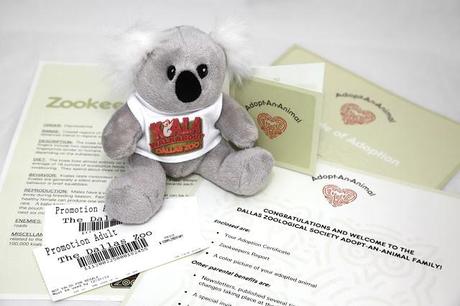 This Valentine's Day, the Dallas Zoo is offering a special koala Adopt-An-Animal package. In addition to the zookeeper's report, adoption certificate, photo, and Zoo publications throughout the year, recipients of the koala adopt package receive a a small stuffed koala and free tickets to the Zoo. Couples (or parents with children) can make a date of the gift and visit the Zoo to see the koalas and other animals. Did you know that the Dallas Zoo is the only zoo in Texas where people can see koalas!?
Now, this is not the kind of gift I would want from my husband, BUT if you want a gift for your children, a friend or client - it's about the cutest thing ever.  This adorable package is less expensive than a dozen roses, less calories than a box of chocolates, and less mess than a real koala!
The cost for this Aussi-some gift is $50 ($40 for DZS members). Visit DallasZoo.com to place your order. Call 469.554.7449 or email [email protected] for details.