I always love going to songwriter events. They have such a great atmosphere and it is so relaxed and genuine. The Dakota Tavern has been host to the last few I have attended in the Four Chords And The Truth events. Now, Paquin Artists Agency is putting on their own, also at The Dakota. It's a perfect venue for the 'in the round' performance. It isn't a large space, so it is naturally quite intimate and everyone loves the stage setup with the lighting and decor.
On the bill tonight is Joey Landreth, Sykamore, Andrew Combs, Damhnait Doyle and special guest Donovan Woods. This is a solid lineup on any given evening, and the space filled up predictably quick.
The artists took turns discussing a bit about a song they might play, the story that may be behind it or joke about things completely unrelated. There are no real rules to these nights. Everyone kind of feeds off of each other, and most know each other well already so it is just off the cuff comments and stories and of course, great songs.
Joey Landreth ( The Bros. Landreth) I have come across a handful of times now. I can't say anything bad about the guy. Really. Musically he is an incredible talent, that is obvious. He was recently featured in a six page spread in Guitarist Magazine. He will be opening for Tedeschi Trucks. There isn't much I can say that many haven't said already. He is a truly gifted player, vocalist and songwriter. And that's putting it extremely succinctly. But he is also one of the warmest personalities you might ever meet. Hopefully he doesn't read this and get some kind of ego since it is far to complementary, but its well deserved. Joey played a few songs of his own, one he wrote with Donovan Woods, and of course was called upon to lay some guitar work into everyone else' tunes.
Not sure this needs a caption. @JoeyLandreth at @thedakotatavern pic.twitter.com/54uMJ4OTY9

- Sound Check Ent. (@SoundCheckBlg) May 11, 2016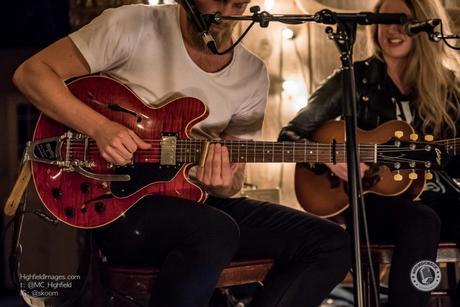 Joey Landreth in Toronto - Photo: Mike Highfield
Sykamore is someone that was new to me but, she made a hell of an impression. She has a beautiful, raw style. A soul soothing voice and writes some really great songs. Learning more about her after the show (it was a definite "to do") she received first prize in the ATB All-Albertan Songwriting contest with her song Heaven In The Pines. Her music has been featured on the hit show Heartland, and was nominated for the Discovery Award at the CCMA's in Halifax. Well, don't I feel ignorant... She is someone I wish I stumbled across sooner but its ok, I know now. She even busted out maybe the most upbeat, heavy bluesy song of the night which I didn't see coming. Andrew Combs jokingly saying "well, lets slow this down a little" afterwards, back to the lighter tempo of the night.
Being hypnotized by @SykamoreJordan here @thedakotatavern #welovelive pic.twitter.com/pf5T1EmIGM

- Sound Check Ent. (@SoundCheckBlg) May 11, 2016
Andrew Combs is a Nashville singer-songwriter who was in Toronto for Canadian Music Week and being a few days afterwards, he just "...wandered around the streets" waiting until this night. I think everyone was pretty glad he did. With acclaim for his album All These Dreams being so high (such as Rolling Stone naming him one of "Four Singer-Songwriters You Need to Know in 2015") he really lived up to all the hype. Now I'm not sure if it is always so common but it seems that songwriters all share a dry sense of humour about everything. Leading into a really great song called Too Stoned To Cry, Andrew comedically recounts his mother learning about the song and just stating "Andrew, sometimes I worry about you..". Maybe with all of the sad songs some can write, they need the comic relief.
Damhnait (Davnet) Doyle is someone I have seen a few times at songwriter events and will always enjoy hearing her perform. Her voice can be as soft as anything you could think of, to belting out beautiful notes that can probably be heard down the block. A song Damhnait performs called Going To Hell is just, killer. I always love hearing it and look forward to when it's on an album with her band The Heartbroken. She was also cracking jokes with everyone between songs. Joking about life with kids, also somehow working in a gangster theme to the night.
So much talent, one small stage. @davnetdoyle with that voice.. 👌🏼 @thedakotatavern #welovelive pic.twitter.com/6Rk3ifgSar

- Sound Check Ent. (@SoundCheckBlg) May 11, 2016
Well, we can't continue talking about the comedic aspect of the night without Donovan Woods. I think some people might be just as interested as what he says between songs at any given show, as they would be with his music. That can't be entirely true, because his songwriting and voice definitely do outperform his punchlines. Unless comedy is your thing then maybe you disagree. Even Joey made it a point to tell everyone how is family will read Donovan's tweets to each other for fun. So maybe there's a backup career there, but that won't ever be necessary. Playing songs They Don't Make Anything In That Town, It'll Work Itself Out, and We Never Met ... Ya he will never need to rely on comedy.
What a way to spend a Tuesday. @DonovanWoods @thedakotatavern #welovelive pic.twitter.com/VibQ6bnYlM

- Sound Check Ent. (@SoundCheckBlg) May 11, 2016
If this is a sample of the Paquin roster, then they're doing it right. It would be nice if the Maple Leafs could scout talent as well as this agency does. Toronto hockey fans would be far less depressed. But thankfully they can turn to the music of "...sad people in a basement." (as Donovan quipped) to make it all better.
Socials:
Joey Landreth: Facebook - Instagram - Twitter - TheBrosLandreth.com
Sykamore: Facebook - Instagram - Twitter - SykamoreProject.com
Andrew Combs: Facebook - Instagram - Twitter - AndrewCombsMusic.com
Damhnait Doyle: Facebook - Twitter
Donovan Woods: Facebook - Instagram - Twitter - DonovanWoods.net
Mike Highfield (@MC_Highfield)
MORE PHOTOS: