This is Gwen from the iZombie comics: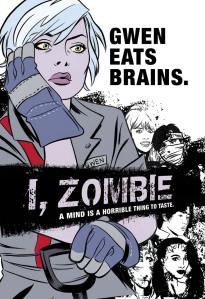 This is the actress they cast to play her in Veronica Mars creator Rob Thomas' upcoming pilot for the CW.  For some reason, they've re-named the character Liz: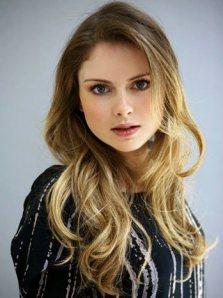 Rose McIver
McIver, who is originally from New Zealand, recently played Tinker Bell in Once Upon a Time.  She also had a recurring role in the recent inaugural season of Showtime's Masters of Sex.  Prior to that, she played the female lead in the film Brightest Star (2013) and was not the lead but a major character in The Lovely Bones (2009).  Oddly, she also spent 33 episodes playing the Yellow Bear Ranger in Power Rangers R.P.M., though such an actress moving to a CW show is not unprecedented lest we forget original Pink Ranger Amy Jo Johnson co-starring in Felicity on (CW predecessor) the WB.
Check out McIver in action:
Quick note: For those kids of the '90s (like myself), it might come as a bit of shock to learn that though the original Mighty Morphin Pink Ranger and her tortured romance with the Green/White Ranger are pretty much long gone Power Rangers has continued running, pretty much non-stop, with one newly themed spin-off of a spin-off after another.  According to Wikipedia, they are up to 17 different themed spin-offs now, comprising 20 total seasons of TV.
McIver has been putting that Power Ranger charm to good use as of late because in addition to landing the lead for the iZombie pilot she also has been cast to replace Kiernan Shipka in Lifetime's Flowers in the Attic sequel Petals on the Wind (don't laugh – that's its actual title).
iZombie's official synopsis currently reads as follows:
"The supernatural crime procedural, based on the DC Comics title of the same name, centers on Liv (McIver), a medical student-turned-zombie who takes a job in the Coroner's Office in order to gain access to the brains she must reluctantly eat so that she can maintain her humanity. However, with every brain she eats, she inherits the corpse's memories. With the help of her medical examiner boss and a police detective, she solves homicide cases in order to quiet the disturbing voices in her head."
Compared to the comics, the primary setting has been changed (graveyeard is now the morgue), the storytelling rules bent (brains eating leads to straight crime-solving now instead of mixture of crime solving and simple last wish fulfillment), and pretty much all of the fun, supernatural supporting characters completely dropped, replaced with far more normal, Veronica Mars-y humans.
It is shaping up to be an odd mixture of Pushing Daisies meets Veronica Mars, just their Veronica Mars will be a zombie who still looks like a normal, living girl.  If you have no attachment to the comics, it could be kind of awesome.  If you do, you'll probably be pretty ticked.  In addition to McIver, they've previously cast Robert Buckley as the male love interest, Malcolm Goodwin as the homicide detective Liv works with, Alexandra Krosney as Liv's roommate, and David Anders as a very Veronica Mars-sounding rich kid who gets in over his head in the drug trade.
Source: THR