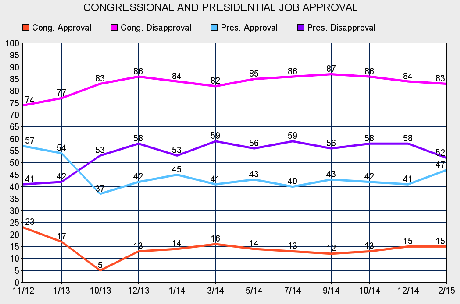 All of these charts are from a new AP-GfK Poll done between January 29th and February 2nd of a random national sample of 1,045 adults, with a margin of error of 3.5 points. They give us a pretty clear picture of the current American political landscape.
The top chart shows the presidential and congressional job approval ratings for the last couple of years. Note that while congressional Republicans like to crow about the "low" presidential job approval, it has been 25-30 points higher than that of Congress for all of that period -- and while the president's numbers have climbed recently, those for Congress have not.
Then we have the charts below. They tell us that more than 8 out of 10 Americans don't believe the president and Congress will work together to solve the nations problems -- and 15% more blame the congressional GOP than blame the president for that. Only 21% support the teabaggers, while 75% say they don't support them. And Democrats still outnumber Republicans (whether you exclude or include the leaners).