SPOILER ALERT! Some photos in this post sorta give things away out of necessity. If you're familiar with the film, great. If you're not… eh, maybe wait a bit before reading this one.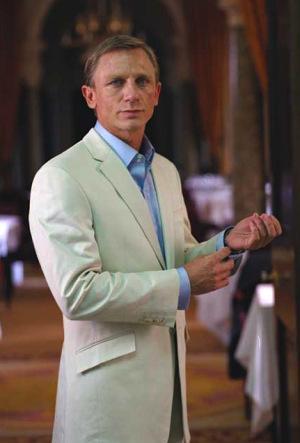 Daniel Craig in Layer Cake (2004).
Vitals
Daniel Craig as an unnamed London drug dealer ("XXXX", for simplicity's sake)
London, Summer 2004
Background
As summer comes to a close, so will the seasonal focus on how to wear a good summer suit. There have been a range of styles, from fashion-forward mod suits (Michael Caine in The Italian Job) to double-breasted three-piece affairs (J.J. Gittes and Chalky White).
At the end of Layer Cake, Dan Craig has effectively negotiated the dangerous London drug underworld to announce his retirement, even with the prospect of taking over staring him in the face. Unlike so many gangsters – both real and cinematic – "XXXX" decides he's made enough and had enough, and he chooses to retire and drive off into the sunset (or the afternoon sun) with his new girlfriend. Unfortunately, he may have made one careless mistake too many…
What'd He Wear?
A few years earlier, fellow Bond-actor-in-non-Bond-role Pierce Brosnan wore a similar ensemble as crooked MI6 agent Andy Osnard in The Tailor of Panama (which I wrote about exactly one month ago). Brosnan's suit was more tan than cream, but – like Craig – it was a linen and cotton blend worn with a light blue open-neck shirt and brown shoes. While Brosnan's look was intentionally sloppy, Craig shows how well it can be pulled off for a casual summer outfit.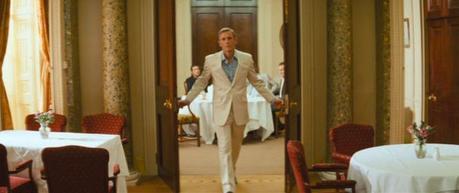 When given the chance to walk through double doors, use both doors. Be that guy.
Of course, it helps that Craig's suit was tailored by Richard James of Savile Row. According to Richard James' blog:
The brief for Craig's wardrobe… was 'slim, contemporary Savile Row suits and definitive, well cut casual wear." A suitable look, it was thought, for a character who professes, "I'm not a gangster, I'm a businessman whose commodity happens to be cocaine."
Craig's jacket is single-breasted with a long fit and a slightly pulled in waist. The slim notch lapels, which have swelled edges, roll down to the high 2-button front stance. The shoulders are lightly padded, and the cuffs are 4-button.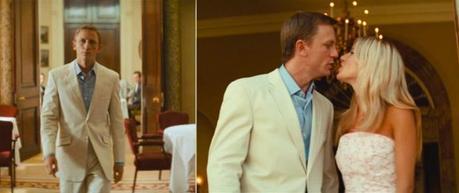 XXXX enjoys the life of a retired drug dealer.
There is a welted pocket and the flapped hip pockets slant back like the traditional hacking jacket. The long fit and long single vent also indicate hacking jacket-inspired construction.
Craig's matching suit trousers are flat front with a low rise best seen when he is leaning on a pillar outside the Stoke Park Country Club. The waistband has an extended hook-closure tab in the front and buckle adjusters on the sides. The side pockets are slanted, and there is a single jetted rear pocket on the left. The plain-hemmed bottoms fall with a long break over his boots.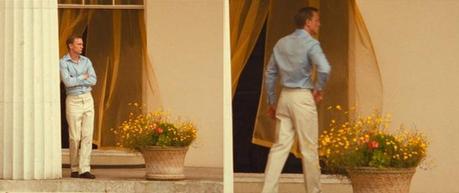 Casual Dan.
Craig also wears the same boots as he wore throughout the rest of the film, a pair of dark brown (or "chestnut") leather Chelsea boots with brown elastic side gussets and tall-heeled black soles. As many costume detectives have found out, these are R.M. Williams' "Henley" boots.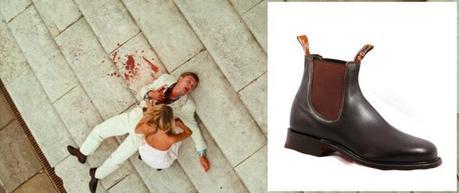 This is what I meant about photos with spoilers :-/
If you've never seen Layer Cake before, then I apologize for revealing that XXXX is so embarrassed about spilling ketchup on himself during lunch that he faints outside. It's shocking.
Chelsea boots are a nontraditional option for summer suits, especially in such a dark color, with tan oxfords or loafers typically worn. However, brown definitely works better than black would, and a utilitarian like XXXX – classy though he maybe – would wear a shoe that is practical and comfortable.
His socks remain unseen due to the trouser break and the height of the boots, but they would likely be tan or taupe.
Craig wears a light blue poplin shirt with a large 2-button spread collar. It has white buttons down the front placket and French cuffs secured by walnut oval-shaped links with silver trim.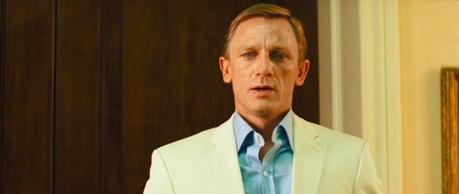 The 2-button collar enjoyed plenty of popularity in the mid-2000s when large collars were back in style. Now, it's hard enough to fit a single button on the pencil-thin collars on some currently trendy shirts.
The only accessory Craig openly wears during the scene is his stainless wristwatch, possibly a Rolex Datejust, with a stainless bracelet and black dial.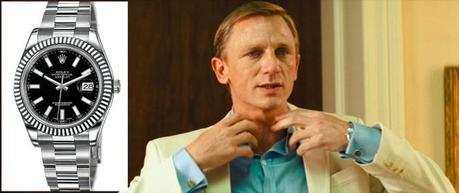 A classy watch and cufflinks help make a casual suit pop.
Go Big or Go Home
Continuing the idea that Layer Cake directly led to Daniel Craig's consideration – and eventual hiring – as James Bond, it must be pointed out that the location chosen for the finale is the Stoke Park Country Club in Stoke Poges, Buckinghamshire. (That's in England, in case you're geographically disabled.)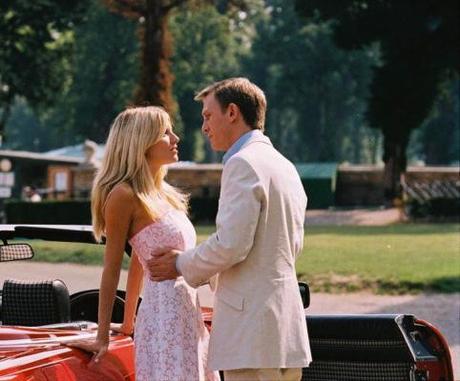 Daniel Craig and Sienna Miller outside the Stoke Park Country Club.
"Stoke Park… that sounds familiar," you say to yourself. Since you're reading this blog, you're probably familiar with the film Goldfinger. Stoke Park Country Club hosted James Bond and Auric Goldfinger's gripping golf game that climaxed with Oddjob removing a statue's head with a single toss of his bowler hat.
How to Get the Look
Some men eschew going tieless with a suit, but XXXX proves that it's not always such a bad thing.
Unfortunately, the classic '86 300SL doesn't make it into the finished film. No reason why you shouldn't still get one, though!
Cream linen-cotton blend two-piece suit from Richard James of Savile Row, consisting of:

Single-breasted jacket with notch lapels, 2-button front, welted breast pocket, slanted flapped hip pockets, 4-button cuffs, and single rear vent
Flat front trousers with extended waistband tab, buckle side adjusters, and plain-hemmed bottoms with full break

Light blue button-down shirt with large 2-button spread collar, front placket, and double/French cuffs
Walnut oval cufflinks with silver trim
Dark brown ("chestnut") leather R.M. Williams "Henley" Chelsea boots with brown elastic side gussets
Rolex Datejust wristwatch with stainless case/bracelet and black dial
Do Yourself a Favor and…
Buy the film.
The Quote
My name? If you knew that, you'd be as clever as me.