Petrillo Music Shell Seating Area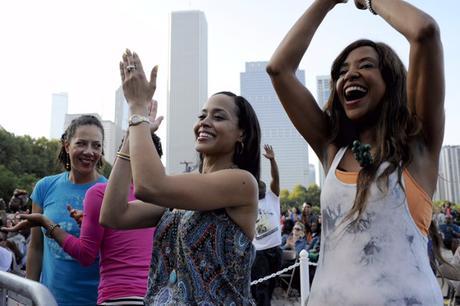 Tickets for the seating area at the Petrillo Music Shell go on sale Friday, April 29, at 10:00AM. Visit the Taste website to purchase your tickets tasteofchicago.us.
Here's the lineup:
Wednesday, July 6, 5:30 p.m.
General seating tickets: $23
Premium seating tickets: $50
The Roots
This band was recently named one of the greatest live bands by Rolling Stone and they currently perform weekdays on The Tonight Show Starring Jimmy Fallon.
Thursday, July 7, 5 p.m.
General seating tickets: $15.00
Premium seating tickets: $32.00
KONGOS
You might know these brothers from their most popular song "Come With Me Now." The band will release their new album Egomaniac in June.
Elle King
We're fairly certain you've heard her greatest hits, "America's Sweetheart" and "Ex's & Oh's" and here's your chance to hear them live!
Transviolet
This band will be opening the evening's performances. You may know them from their first single "Girls Your Age" which became a viral sensation.
Friday, July 8, 5:30 p.m.
General seating tickets: $23.00
Premium seating tickets: $50.00
The Decemberists
The Decemberists are an American indie folk rock band that is known for their unique shows. Their seventh album What A Terrible World, What a Beautiful World was released in January 2015. 
Shakey Graves
Shakey Graves (A.K.A Alejandro Rose-Garcia) will be the opening act for The Decemberists. From what we've heard, his haunting melodies are very addicting and he is a very compelling artist.
Saturday, July 9, 4:30 p.m.
General seating tickets: $23.00
Premium seating tickets: $50.00
Billy Idol
Do I really need to tell you who Billy Idol is? He has sold 40 million albums in his career and he was one of MTV's first superstars. Some of his popular songs include "Dancing with Myself," "White Wedding," "Cradle of Love" and the list goes on and on.
Sons of the Silent Age
This band loves to play the music of David Bowie in the hopes of keeping his legacy alive. Chris Connelly and Matt Walker both have over thirty years in the music business.
Sunday, July 10, 4:30 p.m.
General seating tickets: $23.00
Premium seating tickets: $50.00
The Isley Brothers
We know you've heard "Twist and Shout" "Shout" and "Whose That Lady". And I'm sure if you attend The Taste of Chicago on this day, you'll get the chance to hear those hits live!
Sheila E.
The Grammy-nominated artist who is known for "The Glamourous Life" and "A Lovers Bizarre" will bring the entertainment with her contagious rhythm and sound.
Bud Light Stage
Wednesday, July 6- Singer/ Songwriter & Country Music
Free Admission
Elk Walking
12:00PM- 1:00PM
Columbia College Chicago alumni Julian Daniell and Savanna Dickhunt and their band are excited to entertain you with their acoustic sounds and harmonies.
Daniel Wade
1:20- 2:20PM
Daniel once played guitar for the band Treaty of Paris. He is now a solo artist who has a handful of EPs under his belt.
Lawrence Peters Outfit
2:40- 3:40PM
The Lawrence Peters Outfit is a band from Chicago and their awesome sound is entrenched in country music's traditions.
Derek Fawcett
4:00PM-5:00PM
Known for the emotional weight of his lyrics, Derek Fawcett is known for playing music that speaks to his fans on a deep level.
Righteous Hillbillies
5:20PM- 6:20PM
One of America's best Southern Rock Bands does an amazing job of reviving the spirit of rock and roll with their intensity and energetic performances.
Heartsfield
6:40PM- 8:00PM
Heartsfield is known for their fun and up-tempo music and they love getting the crowd involved at every performance. This band has toured the US since the 1970's and have performed for over 10 million people.
Thursday, July 7- Cornucopia! Music Variety Day!
Chicago Latin Groove: Ladies Singing Salsa
12:00PM-1:00PM
This orchestra consists of eight musicians whose Latin roots inspired their music. Their tunes are a combination of Salsa, Merengue, Bachata, Latin Jazz and Spanish Ballads.
Z-Verse
1:20PM- 2:20PM
Z-Verse is Chicago's favorite Hip Hop artist and he just released his new album The Antidote.
¡ESSO! Afrojam Funkbeat
2:40PM-3:40PM
ESSO started as a band for live music nights in our very own Chicago! Now, they play at festivals and are the opening acts for major tours across the country.
Rapperchicks
4:00PM-5:00PM
This band is known for their unique shows because of their risky lyrics and unique presentation. They truly understand the power of music and they're confident that you will enjoy their performance.
Gilligan Moss
5:20PM- 6:20PM
It is very easy to lose yourself in this Chicago native's music. His performances are known to be very powerful and energetic. If you are a fan of electronic music, this show isn't one you should miss.
Ezra Furman
6:40PM- 8:00PM
Ezra Furman is an indie rocker whose stage attire consists of anything from skinny jeans to a colorful dress from time to time. His music is intense and incredibly sentimental.
Friday, July 8- Rock 'n Roll Will Never Die
The Giving Moon
12:00PM-1:00PM
This alternative rock group's objective is to always keep a variety in their tone and sound. Their main goal is to perform and share their music with people all around the world.
American Grizzly
1:20PM-2:30PM
This band encompasses the past and present aspects of Rock & Roll to create future sounds of the genre.
King Mixer
2:40PM- 3:40PM
Almost two years in the making, King Mixer released their new album Hang On and they consider it their best work yet.
The Ivorys
4:00PM-5:00PM
These young musicians started their band in a basement in Chicago over ten years ago. Their Rock & Roll music mixed with a vigorous and captivating performance will be sure to keep you on your feet.
The Kickbacks
5:20PM- 6:20PM
After three years of touring with other acts, The Kickbacks released their debut album Sorry All Over The Place. This band prides themselves on their quirky and explosive performances.
Fort Francis
6:40PM-8:00PM
This band has performed at festivals around the country and they've even been on-screen for Tosh.O. They recently released their new EP Harbour.
Saturday, July 9- Surf Pop, Synth Pop, Electro Pop and just Pop
Clear Confusion
 12:00PM- 1:00PM
This band formed from the Rock Academy of DuPage and their music is a mix of rock, blues, alternative, punk, pop, and acoustic.
Isaiah Grass
1:20PM- 2:20PM
Isaiah Grass received the 2013 Male Pop Vocalist of the Year Award from the International Music and Entertainment Association. He is a frequent performer in Chicago and he's currently working on new music that he's excited to share.
Glass Lux
2:40PM- 3:40PM
This match made in heaven was formed when both members met on Facebook in 2010. The mix of Emily Morse's voice and DJ Alfonso Mayen's electric sound created Glass Lux.
Impulsive Hearts
4:00PM- 5:00PM
Impulsive Hearts considers themselves "Chicago in the summertime". John Paul sings, plays bass, guitar, saxophone and keys. Danielle Sines sings and shouts and Dan Julian plays percussion.
Jesse de la Pena
4:00PM
DJ Jesse de la Pena hosts the "Friday Night DJ Series" on Vocalo Radio 89.5 & 91.1 FM.
Celine Neon
5:20 PM- 6:20PM
Not for the faint of heart, Celine Neon's club-ready pop will make you want to dance the night away.
The Fall Four
6:40PM- 8:00PM
The Fall Four's sound is the perfect mix of rock and pop and they produce extremely catchy songs.
Sunday, July 10- R&B and Soul
Krystal Metcalfe
 12:00-1:00PM
Krystal Metcalfe and her band mix the sounds of soul, funk, and musical theater to create their one-of-a-kind sound.
Chicago Made: Steppin' at the Taste
1:00PM- 5:00PM
Featuring Steppin' dance lessons and performances by Jay "Slique" Adams, Fel Davis, T.L. Williams, Casper ("The Casper Slide") and DJ Sam Chatman.
Daryn Alexus
5:20PM-6:20PM 
Daryn Alexus' music tip toes the line between pop and R&B. Her album Green was released in August of 2014.
Nola Ade
6:40PM- 8:00PM 
The message in Nola Ade's music is to honor the traditions of the past, be unafraid of the present and be yourself for a brighter future. Her music is very upbeat and happy, which is perfect for a Chicago summer night.