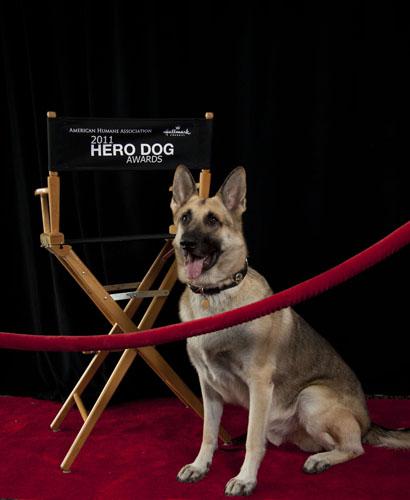 "In this year of presidential politics and all the negative ads, what a breath of fresh air it is to celebrate valor, honor, duty and unconditional love," says Robin Ganzert, president/CEO of the American Humane Association.
The Hero Dog Awards, to be held in Hollywood, will air on the Hallmark Channel Thursday, Nov. 8. Finalists are already lined up, vying for the title of Hero Dog of the Year. Eight finalists have already been voted as winners in their categories by millions of pet lover lovers. You can still vote through Oct. 4.
Here are some of the finalists and their stories:
On June 29, 2011, Berks County (PA) Deputy Sheriff K-9 Handler Kyle Pagerly was shot and killed while attempting to execute a felony warrant. The entire team of officers involved would likely have been shot if not for a German Shepherd named Jynx.
"The suspect was hiding at night (in a sniper's nest in the woods) dressed in camouflage, and ready with an automatic weapon to shoot and kill every officer (coming down the trail), and he might have," says Alecia Pagerly, sheriff Pagerly's widow. "Jynx followed the scent, not the trail, and surprised the suspect and began to bite him. Yes, (the suspect) got a few shots off, and my husband unfortunately didn't come home that night. But others did because of Jynx."
Alecia, of Shillington, PA, nominated Jynx in the category of Law Enforcement/Arson Dog. "I agreed to do it because I want to spread the word about what these (law enforcement) dogs do every day, but I never expected this," Pagerly says.
She pauses, and adds, "It may sound odd, but I can still feel Kyle's presence through Jynx. And of course, through Savannah Kylie." She is the couple's now 8-month-old daughter. Kyle, who was only 28, never met his daughter.
"Jynx can't get enough of her, and she adores Jynx," says Alecia. No question, Jynx isn't the only hero in this story.
Sometimes a hero is a survivor. In October, 2011, Daniel's four days at the animal shelter in Florence, AL, were up. Like too many pets in shelters, this sweet Beagle's sole offense is that he was unwanted. He was sent to the gas chamber with other animals. But when the door was opened, Daniel's tail was still wagging. Not only wasn't he dead, but he seemed happy.
When Joe Dwyer, of Nutley, N.J., heard Daniel's story (which quickly hit the media), he adopted the dog. Daniel is now an ambassador for Dwyer's newfound mission to eradicate gas chambers for pet euthanasia, which remain in 30 states.
"I don't think people know gas chambers (for animals) even exist in the country," he says.
Dwyer, with Daniel, has already changed the law in Massachusetts, and they may be close to doing the same in Pennsylvania. To help spread the word, Daniel was nominated for Hero Dog of the Year and won in the category of Emerging Hero.
"Gassing animals is an inhumane practice," Dwyer says. His preference when animals must be euthanized in shelters is injection (or medical euthanasia). "It's safer for staff, and less expensive (than gas chambers)," Dwyer says. "And these animals, who have done nothing wrong, deserve to die with at least some dignity and respect they may not have gotten in life."
Tatiana is a Hearing Dog, and has been nominated in that category. As many hearing dogs are trained to do, Tatiana alerts her owner, Cristina Saint-Blancard, of Plantation, FL, to ringing alarms or doorbells.
Saint-Blancard has a history of asthma exacerbated by frequent ear infections due to of Meniere's disease.
"Tatiana somehow knows a few seconds prior to an attack (from Meniere's disease, an inner ear issue which triggers balance problems), which causes me to become dizzy and fall," she says. "Before I had Tatiana, I cracked my head open and broke bones. Now, she tells me to sit down and I don't fall. Not only am I safer, but I feel like I'm finally independent. She is my hero, for sure."
Saint-Blancard graduated in December from Purdue University with a master's degree in biomedical engineering. Tatiana, a Labrador-mix, walked across the stage for graduation and wore her cap at commencement. Tatiana's diploma reads, "Master of Friendship and Guidance."
As a therapy dog working in and around New York City, Stella has been a hero to many people in need. One developmentally-disabled patient had not spoken a word at the facility where he lived. When Stella visited, he petted her. As Stella left to see another resident, the patient began to cry. Marissa Levy took Stella back into the room, where the patient hugged the pet. On subsequent visits, the man was able to speak with this amazing dog; Stella is nominated in the category of Therapy Dog.
Bill Abbott, president and CEO of the Hallmark, says, "I'm in awe; these dogs and their people — truly they are heroes; this is inspiring TV."
~Courtesy of the Chicago Tribune
Tags: dog awards, dog competition, dog hero, dog stories, dogs in Hollywood, dogs on television, hero dogs