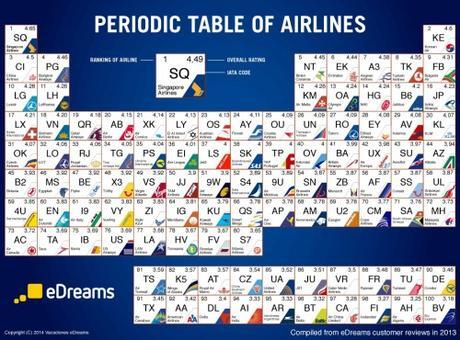 In a world once dominated by the United States and Europe, Middle East companies today have become the benchmark for luxury and quality. After Qatar, Emirates and Etihad, a new company prepares to dominate airlines.
Magazine vote: Virgin America, Singapore Air are top airlines
There are no shortage of lists attempting to rank the world's
best airlines
. The latest comes from Conde Nast Traveler, which has revealed its top airlines as rated in its "2015 Readers' Choice Awards." The magazine's readers tabbed Virgin America as
…
In the top Skytrax in 2015, in which are listed the best and worst airlines first place is occupied by a company in the Middle East: Qatar Airways. Emirates is in 5th place Etihad position below the top 6. The first European company is Turkish Airlines, Lufthansa's only 12, while Lufthansa, Air France and British pile up in 20th place.
At No. 27 is Oman Air. Still behind rivals in the region, last year the company bought one new aircraft every month and attracted 1 million new passengers. In total 6 million passengers, a number that Oman Air CEO Peter Gregorowitsch, hopes to grow to 10 million by 2020. "We will have 70 aircraft and will fly to 75 destinations," he said .
Muscat airport and it is expanding. It is spread far and will get to be four times bigger, so will take 12 million passengers annually. The more impressive as the number is 3 times more people than the population.
INFOGRAPHIC: The 20 best airlines in the world for 2015Cape Town – The pioneers of the aviation industry back in January 1914 could not have envisioned the could not have envisioned the transformational changes that have followed in the decades since. Today according to IATA, on average every day more …Top 10 airlines in the worldSingapore Airlines (SIA/SQ) Airbus A380 (9V-SKA) landing on 20C at Singapore Changi Airport. Taken with a Nikon D80 and AF 70-300 f/4-5.6G lens. (Photo credit: Wikipedia) Singapore Airlines is considered for 20 years in a row, the best airline in the world   The publication Fortune presented a ranking of the 10 best airlines …
"We do not want to copy the model companies in neighboring countries," he says but CEO Oman Air. "In Oman, everything is done sparingly, step by step, just as developed country. You will not see skyscrapers here ".
It remains to be seen to what extent the approach will help Oman Air to become the company of choice for those flying between East and West, writes CNN.
AirlineRatings.com names best inflight experiences for 2015
(CNN) Sorry, U.S. airlines, when it comes to inflight services, you're still not making the grade. So says aviation website AirlineRatings.com, which has ranked international carriers on the quality of their first, business, premium and economy
…