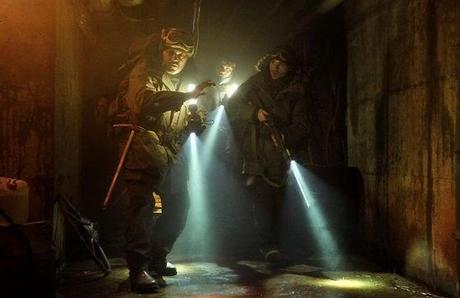 I wouldn't be surprised if you still haven't heard of this Canadian sci-fi horror because it has not been released in U.S. theaters yet. However, I managed to get my hands on the movie (don't ask me how), and was amazed by the work director Jeff Renfroe has done with this awesome movie.
Story of "The Colony" starts out in a pretty boring way, taking you ahead to 2045, in a post-apocalyptic world covered in snow. When global warming gone bad, humans have built some weather machines to control it and when those machines broke down, it has began to snow and never stopped. Some folks have managed to survive this disaster by teaming up and working out as colonies. Briggs (Laurence Fishburne), Mason (Bill Paxton), Sam (Kevin Zegers) and Graydon (Atticus Dean Mitchell) are only a few of those tough people who are basically running the game in Colony 7.
While these folks are spending their day, doing everyday stuff, trying to stay alive from getting killed by a flu virus, they receive a distress call from Colony 5. Briggs gathers a couple of volunteers and decides to go over there to this friendly-colony to check out what's going on, just to discover this underground bunker covered with blood and all the people slaughtered.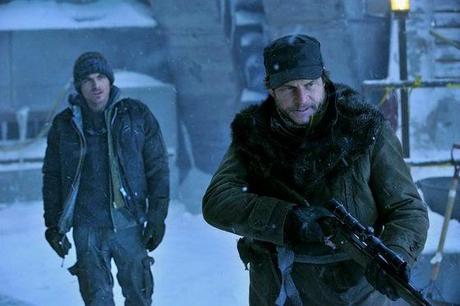 Are you getting bored yet? Yeah, same thing happened to me. I almost even stopped watching the movie because the first half of the film was really boring. But, the story was just getting started and this is where the film got really intense. I was grabbing onto the edge of my seat throughout the rest of the time.
The Colony features everything I would expect to see in a good movie. The story builds up to its' plot nice and slow, with suspense. And when it comes to action, there are intense gun fights as well as a bloody good hand fight at the end. I would just watch the movie again, just to see that last fight, it's that awesome.
I'm not going to compare the good and bad of this film.  All the other critics have already done that saying the plot contains old-school ideas and stuff. They may be right about that. And, I'm also not saying that this film is a masterpiece or anything, because it's not. But, after seeing a load of sci-fi, superhero and slasher films throughout the year, The Colony was a great change of pace. I give this movie a 3.5 out of 5 stars rating because it deserves to be appreciated. And I think you should check it out too.
The Colony will be available in the U.S. on VOD on August 22 and in limited theaters on September 20.

Email This
BlogThis!
Share to Twitter
Share to Facebook