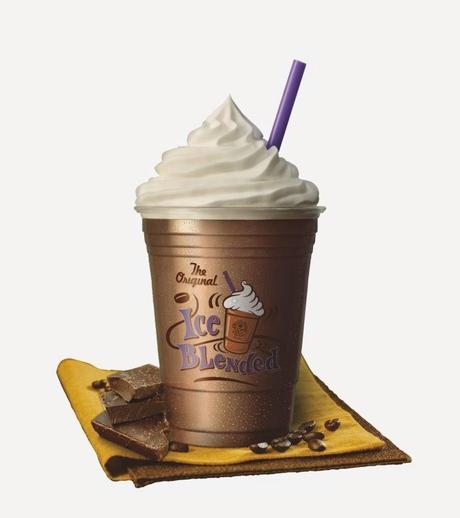 Dark Chocolate Ice Blended
The Coffee Bean & Tea Leaf celebrates with I Love Ice Blended
~Launches new Dark Chocolate Ice Blended~
June 2014
: The Coffee Bean & Tea Leaf, a leader in
product innovation celebrates its signature product, the original Ice Blended® beverage with the launch of Dark Chocolate Ice Blended, a special flavor of the month introduced for CBTL loyalists.
CBTL has always brought the finest of experiences from around the world for coffee and tea connoisseurs
. The
original Ice Blended® is one such experience that has delighted CBTL loyalists since its inception. Developed in the 1980's the original Ice Blended is a unique concoction of delicious flavours such as Vanilla, Mocha, Hazelnut, Double Chocolate, Caramel , Cinnamon and a chilling blast of Ice Blisters which make sure it stays cool and refreshing much longer than regular cold coffees making it a perfect drink for the season.
To mark this much loved beverage, CBTL has launched the all new 'Dark Chocolate' Ice Blended; a decadent and romantic blend where CBTL's dark chocolate powder boldly flirts with coffee & milk. Topped with fresh whipped cream, you're sure to fall in love with the Dark Chocolate Ice Blended.

 
As a part of the 'I Love Ice Blended' campaign, a host of interesting offers like Open House at various locations in the month of June, Buy one Get one on Father's Day, free upgrade during special hours, exciting contests such as Drink Jumbles, I love Ice Blended Puzzlers & Selfie contests are in store for consumers across the country at CBTL stores as well as on the CBTL Facebook page (To participate log in to
www.facebook.com/TheCoffeeBeanIndia
Page)
Get your original Ice Blended® at CBTL stores across New Delhi, Gurgaon, Noida, Mumbai, Bangalore, Chennai, Chandigarh, Pune and Kolkata. Opening Soon in Ludhiana.
About
The Coffee Bean & Tea Leaf®
Founded in 1963, The Coffee Bean & Tea Leaf® is the oldest and largest privately-held chain of specialty coffee and tea stores in the United States. With a reputation for excellence, the company is a leader in product innovations, having developed the original Ice Blended® beverage. Providing the highest quality coffees and teas for 50 years, The Coffee Bean & Tea Leaf® currently has more than 1000 stores. These stores blanket the world in markets such as California, Arizona, Nevada, Singapore, Malaysia, Korea, Brunei, Indonesia, UAE, Israel,
China, Kuwait, Egypt, Qatar, and the Philippines and continue to expand both domestically and internationally. For additional information, visit
www.coffeebean.com
Disclaimer
This is official press release of Coffe Bean and Tea Leaf, Noida. Please contact them directly for more information.