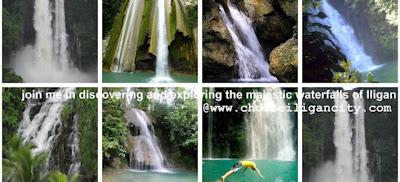 Iligan City, known to be the city of majestic waterfalls is located in the northern part of the group of islands called Mindanao. Contrary to what most people thought, Iligan City is no longer the capital city of Lanao del Norte. By virtue of Republic Act 9724, Iligan City was separated from the first congressional district of Lanao del Norte to form its own congressional district in the year 2010 with its first elected representative as a lone district to the Philippine House of Representative, Vicente "Varf" Belmonte.
The City Tourism Officer, Agnes Clerigo-Maingat said, that there are a lot of waterfalls scattered around the vicinity of Iligan as per Local Government Units (LGU) report. However, only twenty-six (26) has been identified and confirmed and among these, twenty-three (23) only are accessible. Among these twenty-three (23), here are the waterfalls that I frequently visits.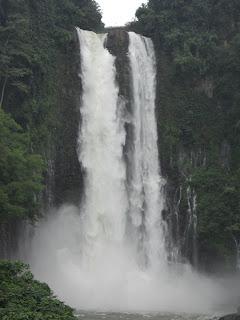 Maria Cristina Falls
Maria Cristina is what I considered the most splendid and the most popular among the 23 accessible waterfalls, situated between the boundary of Brgy. Buru-un and Brgy. Maria Cristina, about 9.3 kilometers away from the city proper. Plunging 320 feet downward, the Maria Cristina Falls not only that it is alluring, it also caters two power plants, the AGUS VI Hydroelectric Plant established in 1950 which has a 200 MW potential capacity powering the homes and industries of Iligan City and AGUS VII Hydro-electric power plant which has a 54 MW potential capacity. Want to know the story behind the falls? Read more about this here.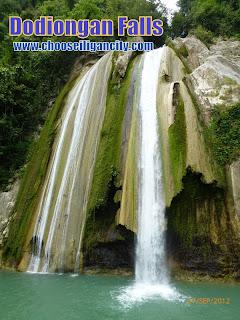 Dodiongan Falls
From the most splendid, let me take you to my recently visited waterfall---Dodiongan Falls. Oh yeah, pinay travelista and Xy-za was here already before me, maybe sometime in July 2011. Anyways, I was in Singapore when they had an itch to explore its beauty. I was in the same barangay also earlier this year to deliver roofing materials for the families who were greatly affected by typhoon Sendong. Locals said, the falls is not as mystic as it was before, which captures my interest and at the same time made me sad. I should have seen it, before Sendong destroyed its beauty. The recent Waterfalling Adventure Tour 1.0 organized by us, the Iligan Bloggers Society, Inc. paved the way for my Dodiongan Falls visit.The falls is located at Brgy. Bonbonon about 14 kilometers away from Iligan City. The water fall is about 20 meters, approximately 65.5 ft high. Surprisingly, if I were to compare photos taken before Sendong and this photo I would say there is no much difference except that boulders scattered around the falls which is evidently not present and visible before. Strikingly, one thing I noticed is that Dodiongan Falls and Maria Cristina Falls has this similarity---isn't it obvious? Well, the two waterfalls are both twin in nature as the water falling are separated by a boulder in between.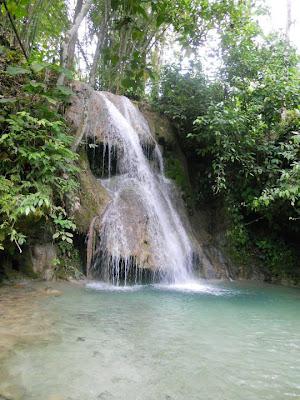 Pampam Falls
From the most splendid to the recently visited falls, lets proceed to the sexy yet humble, Pampam Falls. Though the word "pampam" has its negative connotation among the locals. Undeniably, in my eyes this sanguine waterfalls has its sexy secrets. The truth is, I already visited this falls three times and each visit I discovered something new. One thing I knew, is that Pampam Falls are group of waterfalls. A few steps down stream from this waterfalls you see on the photo is another waterfalls. On the other hand, if you walk several steps upstream  you can find a cave where you can swim and pass through another opening in the opposite side which will lead you to another a shower-like waterfalls. Then, if you proceed more upstream, a few walks will lead you to the source of the waterfalls which is an underground waterways of which you can swim right there at its opening where the water comes out. Then, that answer the question on what are the name of the other falls. I guess, that's the benefit if you are inquisitive and curious. More of this here.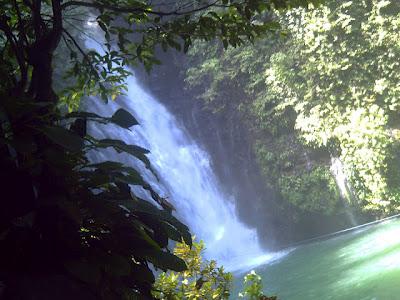 Tinago Falls
Moving on to the next waterfalls that I guess I visit almost every week is the enchanted Tinago Falls. The name "tinago" comes from the local Cebuano dialect which literally means in English as "hidden" which describes how this falls being hidden in deep and vastly forested ravine located in the boundaries of the municipality of Linamon and Brgy. Ditucalan of Iligan City. By observation, this waterfalls is the most frequently visited for swimming, and photography. Want to visit and have a swim? Prepare yourself to endure the 400+ steps going down and another 400+ steps going back. It is in this waterfalls where the locals does an exciting and fascinating acrobatic diving most of the time with or without lenses to capture it. More of this here.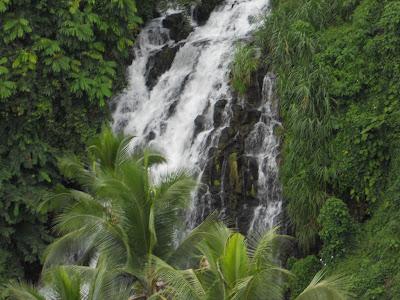 Mimbalot Falls
Mimbalot Falls is the third waterfalls I visited among the 23 accessible waterfalls. I visited first this waterfall during the Iligan Bloggers Society Inc., Familiarization Tour of which together we explore and discover the Iligan City's Tourism Triangle which includes Maria Cristina Falls, Tinago Falls and Mimbalot Falls. Though from this photo the falls looks calm and naturally made it is sad that at present it looks man-made as far as my latest visit to the place is concerned. The site is presently under construction for future development. Despite what I saw, I am really hoping that the falls would recuperate from its present condition.
Conclusively, ranking which waterfalls is the best is totally out of the picture. Since, each waterfall has its own unique beauty and enchantment to offer and wonder that will really feed your fantasy. So? Visit. Discover. Experience. The city of Majestic Waterfalls - Iligan City.