notloB Music heartly recommends...
The Christmas Revels 2016 - An Acadian-Cajun Celebration of the Winter Solstice
17 Performances - Matinees & Evenings
DECEMBER 9-27, 2016
Harvard University's Sanders Theatre, Cambridge, MA
http://www.revels.org/shows-events/christmas-revels/Tickets: On Sale to the General Public October 20th at 12 Noon

A holiday tradition for more than four decades, The Christmas Revels is a joyful theatrical celebration of the winter solstice that travels the world each year showcasing cultural traditions including music, dance, folktales and rituals.

This year's Revels follows the original French immigrants who settled on the Canadian border but were later forced southward by the British to a new home along the bayous of Louisiana. Filled with toe-tapping fiddle tunes, lilting Cajun two steps, gorgeous anthems, and familiar touchstones like the Sussex Mummers Carol and Lord of the Dance, this will be a Christmas Revels to remember. See you there!"
This year's Revels will feature

David Greely

(notloB Music, September 10, 2015) and

Lisa Ornstein

.
David Greely
, born in Baton Rouge of Cajun and Irish ancestry, learned Cajun fiddle on dance hall stages throughout South Louisiana, in the archives of Cajun and Creole music at the University of Louisiana in Lafayette, and from his apprenticeship to Cajun fiddle master and National Heritage Fellow Dewey Balfa. David has toured Folk Festivals worldwide for 28 years and has been nominated for four Grammy Awards. He has received the Louisiana Artist Fellowship Award for Folklife Performance, and is an adjunct instructor of Cajun fiddle and vocals at the University of Louisiana. David is opening a new wing in his tradition, the home music of French Louisiana, taking the swampy syncopations of Cajun music and its renaissance French dialect to a new level of sophistication along with all its urgency and texture.
Lisa Ornstein
 is an outstanding interpreter of the traditional music of French Canada and Appalachia, blending compelling and inventive playing with impeccable tune choice. When a member of Quebec's internationally renowned traditional supergroup, La Bottine Souriante, Lisa spent countless hours in Quebec visiting with older musicians and playing in kitchens and dance halls. She earned a master's degree in folklore on her study of the life and music of master fiddler Louis "Pitou" Boudreault, as well as Magdalen Island fiddler and raconteur Avila LeBlanc, and Gaspé region fiddlers such as Édouard Richard and Yvon Mimeault, and spent 17 years as director of the Acadian Archives in Fort Kent, Maine. She has recorded for both Smithsonian Folkways and the Canadian Broadcasting Corporation.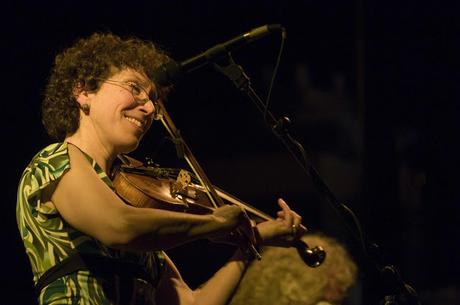 Lisa and David's collaboration on 2016's Christmas Revels presents a perfect opportunity to revel in musical connections that still exist between Northern Acadians and their Louisiana cousins, separated by centuries in consequence of geographic and political events beyond their control.
Artist websites
David Greely –
http://davidgreely.com/
Lisa Ornstein -
http://www.lisaornstein.com/