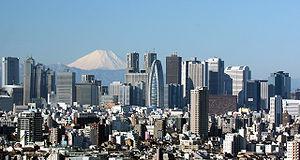 Image by Morio via Wikipedia
Oh my! It's December already and we can really feel the spirit of Christmas in every corner of the streets and widest location of malls. I know, no matter where we are, Christmas is visible already. Decorations, music, huge discounts in malls, available travel fees, and all kinds of freebees are usually the things we get to enjoy during Christmas. Isn't this the best time also to spend the holidays to a favorable time to learn languages abroad? You can choose to learn Japanese in Tokyo, if you are looking for a suggestion.
Isn't Tokyo a very nice place to go to? Enjoying winter in an Asian ambiance is a lot more different way to enjoy holidays. If you want to make a difference in spending your Christmas rather than staying at home, why not bring your family with you to an incredible holiday trip and go to Tokyo? The city in itself is a suitable place to go to not just on ordinary days but also during Christmas.
And if you have selected to choose Tokyo, you can take this opportunity to learn Japanese as well. You don't get to come to this place always right? I'm sure; it would not hurt learning even the basics of the language. As tourists, it is also necessary to know even simple phrases when you go to a foreign country.
If you are open to the idea of learning Japanese language, we would like to stress out that such decision in never counted in vain. Isn't vacation your main goal why you traveled on the first place? Yes, that's true. But since, you will be going to a foreign country already; wouldn't this be a great time also to avail a Japanese learning opportunity? If you would be Japanese and an opportunity to go to English-speaking countries, wouldn't you want to grab the opportunity to learn English language as well? This is also the same when learning Japanese.
Besides, such idea also gives you an inspiration to spend more time exploring the beauty of Tokyo. You can finally get to witness more of the country's beautiful land of volcanic mountains, glorious coastlines, and abounding rich culture passed for thousands of years already prior to the prestigious malls and incredible metropolitan. You will really get to know the Japanese people more and understand their culture more.
Fun and enjoyment must have been your goal why you decided to go to Tokyo; but isn't it a better idea that you had fun and enjoyment while educating yourself as well? Take this holiday as an opportunity to learn Japanese. This is one genuine encouragement.