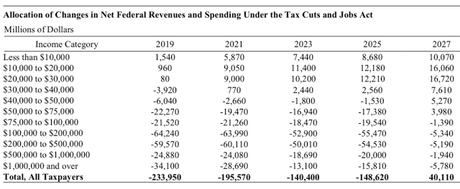 The congressional Republicans are still trying to sell their tax plan to the public as benefitting mainly the middle class. That is an outrageous lie! And now we have the numbers to prove that.
The nonpartisan Congressional Budget Office (CBO) has rated the GOP tax plan. Some of the results are shown in the chart above. A positive number means that income group will pay more in taxes or receive less in government spending. A negative number means that groups will pay less in taxes or receive more in government spending.
Note that those making $30,000 or less will get no tax cut and those making less than $75,000 will be paying more in taxes by 2027 than they pay now (because any small cut they get now will disappear because they are only temporary cuts). Note though that those making more than $75,000 will see their larger cuts remain -- because tax cuts for upper incomes and for corporations are permanent (not temporary like for most Americans.
The rich and the corporations get the biggest tax cuts, and their cuts are permanent. The working and middle classes get small cuts that are only temporary. Does that sound like a "Middle class tax cut" to you? The Republicans are selling out the working and middle classes so they can give massive cuts to their true constituency -- the rich and the corporations.
And that's not all. The Republicans slipped a provision into the tax plan that would eliminate the individual mandate for the Affordable Care Act. Some Americans might think that's good, but it isn't. According to the CBO, this will cause 4 million people to lose their health insurance by 2019, and 13 million by 2027. And those who don't lose their insurance will see their cost of insurance premiums rise by 10% each year through 2027.
This is a bad bill that hurts the working and middle classes while rewarding the rich and corporations (the two groups that didn't need government help). It should be defeated.