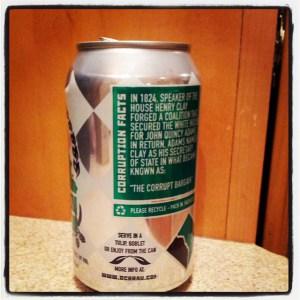 Walking into the shop, I did have my fingers crossed that I would find some year old stash of canned dark beers,  Diesel or 3 Beans or maybe a new to the shelf Penn Square Porter.
Sadly, this time at least it was not to be.  So I went IPA, not my top choice, but DC Brau has been pretty good choices so far, and i decided to I give this one a go.
As DC Brau describes it: "The Corruption is our take on an India Pale Ale (IPA). We will corrupt your palate with dangerously drinkable malts as well as assertive piney and citrusey hop aromatics, letting some alcohol and sugars sneak through. The crimson copper color coupled with a nose filled with plenty of citrus fruits can't help but bring you down to our level. This is one shady deal that you won't be able to pass up!"
Frist off, the alcohol will really one come trough as the beer warms up a good bit.  At cellar or fridge temp, you will get hit by the huge pine and citrus flavors, with just enough bitterness to give it an enjoyable assertive edge, but not enough to kill your palate.
I have only had it out of the can – as the can says.  Upon opening you will get a quick blast of foam, that disappears almost immediately.  Eyeing it through the can's mouth it seems to be fairly lightly carbonated a nice clear amber color.
Nose and taste are both as the brewer described, pine and citrus. A tad spicey,  but very balanced still,  just enough to make it extra enjoyable.  The Corruption has an oily medium thickness body and finishes nice and dry on the tongue.
If you need an IPA in a can that wont kill your taste buds for the rest of the day,  this is your ticket to the Hop party!