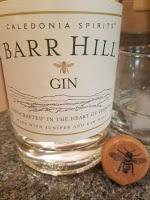 Most gin brands differentiate their products by the amount of juniper or other botanicals used in the process.  In general, the grain bill has less impact on the spirits as the botanicals drive the flavor.  This differentiation is definitely the case with the Caledonia Spirits Barr Hill Gin ($35) as it consists of only two botanicals: juniper and honey. Like a distilled gin, the juniper is added to a neutral spirit before running through the distillery's custom designed 300-gallon extraction still. The spirit is cut with water to 45% ABV and then fortified with honey to provide a unique profile. Since this step is performed post-distillation the product is labeled correctly Gin as opposed to Distilled Gin (labeled if all the botanicals were added pre-distillation).
Caledonia Spirits is named after its Vermont county home and was founded by beekeeper Todd Hardie. In 2009 he acquired a 15-gallon fire heated pot still and experimented with distilling honey - deciding that Gin was the most likely option. He recruited a local homebrew store owner, Ryan Christiansen, who eventually sold his business and together the duo distilled 235 cases of Barr Hill Gin and Barr Hill Vodka the first year. In 2015, Hardie sold the operation to Christiansen and used the proceeds to purchase a farm which provides the distillery with barley, rye, and elderberry.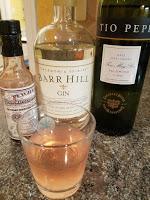 I prefer to consume the Barr Hill Gin neat or with an ice cube in order to enjoy the interplay of juniper and honey. The sweetness starts early, envelopes the mouth, then transitions to juniper, leading to a mildly hot burn. The gin packs plenty of flavor with just two botanicals.
I also wanted to experiment with a cocktail and chose a version of a Martini called the Tuxedo Cocktail which swaps vermouth with fino sherry. Fino is a dry, pale white sherry wine produced within the D.O. Jerez. This recipe replaces vermouth's herbal character with the sherry's inherent nuttiness and in this case, the sherry is the reliable Tio Pepe from Gonzalez Byass. Use 2oz gin, 1 oz sherry, and a dash of bitters. The honey and nuttiness from the sherry compliment each other with the juniper still dominating the finish. Not a bad alternative - but I still prefer this gin neat. Cheers.