have made good use of their time lately, putting together and releasing a new album, Tabasco & Sweet Tea quickly on the heels of the release of Country Fuzz earlier in 2020.
Related: The Cadillac Three, Country Fuzz Album Review
The southern country rockers dove headfirst into new sounds, newly-tapped influences, and in the words of Jaren Johnston, "this album is a science project ... constantly moving in different directions but keeping one cohesive feel throughout."
This is my kind of musical science.
The Cadillac Three have become known for their loud sounds and live shows. They sound like a rock band, play like one, and sing country music while they do it. But this time, things have taken a turn. This is more funk and groove and flow than we're used to from TC3. (Don't worry, you can still hear the rock underneath it.) But with the country lyrics we're used to and love from the boys still right there to go along with the musical performances.
Drummer Neil Mason said, "As we finished the last record, we knew we were only tapping the surface with songs like 'The Jam' for where we could go next musically and found ourselves inspired to dive into these sounds that we had never explored before as a band. We've always had a lot of influences, but ultimately found ourselves thinking about what we were listening to in high school - The Meters, Stevie Wonder, Medeski Martin & Wood and John Scofield." and Jaren adds, "We kind of have this innate thing going after all these years so it's cool to kind of stretch into some new musical spaces with elements of a DJ set that flows from track to track, but mixed with 80's Funk vibes and jam-band flow over hardcore Country lyrics."
So, if you're looking for a rock and roll country music hybrid hard-hitting good time, this one ain't it. BUT if you're looking for something new and fresh and funky and fun from The Cadillac Three, let's keep going with Tabasco & Sweet Tea.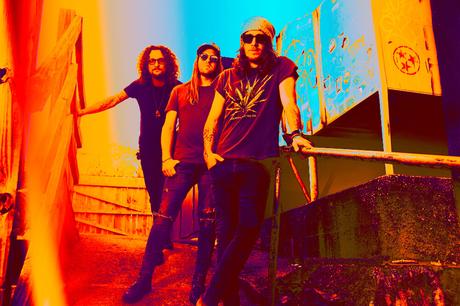 It's important to note that The Cadillac Three have gone all out for the fans on the release of this record. All 11 songs on the album have lyric videos available now (all of them are coming, keep scrolling). And for the first week of availability, Tabasco & Sweet Tea is only $3.99 so it's more accessible to folks who are watching budgets for obvious reasons but still know the power and love of new music.
Bassist Kelby Ray said this about the offering, "We wouldn't be where we are without our fans. We lost the ability to tour and know many of our fans have also lost their ability to work consistently this year so we wanted to find a way to provide this album as cost effectively as we could. Our hope is that everyone who wants Tabasco & Sweet Tea can get it without breaking the bank."
There's a lot to like about the music The Cadillac Three makes, the attitude and care they bring to their fans, and the good work they do for their community (their support of food banks and their 100,000 Meals in 100 Days initiative are awesome). And there's a lot to like about this new album too.
All 11 lyric videos are here, in order, with the stream after that so listen as you like. In my opinion, you shouldn't miss the title track, Tabasco & Sweet Tea at the top, Sweet Southern Spirit, Money Ain't Shit, and Sabbath On Cornbread.
But for maximum effect, I suggest hitting play on all of the songs in order and giving the full album a listen over 34 minutes.
After all of that, here's my real quick and uncomplicated pitch for Tabasco & Sweet Tea. If you like TC3 and getting high, I recommend doing so and listening. If you like one or the other of those things, I also recommend hitting play and listening. In my humble opinion, it's a stoner record and I like it.
1. Tabasco & Sweet Tea
2. Stop That Girl
3. Head Over Wheels
4. Sweet Southern Spirit
7. Devil's Lettuce
9. Money Ain't Shit
10. Turn The Radio On
11. Sabbath On Cornbread
Hit play on the stream, sit back, and let Tabasco & Sweet Tea wash over you now.
The Cadillac Three, Tabasco & Sweet Tea Tracklist