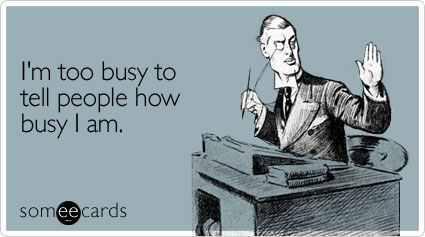 Google Image e-card
The biggest issue in the blogging community is not necessarily what you would think it is. Although many bloggers do have difficulty at times with writer's block, this is not usually their biggest problem.
The biggest issue among bloggers, is finding the spare time to read their fellow bloggers posts. If you are anything like me, you find yourself reading posts from the moment you log online until the moment you finally shut down to go to sleep. It's a daily occurrence in your life and god forbid you miss a day or even a week. Then you find yourself so far behind that you become too overwhelmed to even care anymore, especially when many bloggers post every single day. How on Earth do you keep up with all that?
If only there was a way to visit all of those posts and more in a shorter period without being stuck on one blog until you were done reading every single word on the page. If only you could listen to the posts while doing other things? "Why didn't the blogger make this a podcast?" you shout through the darkness of your quiet home. "I'm too tired to keep going, I will catch up tomorrow." You say innocently enough, but alas tomorrow's catching up never comes.
Well, hmm, what if I told you that there is a very simple way for you to visit those posts and not have to read one single word of it…. *GASP* You mean? Yes, dear reader, I have stumbled upon something that is going to help you break free from the repetitive, just going through the motions, someone save my eyesight from this constant reading way of life.
Can I get a drum roll please?
Meet SoundGecko:
"A text-to-audio transcribing service that lets you enjoy written content from around the web on the go without distraction. Be free from screens as you listen to articles by simply sending an email or pressing a button in your browser."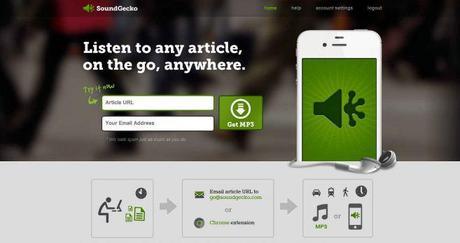 SoundGecko homepage
And my dear readers, it is FREE. Yes, you read that correctly…free. You don't have to sign up for anything if you don't want to. You just go to the site and paste in the URL of the site you wish to listen to, type in your email and if a few minutes you will receive an email. In the email will be a link that you click to listen to the post. (See photo below) If you do decide to sign up for an account, there are more things you can do with the site.
Of course the voice that reads to you could very well put you to sleep; it's not an operatic melody of flowing vernacular, mind you. It's more of a mundane monotone version of a bad 1950's robot movie. However, it is understandable and it's fairly error free.
In my test of the product, (of course I tested it. I would never suggest anything to anyone without trying it first for myself.) I read along on my blog post as I was listening to it. The post I tested it on had the word url and of course, the voice reading didn't recognize it so he said "youearl". That made me chuckle! He also included the "Copyright InJensMind" that I put under my photos. And he read the ending where my share buttons are, "It's not absurd to spread the word." That was nice because it sort of reminded me I should share the post that I enjoyed so much. (Clearly I enjoyed it, I wrote it. LOL) Also he said "Like" and how many likes I received on said post. Not a big deal really, in my opinion.  Click here to hear the post I tested it out on.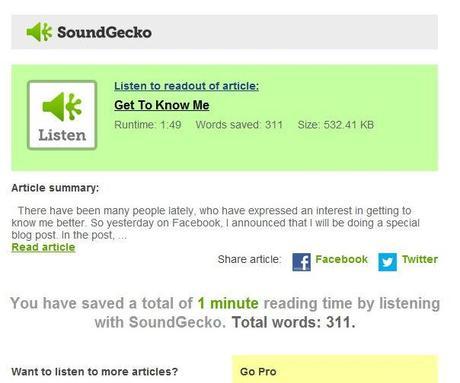 Copyright InJensMind This is what the email from SoundGecko looks like.
I look forward to more from this company. I was impressed at how easy and much faster it was than reading alone. Because I usually have 10 or more tabs open and any time one of them flashes with a message or makes a sound, my ADHD kicks in and my fingers have clicked on another tab before my brain can tell it to stop and finish reading the post. Now I can gallivant all over the net and still hear the post. Amazing, right? Imagine the things you could be doing while listening to a post instead of staring with weary eyes at the computer screen… the possibilities are endless.
I almost expected it to read my comments as well. It didn't. I think that would be a nice addition though, that way you could join in the conversation if you like and already know what others have asked or said. Which would keep you from looking redundant or too busy to read comments on top of the 2000+ word article. And since most blog readers don't comment anyway, not having the ability to comment directly without returning to the post isn't a huge problem. At least it isn't for me. I'd much rather get zero comments than to get a bunch of quick not thought out, "I don't know what to say" or "This was a great post" or " Click here for the latest Viagra tablets at 75% off" comments. Those type of comments almost make you wonder why you bother to spend so much time thinking, typing, and editing your post if they don't have anything outstanding and meaningful to add to it. Then you remember you do this for you and not for them, which brings you right back to lack of comments not really being an issue.
SoundGecko gets my approval, will it get yours? Try it out now and let me what you think.
Don't forget to "like" them on Facebook and follow them on Twitter. Or me for that matter, add me on Facebook and follow me on Twitter, you can find my links in the tabs or sidebar.