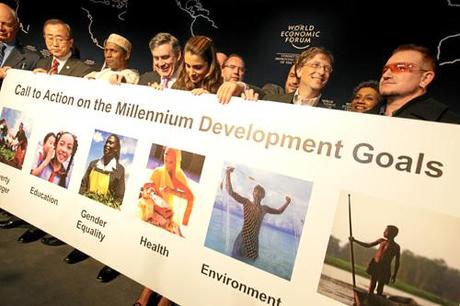 Millenium Development Goals champions at the Annual Meeting 2008 of the World Economic Forum in Davos, Switzerland. (Photo: Andy Metter via Flickr)
With concern over national debts rising, many donor countries are looking for ways to scale back spending wherever they can. With this trend, foreign aid and other development programs are under scrutiny for being nonessential to domestic needs. Disregarding the many shortcomings in arguments for cutting development aid, the politicians may be on to something: is foreign assistance meant to last forever?
At an event in Washington, DC, I asked a similar question to a panel of distinguished experts in the field. They collectively held years of working in large development and humanitarian aid agencies, ranging from Oxfam to the United Nations. I wanted to know, how can those working in development achieve the goal of recipient countries funding and implementing their own public development projects? And how can recipient countries collect tax revenue for projects while still attracting the investment that creates wealth, jobs, and opportunities?
The assumption behind my question was that the goal of development is to better the lives of poor people sustainably. If development funding creates dependence, is that development at all?
Apparently it may be if, like one of the panelists, you consider development to be an endless form of engagement rather than a goal in itself.
A lot of work remains before every person in the world can have the freedom and opportunity to build their life the way they want it. But shouldn't that be the goal?
The way forward for development is in the balance between good governance, investment, and public revenue collection. Development assistance should be in the business of putting itself out of business.