Rating:
75/100
Total: 75/100
More about:
Borough
The Borough Food Market London: Everything Food...

,

6.0

out of

10

based on

1

rating
After visiting the Real food market, it was time to check out the second address locals visit on week-ends: The Borough Market next to the famous london Bridge.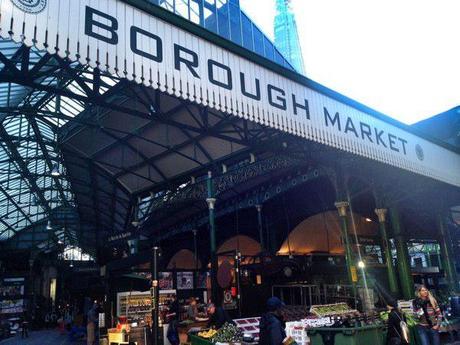 The Borough market provides the same experience as the Real food market with slight differences like being a vegetables, fish, meat and bread market and not being an eating place like the first one and its location that is not part of a shopping district where people mingle and artists sing and perform.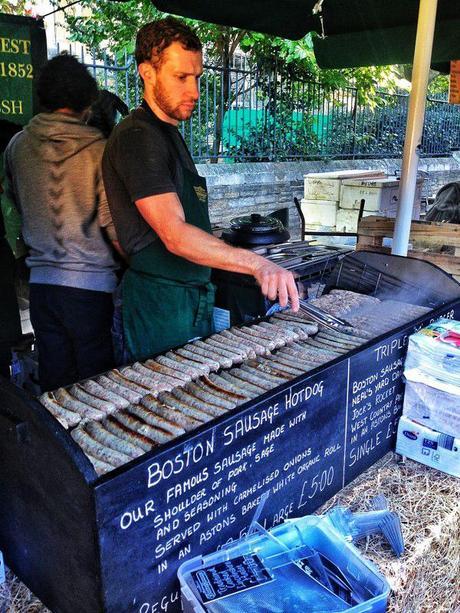 On this early saturday morning, I had the chance to experience the sellers in the making. Preparing their displays and organizing themselves before visitors start falling on them. Lovely companies, lovely people, lovely ambiance right under the railroad. Vibrations come ad go, smells dissipate into the alleyways, fridges roar and sellers try to be the most convincing.
I loved the bread and pastry displays of brownies towers and baguette fortresses as well as huge cakes and tarts; sizes are enormous around here!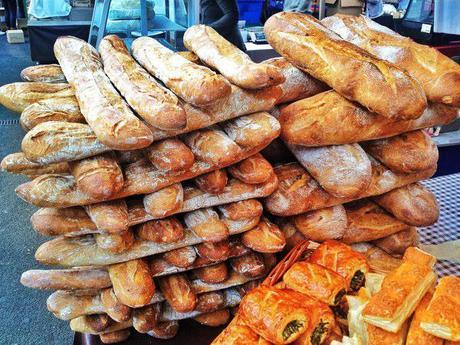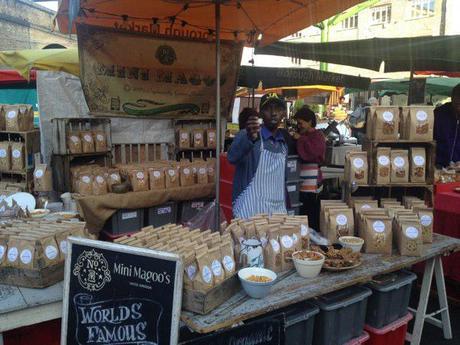 Mini Magoo's, a brand that caught my attention: A company providing hand-made breakfast cereals, produced from 100 per cent organic ingredients and suitable for diabetics. The Mini Magoo's range currently consists of four muesli flavours (raisins, cranberries, blueberries, dates), four granola (ginger, orange, lemon, dates) and three porridge flavours (prunes, dates, cherry and coconut).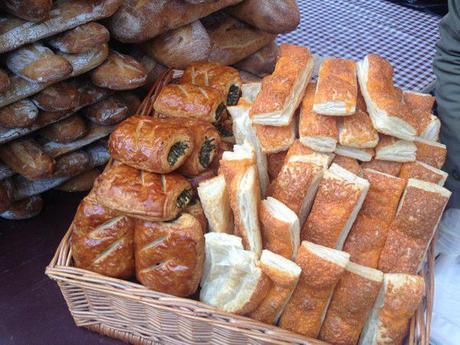 Today's breakfast at Oliver's Bakery: With 24 years' experience under his belt, pastry chef and baker Olivier Favrel is commited to providing nutritious and delicious products using only the best ingredients to his customers.Based locally in South East London, Oliver's Bakery brings to Borough Market a variety of handmade breads, cakes and pastries including a special selection of 100% spelt bread and croissants. I tried their spinach and cheese croissant as well as the chocolate one. Honestly I've eaten better ones.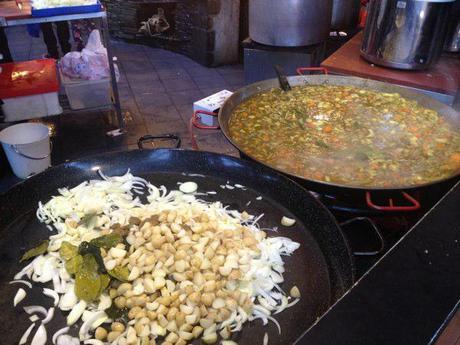 Borough Market is London's most renowned food market; a source of exceptional British and international produce.
Around the area move out of the borough market and plunge into the Green Market and the Jubilee market where more producers are here to offer the best of their know how. There was a Lebanese cook selling some Shawarma sandwiches, Sambousik, Fatayer and Kebbe as well as a cereals mix vender that marked me. It's amazing how much you discover in such places.
It was only 08:30am an sausages were already grilling and onions on the way to caramelize. Awesome mix of odors activating your senses and making you mouth water.
It was time to leave the quickest possible before eating becomes a sickness: it's still breakfast time!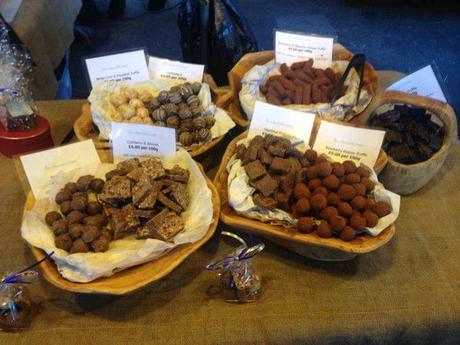 The market is full of traders selling artisanal products which have been created by hand and reflect the passion and knowledge of their creators.
I personally prefer the Real Food Market even though this one is an interesting visit if you have time while in the city.
























Pages  [
1
]  [ 2 ]  [ 3 ]  VN:R_U [1.9.20_1166]