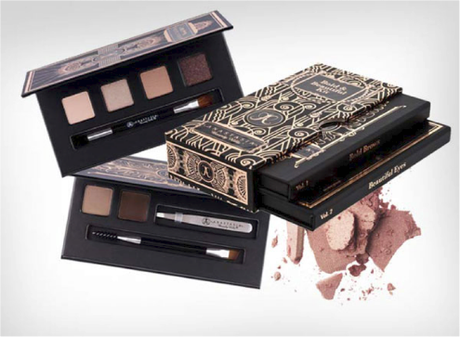 Photo: Courtesy of Anastasia Beverly Hills
Anastasia Beverly Hills might be best known for her eyebrow prowess, but in the past few years her uber creative makeup line has captured the hearts of makeup lovers everywhere. Her latest launch, Bold & Beautiful Kit, is no exception with its Baroque-inspired makeup. What's Baroque, you ask? The Baroque period began in the early 1600s and was characterized by rich, luxurious details like gilded gold objects and plush velvety materials.
Beauty 411: This kit features Anastasia's infamous brow kit (powder, pomade, brush, and mini tweezers) that allows you to sculpt, define, and beautifully layer color for perfect brows and a shadow kit that encompasses four stunning matte and shimmer shades (including a light beige, a shimmery apricot, a matte light brown, and an intense shimmery brown) along with a double-sided brush which can be layered wet or dry to create anything from a subtle, sheer wash of color to an intense, nude smoky eye. To boot, the set comes with a handy Bold and Beautiful Brows booklet that offers ideas and how-to visuals.
Why you'll love it: The colors work on every one regardless of skin tone and hair color. And with this year being all about big, bold brows and eye make up, this kit is an uber easy way to nail it!
You can snag this kit ($36) at Anastasia.net, Nordstrom, or Ulta. Bring on the bold beautifying!
What do you think, readers? Are you on board with the big, bold brows and peepers trend this spring?

Crows' Feet, Cupcakes, and Cellulite does not accept compensation for reviews. Samples may have been provided. Opinions are 100% the author's own.