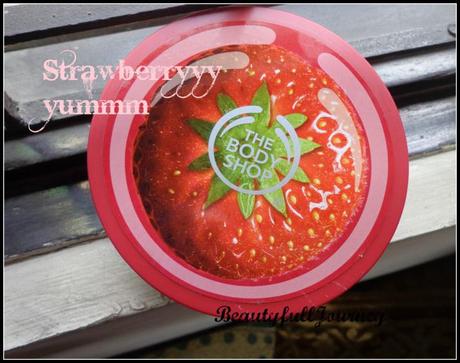 The strawberry shower gel by The Body Shop was one of the first products I used and loved from the brand. I have even repurchased that over time. I love this fragrance but somehow never got around to trying other products from this range and finally when I was about to buy their body mist in April I suddenly got my sister's message that a TBS package has come for me at home (Delhi). I was quite curious as I wasn't aware of anything like this and it turned out to be TBS strawberry products including the body mist!!! Yayyy :D the strawberry range is the scent of the season by TBS and I surely agree :P
I was least excited about the body butter as I have way too many moisturizers at the moment plus winters are over and I hardly use body butters in summer!
But I was so wrong to not focus on the butter as now it has turned out to be my favorite of the range :P
I have very dry skin in winters and normal to dry in summers. I generally just use a light moisturizer on alternate days or even just 1-2 times a week, basically moisturization is never my priority in summers! And that's the reason I hadn't even opened this body butter for a week before I got curious to just see what it's like. :P
And well, it was love at first sight <3"><3"><3"><3
The body butter comes in a standard TBS round 200ml tub. It's a dark reddish pink color and quite sturdy. Although it is bulky to travel with these tubs, but it's also convenient in a way because there's no worry about leakage with this packaging. With bottles esp those with pumps, I feel very scared to travel as they always leak out in my luggage, irrespective of how many tapes I apply.
The fragrance is the best in this butter as compared to the shower gel, mist and lip balm(that's all I've used from the range). It smells very fresh and fruity, a perfect strawberry scent! You definitely need to try it once!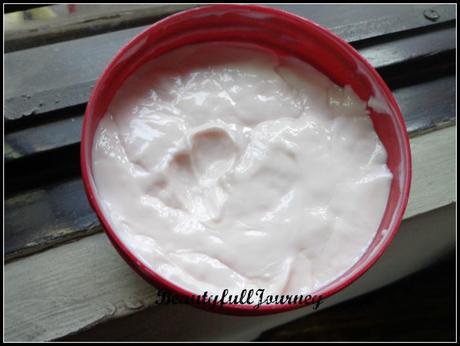 The texture of this butter is beautiful! It's very light and airy. Like something whipped! It gets spread on skin very easily and gets absorbed too super fast. It gives good hydration to my skin but it won't be enough for very dry skin in winters. That's why this is perfect for summers!
The best part about this is that the scent lingers on my skin for more than half a day, unless I'm out in the sun, then nothing can last as Delhi heat is terrible these days :(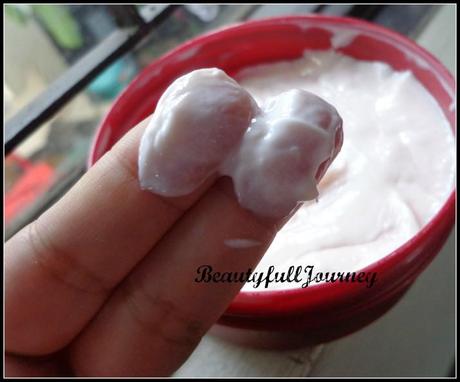 My whole room and bathroom have this gorgeous scent after my bath and everyone in my family keeps teasing me for it :P but my sister who hardly ever uses any body moisturizer also has been using this so well, that definitely gives this a big thumbs up.
I've been making excuses to use this these days, I just open some and use it as a hand cream in the evening too. Aah honestly the scent is lovely!
Ingredients: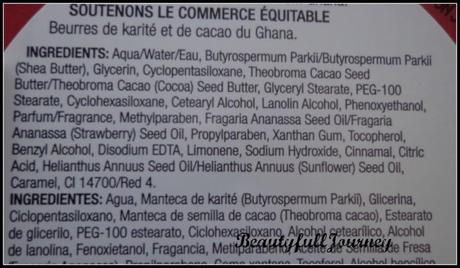 This retails for Rs. 1095 In India and $20 in USA, though in sales it costs much cheaper.
Overall, I'm in love with this body butter. If you're looking for a light moisturizer for summers or even for winters if you don't need heavy moisturizers, definitely give this a go, you wont regret it at all! yes, its slightly expensive but I always feel TBS butters are worth it. But some people would find it expensive so -1 for that! But overall, I highly recommend it to you all !!
Rating – 9/10
P.S. Gift by brand. All opinions are my own and 100% honest.